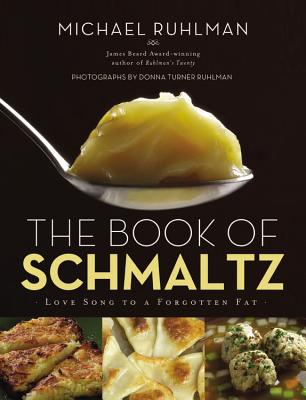 The Book of Schmaltz (Hardcover)
Love Song to a Forgotten Fat
Little, Brown and Company, 9780316254083, 192pp.
Publication Date: August 13, 2013
* Individual store prices may vary.
Description
The definitive book on schmaltz--a staple in Jewish cuisine and a "thread in a great tapestry," by one of America's most respected culinary writers.
For culinary expert Michael Ruhlman, the ultimate goal in cooking is flavor, and for certain dishes nothing introduces it half as well as schmaltz. A staple ingredient in traditional Jewish cuisine, schmaltz (or rendered chicken fat), is at risk of disappearing from use due to modern dietary trends and misperceptions about this versatile and flavor-packed ingredient.
THE BOOK OF SCHMALTZ acts as a primer on schmaltz, taking a fresh look at traditional dishes like kugel, kishke, and kreplach, and also venturing into contemporary recipes that take advantage of the versatility of this marvelous fat. Potatoes cooked with schmaltz take on a crispness and satisfying flavor that vegetable oil can't produce. Meats and starches have a depth and complexity that set them apart from the same dishes prepared with olive oil or butter.
What's more, schmaltz provides a unique link to the past that ought to be preserved. "Schmaltz is like a thread that runs through a great tapestry," says Ruhlman's neighbor Lois, whose cooking inspired his own journey into the world of schmaltz. "It's a secret handshake among Jews who love to cook and eat."
About the Author
Michael Ruhlman's innovative and successful food reference books include Ratio, The Elements of Cooking, Ruhlman's Twenty, and Charcuterie. He has appeared as a judge on Iron Chef and as a featured guest on Anthony Bourdain's No Reservations. He has also co-authored books with Thomas Keller, Eric Ripert, and Michael Symon. He lives in Cleveland, Ohio, with his wife, photographer Donna Turner Ruhlman.
Praise For The Book of Schmaltz: Love Song to a Forgotten Fat…
"The foundation of the book is, of course, Ruhlman's schmaltz recipe, which is extraordinarily easy. Six steps, 90 minutes, and you're in business. Classics such as chopped liver, kreplach, and potato kugel follow, as do unconventional dishes including vichyssoise with gribenes and chives-and-chicken confit. They're now yours for the making."—--David Leite, Leite's Culinaria

"Ruhlman, who has authored cookbooks with culinary greats like Thomas Keller and Michael Symon, puts his own spin on even the most classic recipes."—--Katherine Martinelli, The Jewish Daily Forward

"If for some reason you never thought frying chicken fat could be made beautiful, you really need to check this out."—--Russ Parsons, Los Angeles Times

"Sometimes it takes and outsider to see a subject clearly. That is what Michael Ruhlman has done with schmaltz, portraying this much-maligned fat thorugh his lens and that of Lois Baron, a friendly Jewish neighbor and a traditionalist in the kitchen. Mazel tov on the results!"—--Joan Nathan, author of Jewish Cooking in America

"It's about time that schmaltz got its due. And from, no less, a great food writer who isn't Jewish. Michael Ruhlman understands, as too many Jews don't, that Yiddish cooking is a worthy cuisine, deserving of attention and respect - not to mention the carefully composed recipes and gorgeous photographs you'll find in this book."—--Arthur Schwartz, author of Jewish Home Cooking: Yiddish Recipes Revisited