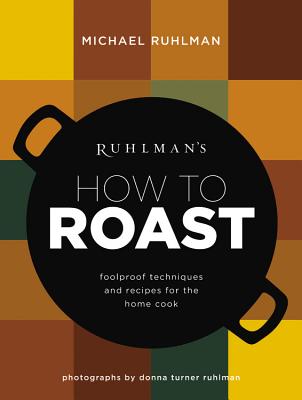 Ruhlman's How to Roast (Hardcover)
Foolproof Techniques and Recipes for the Home Cook (Ruhlman's How to... #1)
Little, Brown and Company, 9780316254106, 160pp.
Publication Date: October 21, 2014
* Individual store prices may vary.
Description
As an award-winning cookbook author, food writer, and online culinary expert, Michael Ruhlman has developed a reputation for providing lucid, no-nonsense cooking advice as sharp as a good chef's knife. In this first in a new series of books focusing on cooking methods, Ruhlman explores one of the most fundamental cooking techniques- roasting.

Humankind has been roasting for millennia. The term originally referred to cooking over an open fire, usually on some kind of spit, and has evolved to describe cooking of meat or vegetables or even fruit in an oven, a "dry heat" (and usually high-heat) method of making things irresistibly appetizing.

"Of all our cooking terms," Ruhlman writes, "sautéed, grilled, poached, broiled-I believe roasted is the most evocative adjective we can attach to our food, conjuring as it does ideas of deep rich flavors and delicious browning."

RUHLMAN'S HOW TO ROAST combines practical advice - what tools you need, staple ingredients to have on hand, how to get the most out of your oven - with 20 original and mouthwatering recipes, chosen to showcase a wide range of roasting methods and results, from "The Icon" (roast chicken), to Monkfish Roasted with Tomatoes and Basil, to Roasted Peaches with Mint Crème Fraiche. Dozens of color photographs offer step-by-step illustration as well as finished-dish showpieces.
About the Author
Michael Ruhlman started writing about the lives of chefs 20 years ago, and he soon found an interest in becoming a chef himself. After his success with the narrative books The Making of a Chef, The Soul of a Chef and The Reach of a Chef, he has more recently taken his own skills in cooking to write innovative and successful food reference books including Ratio, The Elements of Cooking, and Charcuterie. Ruhlman has also appeared on food television numerous times, notably as a judge on Iron Chef and as a featured guest on Anthony Bourdain's No Reservations. He lives in Cleveland, Ohio with his wife, photographer Donna Turner Ruhlman.
Praise For Ruhlman's How to Roast: Foolproof Techniques and Recipes for the Home Cook (Ruhlman's How to... #1)…
"This collection of 25 innovative roasting recipes from award-winning cookbook author Michael Ruhlman covers basics such as whole chicken and rack of lamb, and some savory surprises, including roasted peaches with crème fraîche and mint."—Sacramento Bee