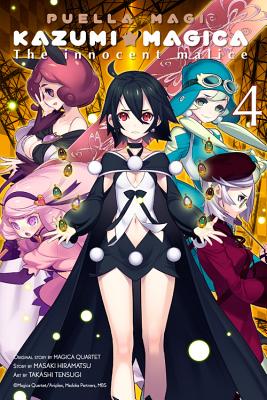 Puella Magi Kazumi Magica, Vol. 4 (Paperback)
The Innocent Malice
Yen Press, 9780316254274, 144pp.
Publication Date: February 18, 2014
Other Editions of This Title:
Paperback (5/27/2014)
Paperback (8/20/2013)
Paperback (12/17/2013)
* Individual store prices may vary.
Description

From the very start, it was Kazumi who drew the girls of the Pleiades Saints together. But no magical girl, however beloved by her friends, is exempt from the fate that awaits them all. Fearing that the evil nut may be accelerating Kazumi's transformation, the girls are divided - can the process be delayed, or should they take out Kazumi while they still can?
About the Author
Magica Quartet is a team formed of members of anime production studios SHAFT and Aniplex who came together to create "Puella Magi Madoka Magica." Members include Iwakami Atsuhiro, Akiyuki Shinbo, Gen Urobuchi, and Ume Aoki, who is also the creator behind "Sunshine Sketch."