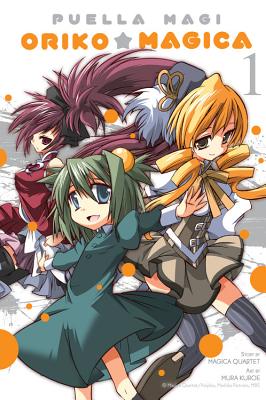 Puella Magi Oriko Magica, Vol. 1 (Puella Magi Kazumi Magica #1) (Paperback)
Yen Press, 9780316254281, 144pp.
Publication Date: July 23, 2013
Other Editions of This Title:
Paperback (3/24/2015)
Paperback (11/22/2016)
Paperback (10/29/2013)
* Individual store prices may vary.
Description
Oriko, a magical girl with the gift of foresight, knows the fate that awaits all who accept Kyubey's offer of supernatural powers. But when she is struck with a terrible vision of the future-of the devastation caused by a single, powerful witch-she decides to prevent the girl from becoming a magical girl in the first place. To draw Kyubey away from the girl's potential, Oriko directs him instead to Yuma, an orphan who is all too eager to gain powers that will enable her to protect herself-powers that will ultimately lead to her own destruction...
About the Author
Kuroe Mura is the artist behind the Puella Magi Oriko Magica manga spun off from the hit anime and manga series, Puella Magi Madoka Magica. Magica Quartet is a team formed of members of anime production studios SHAFT and Aniplex who came together to create "Puella Magi Madoka Magica." Members include Iwakami Atsuhiro, Akiyuki Shinbo, Gen Urobuchi, and Ume Aoki, who is also the creator behind "Sunshine Sketch."