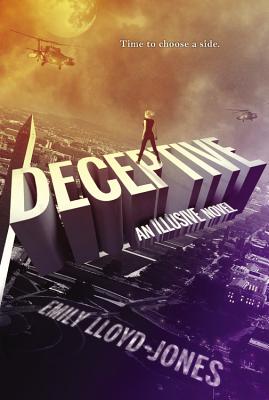 Deceptive (Illusive #2)
Hardcover

* Individual store prices may vary.
Description
This thrilling sequel to Illusive will have readers on the edge of their seats.

You don't belong with us.

These are the words that echo through the minds of all immune Americans-those suffering the so-called adverse effects of an experimental vaccine, including perfect recall, telepathy, precognition, levitation, mind control, and the ability to change one's appearance at will.

When great numbers of immune individuals begin to disappear, fear and tension mount, and unrest begins to brew across the country. Through separate channels, superpowered teenagers Ciere, Daniel, and Devon find themselves on the case: super criminals and government agents working side by side. It's an effort that will ultimately define them all, for better or for worse.
Praise For Deceptive (Illusive #2)…
Praise for Deceptive:"Shootouts, betrayal, undercover ops, and a determined hitman with his sights on Ciere keep the adrenaline pumping, all while the teens do some serious soul searching...[Deceptive is] more political in its focus, zeroing in on human rights; readers attracted to action and government conspiracy will be easily engrossed and walk away hoping for more."—Booklist

"Lloyd-Jones deftly weaves several plot strands, using flashbacks to impart background information. Snappy dialogue and harrowing action scenes move the twisting plot along and maintain suspense throughout...A must-read for fans of intrigue and superpowered villains."—School Library Journal

Praise for Illusive:* "Boasting a complex plot, heart-stopping bursts of action, and questions regarding human nature, Lloyd-Jones' thought-provoking, multifaceted narrative neatly sidesteps categorization as just another superhero or dystopian novel--though fans of both will be drawn to the material and be pleasantly surprised. An impressive debut guaranteed to disappear from the shelves before your very eyes."—Booklist (starred review)

"Superpowered teens screw up repeatedly in this crime-caper debut... Lloyd-Jones relishes the details of criminal undertakings and con jobs but also builds a believable world of haves and have-nots, unaffected and immune... [Entertaining] and unpredictable. Readers may also want to check out the Wild Card series edited by George R.R. Martin for a similar take on superpowers. An action-packed adventure with a charming criminal crew."—Kirkus Reviews

"Multiple plot twists and the present-tense narrative heighten Ciere, Devon, and Daniel's sense of paranoia as they struggle to survive in a world in which it is often difficult to tell the good guys from the bad guys. A thrilling read."—School Library Journal
Little, Brown Books for Young Readers, 9780316254649, 432pp.
Publication Date: July 14, 2015
About the Author
Emily Lloyd-Jones grew up on a vineyard in rural Oregon, where she played in evergreen forests and learned to fear sheep. After graduating from Western Oregon University with an English degree, she enrolled in the publishing program at Rosemont College just outside of Philadelphia. She currently resides in Northern California, working in a bookstore by day and writing by night.
or
Not Currently Available for Direct Purchase