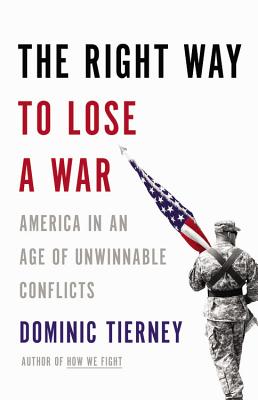 The Right Way to Lose a War
America in an Age of Unwinnable Conflicts
Hardcover

* Individual store prices may vary.
Other Editions of This Title:
Digital Audiobook (6/1/2015)
Description
Why has America stopped winning wars?

For nearly a century, up until the end of World War II in 1945, America enjoyed a Golden Age of decisive military triumphs. And then suddenly, we stopped winning wars. The decades since have been a Dark Age of failures and stalemates-in Korea, Vietnam, Iraq, and Afghanistan-exposing our inability to change course after battlefield setbacks.

In this provocative book, award-winning scholar Dominic Tierney reveals how the United States has struggled to adapt to the new era of intractable guerrilla conflicts. As a result, most major American wars have turned into military fiascos. And when battlefield disaster strikes, Washington is unable to disengage from the quagmire, with grave consequences for thousands of U.S. troops and our allies.

But there is a better way. Drawing on interviews with dozens of top generals and policymakers, Tierney shows how we can use three key steps-surge, talk, and leave-to stem the tide of losses and withdraw from unsuccessful campaigns without compromising our core values and interests.

Weaving together compelling stories of military catastrophe and heroism, this is an unprecedented, timely, and essential guidebook for our new era of unwinnable conflicts. The Right Way to Lose a War illuminates not only how Washington can handle the toughest crisis of all-battlefield failure-but also how America can once again return to the path of victory.
Praise For The Right Way to Lose a War: America in an Age of Unwinnable Conflicts…
"Tierney covers his subject with admirable thoroughness....He sagely rejects the notion that the U.S. should sit out of all messy wars simply because it finds them unpleasant."
—
Mark Moyar, Wall Street Journal
"Brave and interesting."

—
Lawrence D. Freedman
,
Foreign Affairs
"It's a provocative book. It's an important book."
—
MSNBC
"Tierney explains the gap between America and its recent enemies with startling (and refreshing) clarity."
—
David French, National Review
"Eminently readable.... Well-reasoned, highly accessible, and potentially provocative.... The results-oriented perspective is a refreshing take.... Tierney's work will surely find great interest from readers of popular military history and strategy and from academic readers with an interest in foreign policy."
—
Library Journal
"Tierney proposes a strategy centered on the tactic of "surge, talk, and leave," which requires a seismic shift in understanding the metrics of waging war.... Tierney's sensible and clearsighted recommendations come from careful study."
—
Publishers Weekly
"Tierney doesn't just analyze, although there are plenty of examples drawn from ancient and modern history. Instead, he offers a cogent argument and concrete strategies for minimizing loss of life.... His useful book's coda offers some interesting long-term strategies to avoid endless war in the future."
—
Kirkus
Little, Brown and Company, 9780316254885, 400pp.
Publication Date: June 2, 2015
About the Author
Dominic Tierney is an associate professor of political science at Swarthmore College and holds a Ph.D. in International Relations from Oxford University. He is a senior fellow at the Foreign Policy Research Institute, a former visiting associate professor at Princeton University, a former research fellow at Harvard University, and the author of three books, including How We Fight and Failing to Win, which won the International Studies Association "Best Book of the Year" Award and was nominated for its "Best Book of the Decade" Award.
or
Not Currently Available for Direct Purchase