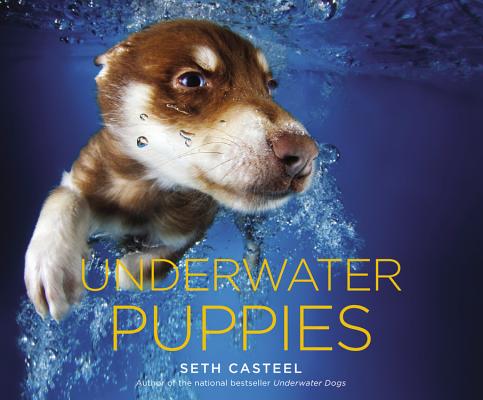 Underwater Puppies (Hardcover)
Little, Brown and Company, 9780316254892, 128pp.
Publication Date: September 16, 2014
* Individual store prices may vary.
Description
New York Times bestselling author and photographer Seth Casteel's follow-up to the phenomenal Underwater Dogs -- now with puppies!

The world fell in love with swimming canines in Seth Casteel's first book, Underwater Dogs. Now, in more than 80 previously unpublished portraits of underwater puppies, we see man's best friends at their most playful and exuberant. Each vibrant and colorful underwater image shows off the wild and sublime range of emotions of puppies, cute and irresistible to the very last.
About the Author
Seth Casteel is an award-winning photographer and the author of the national bestseller Underwater Dogs, Underwater Puppies, and Underwater Babies. His photographs of babies and animals have been featured in media including the New York Times, National Geographic Magazine, Morning Edition, the Washington Post, The Today Show, and Business Insider, as well as on the front page of outlets AOL, MSN, Yahoo, and hundreds of others. He lives in California.
Praise For Underwater Puppies…
One of Amazon's Best Books of the Year: Gift Books


"Possibly the only thing cuter than
Underwater Dogs
!"—
Morning Edition
"Seth Casteel's fabulous 2012 photo book,
Underwater Dogs
,captured the exact moment that pets plunged into the pool, wide-eyed and happy. Now he's repeated the experiment -- with predictably adorable results -- in
Underwater Puppies
."—
Tina Jordan, Entertainment Weekly
"
Underwater Puppies
has puppy Beagles and labrador retrievers and border collies underwater looking somewhat more floppy and goofy than their older counterparts, and just as cute, if not more so."—
Steven Levingston, Washington Post
"Insanely cute....
Underwater Puppies
features a collection of delightful portraits of happy, submerged pooches playfully paddling below the surface.... Energetic, charming photos."—
Vi-An Nguyen, Parade.com
"Seth Casteel's underwater puppies are the perfect portrait subjects: Full of personality, snuggle-worth, and (literally) read to play ball."
—
Ainsley O'Connell, Fast Company
"
Underwater Puppies
will make your day.... Casteel's photos... capture the primal, playful, and oh-so-adorable side of puppies."—
Good Morning America
"Simultaneously gorgeous and otherworldly, the book's exuberant pups had us at the get-go."
—
Connie Wilson, Modern Dog
"
Underwater Puppies
will doggy paddle their way into your heart. The charming photo book features more than 80 underwater puppy portraits that are as vibrant as they are insanely cute."—
Mother Nature Network
"Puppies are adorable by themselves, but add water and you get to see their cuteness at a whole different level."
—
Daniel Casillas, Metro
"The genius of Seth Casteel comes into clear focus with the amazing images of diving canines.... Outrageously adorable puppy portraits presenting our best friends at their most playful and exuberant. ... Casteel's bold and unique photographs capture colorful underwater scenes of romping retrievers and playful pugs, courageous Cavaliers and vibrant vizslas, and many more. Each puppy's image is bursting with the wild and sublime range of puppy emotions--cute, irresistible, and always lovable.... Casteel captures each endearing, playful pup in action--with eyes open and staring back at us--attesting to why our best friends are our four-legged friends."
—
Alan Petrucelli, Examiner.com
Coverage from NPR