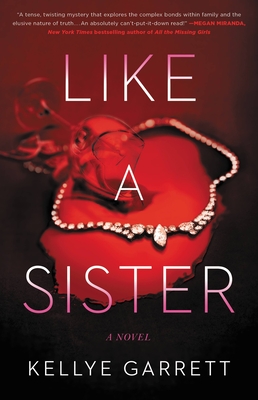 Like a Sister
Hardcover

* Individual store prices may vary.
Description
A twisty, voice-driven thriller for fans of Megan Miranda and Jessica Knoll, in which no one bats an eye when a Black reality TV star is found dead in the Bronx—except her estranged half-sister, whose refusal to believe the official story leads her on a dangerous search for the truth.

When the body of disgraced reality TV star Desiree Pierce is found on a playground in the Bronx the morning after her 25th birthday party, the police and the media are quick to declare her death an overdose. It's a tragedy, certainly, but not a crime.

But Desiree's half-sister Lena Scott knows that can't be the case. A graduate student at Columbia, Lena has spent the past decade forging her own path far from the spotlight, but some facts about Desiree just couldn't have changed since their childhood. And Desiree would never travel above 125th Street. So why is no one listening to her?

Despite the bitter truth that the two haven't spoken in two years, torn apart by Desiree's partying and by their father, Mel, a wealthy and influential hip-hop mogul, Lena becomes determined to find justice for her sister, even if it means untangling her family's darkest secrets—or ending up dead herself.
Praise For Like a Sister…
"Kellye Garrett, a break-out star in crime fiction since her debut, has upped the ante with her latest, Like a Sister. A traditional mystery set in the world of reality television and Instagram influencers, it is equal parts charm and heartbreak, with razor-sharp insights on class, race, and family. I'm happy to know that Kellye Garrett is just getting started. I can't wait to see what she does next."—Laura Lippman, New York Times bestselling author of Lady in the Lake

"Like a Sister is one of those reads whose tight plotting and suspenseful pacing might tempt you to rush to its twisty end, but take your time and enjoy the ride as Kellye Garrett fills these pages with humor, heart, and whip-smart insights into class, race, family, and our contemporary media culture. Garrett deserves every bit of praise Like a Sister is certain to earn."—Alafair Burke, New York Times bestselling author of The Better Sister

"Set in New York's seductively glamorous world of hip hop billionaires and dazzling reality stars, Like a Sister is a riveting, read-through-the-night thriller by a masterful storyteller. From the very first page to the jaw dropping finish, this is one you need to put at the top of your reading list."—Liv Constantine, bestselling author of The Last Mrs. Parrish

"Like a Sister is a marvel and a must-read story for the current moment. Garrett, with deft humor and perfect eye for the blurred lines of social media and reality TV, has crafted a gripping narrative of domestic suspense which delivers hard, essential truths about race, class, and makes us question why some women's stories are too often disbelieved."—Ivy Pochoda, author of These Women

"Like a Sister combines the voice and humor Kellye Garrett fans have always loved with a twisting and surprising story sure to attract new readers. Domestic suspense for the Instagram gen. #lovedit."—Lori Rader-Day, Edgar-nominated author of The Lucky One

"Kellye Garrett is a fantastic new voice in crime fiction, and Like a Sister is her best book yet. A twisty mystery that takes a deep dive into celebrity, social media—and the dangerously false perceptions they can create—Garrett's latest is razor-sharp and utterly absorbing. I dare you to try and put it down."—Alison Gaylin, author of If I Die Tonight

"Like A Sister is a wholly captivating novel, one that grows more complicated—and tense—as the story unfolds. Loaded with twists and turns, this book will keep you guessing, and reading, until the last shocking page."—Samantha Downing, bestselling author of My Lovely Wife and He Started It

"With utterly convincing family relationships, a deft eye for the slippery nature of trust, and a red-hot take on right now, Like a Sister sees multi-award-winning cozy author Kellye Garrett laying down a very different beat to bring us a sure-fire hit. Magic!"—Catriona McPherson, award-winning author of Strangers at the Gate
Mulholland Books, 9780316256704, 336pp.
Publication Date: March 8, 2022
About the Author
Kellye Garrett is the acclaimed author of Hollywood Homicide, which won the Agatha, Anthony, Lefty and Independent Publisher "IPPY" awards for best first novel and was named one of BookBub's Top 100 Crime Novels of All Time, as well as Hollywood Ending, which was featured on the TODAY show's Best Summer Reads of 2019 and was nominated for both Anthony and Lefty awards. Prior to writing novels, Kellye spent eight years working in Hollywood, including a stint writing for Cold Case. She currently serves on the Board of Directors for Sisters in Crime and is a co-founder of Crime Writers of Color.