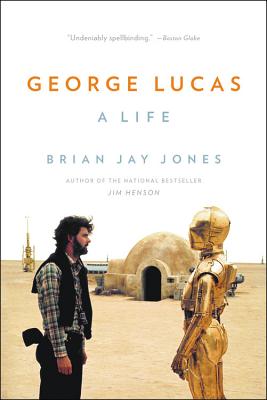 George Lucas (Paperback)
A Life
Back Bay Books, 9780316257428, 560pp.
Publication Date: November 21, 2017
Other Editions of This Title:
Digital Audiobook (12/5/2016)
Hardcover (12/6/2016)
Compact Disc (12/6/2016)
Compact Disc (12/6/2016)
* Individual store prices may vary.
Description
The essential biography of the influential and beloved filmmaker George Lucas

On May 25, 1977, a problem-plagued, budget-straining independent science-fiction film opened in a mere thirty-two American movie theaters. Conceived, written, and directed by a little-known filmmaker named George Lucas, Star Wars reinvented the cinematic landscape, ushering in a new way for movies to be made, marketed, and merchandised. Now it is one of the most adored--and successful--movie franchises of all time. Lucas went on to create the Indiana Jones series, transform the world of special effects, and forever change the way movies sound. His innovation and ambition forged some of today's most prominent companies, including Pixar, Lucasfilm, THX sound, and Industrial Light & Magic. This acclaimed biography brilliantly captures the life and times of a film icon whose influence is unmatched.
About the Author
Brian Jay Jones is the author of the New York Times bestseller Jim Henson: The Biography. He worked for nearly two decades as a public policy analyst and speechwriter, and has a degree in English literature from the University of New Mexico. He lives in Maryland with his wife.
Praise For George Lucas: A Life…
Praise for George Lucas

One of the Best Books of 2016 - Kirkus

A San Francisco Chronicle and The Globe and Mail Holiday Gift Guide Pick

One of Bustle's "Best Nonfiction Books of December"

One of Amazon's Best Books of December

"George Lucas is a terrific book! Brian Jay Jones has pulled off the rare trick of a writing a biography that appeals to both hard-core fans and casual readers. It is filled with fascinating details, backed up by deep and dogged research, woven into a breezy, fast-paced story that effortlessly pulls the reader into Lucas's world. Future film buffs and historians will look back on George Lucas as a landmark achievement."—Debby Applegate, Winner of the 2007 Pulitzer Prize for The Most Famous Man in America: The Biography of Henry Ward Beecher

"Like the famous opening shot of the very first Star Wars, George Lucas: A Life is sweeping, humbling, and instantly transports you into the world of the mad dreamer. Fellow nerds unite! Finally, we get a book that examines the history of a titan who really changed our lives. Beautifully obsessive and relishes every detail. Just like us."—Brad Meltzer

"A sweeping, perceptive biography. This in-depth portrait...is never less than fascinating. Masterful and engaging: just what Lucas' fans and buffs, who love the nitty-gritty of filmmaking, have been waiting for."—Kirkus (starred review)

"Maestro biographer Jones tackles another brilliant entertainer. The world knows George Lucas as the filmmaker who brought us Star Wars, one of the most iconic Hollywood franchises in history, but as Jones' in-depth, fascinating, and even gripping exploration reveals, Lucas is much more than a gifted storyteller....Jones digs deep to limn the highs and lows of Lucas' career and life, capturing his drive and innovation in crisp, sparkling prose. Masterful and essential for film and pop culture enthusiasts."—Booklist (starred review)

"The collective double take over Star Was never gets old.... Jones, who comes to Lucas from a celebrated life of Jim Henson, tells a more straightforward story in definitive detail."—Tom Shone, New York Times

"Exhaustively chronicles the life and movies of George Lucas, arguably America's most successful filmmaker. [T]ells in granular detail how his films were produced: from initial concept and scriptwriting, to casting and location selections, to the filming and, most importantly for Lucas's process, the editing. [P]roves Lucas's singular legacy is well deserved."—Publishers Weekly

"Engaging... Jones captures the bone-crushing work, the frustrations with film studio overlords and the near failures that resulted in ground-breaking films like American Graffiti and Star Wars."—Jane Ciabattari, BBC

"The most compelling part of Brian Jay Jones' very readable book covers the years in which this kid went from a provincial, and nearly rural, childhood to studying illustration and going to film school at the University of Southern California.... [Jones'] narrative of the ordeal [of making Star Wars] and triumph makes wonderful reading.... Jones is a good storyteller... he proves that an American billionaire can be an odd, brilliant but quite ordinary fellow."—David Thomson, San Francisco Chronicle

"Lucas changed not only the way movies are made but even the way they are shown...Jones mines the literature on Lucas's life and work to produce an admirably comprehensive view."—Charles Matthews, Washington Post

"A fast-paced portrait of the reclusive and visionary George Lucas. His rise from unknown, budget-stretched writer to film industry legend is all here. And it's told through anecdotes and insights that build out the man behind the creation. The perspectives from colleagues, competitors, mentors and friends are at times brutally honest.... It's the one biography for casual and die-hard fans alike."—G. Clay Whittaker, Rolling Stone

"Just in time for the theatrical release of the new Star Wars movie... Brian Jay Jones masterfully unveils the very private man behind the blockbuster film empire he created."—Parade

This book offers quite a lot of interesting trivia and insight into the quiet, enigmatic genius who hated working in the very studio system that led to his biggest hits....Many of the on-set stories and pieces of trivia have been told before, but are fun to revisit, and in that way, A Life makes a nice complement to Star Wars actress Carrie Fisher's new memoir The Princess Diarist....Jones goes 'deep inside the baseball' when it comes to filmmaking techniques and industry minutiae-though movie nerds will eat those parts up....A solid read about a fiercely independent, unforgettable American filmmaking icon."—Brian Truitt, USA Today

"Lucas was in need of a biography's re-appreciation (or reckoning), and Jones-whose previous subject was Jim Henson-was a good candidate for the job....GEORGE LUCAS serves as a reminder for the staggering amount Lucas contributed to culture."—Ryan Vlastelica, A.V. Club

"Jones' ebullient bio shows that the Force has always been with filmmaker Lucas. Packed with fun insider info, [George Lucas] is a whiz-bang tribute to a genius."—People

"A lot of fun in Jones' retelling of Lucas' early years... Film geeks will rejoice at the detailed explanation of how Star Wars was made. And there's great insight into the way the film industry works -- and how Lucas and company changed it.... Lucas emerges as a likable and largely admirable person."—Rick Moser, Chicago Tribune

"Jones's narrative is undeniably spellbinding and will be especially compelling to film nerds....deeply researched and striking."—Ethan Gilsdorf, Boston Globe

"Just in time for Rogue One, check out this sweeping biography."—Variety