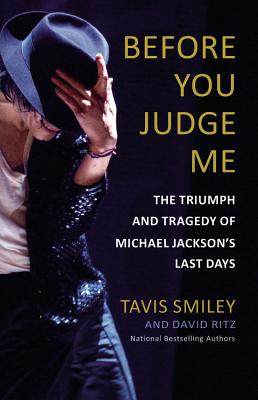 Before You Judge Me (Hardcover)
The Triumph and Tragedy of Michael Jackson's Last Days
Little, Brown and Company, 9780316259095, 288pp.
Publication Date: June 21, 2016
Other Editions of This Title:
Digital Audiobook (6/20/2016)
Compact Disc (6/21/2016)
CD-Audio (7/5/2016)
* Individual store prices may vary.
Description

A powerful chronicle of the sixteen weeks leading up to King of Pop Michael Jackson's death
Michael Jackson's final months were like the rest of his short and legendary life: filled with deep lows and soaring highs, a constant hunt for privacy, and the pressure and fame that made him socially fragile and almost--ultimately--unable to live.
With the insight and compassion that he brought to his bestselling telling of Martin Luther King, Jr.'s final year, Tavis Smiley provides a glimpse into the superstar's life in this emotional, honest, yet celebratory book. Readers will witness Jackson's campaign to recharge his career--hiring and firing managers and advisors, turning to and away from family members, fighting depression and drug dependency--while his one goal remained: to mount the most spectacular series of shows the world had ever seen. BEFORE YOU JUDGE ME is a humanizing look at Jackson's last days.
About the Author
Tavis Smiley is the host of PBS's Tavis Smiley and Public Radio International's The Tavis Smiley Show. Smiley is also the bestselling author of 17 books. He lives in Los Angeles, California.
Praise For Before You Judge Me: The Triumph and Tragedy of Michael Jackson's Last Days…
Praise for Before You Judge Me

"With compassion and unwavering empathy, Smiley weaves Jackson's music into the turmoil that enveloped the pop star...This heart-wrenching portrait of Jackson's experience will appeal to fans who wish to remember him for what he was: one of the world's greatest entertainers."—Tyler Hixson, Library Journal (starred)

"The authors delve through a wealth of research material to create a nearly day-by-day account of Jackson's last weeks, with occasional glimpses into his earlier life.... The most intriguing sections of the book unravel the complicated business relationships in which Jackson was involved, his attempts to separate himself from his parents and siblings, and his efforts to push his art further while his fans were demanding more of the same."—Kirkus Reviews

"This is a sympathetic and admiring look at the final days of a great entertainer who couldn't or wouldn't grow up."
—June Sawyers, Booklist

"Smiley and Ritz wisely spend as much time on the ins and outs of Jackson's managerial team as they do on his emotional health. As well as the war over who would manage Jackson, the book covers much behind-the-scenes rumbling from the Jackson family.... [Smiley and Ritz] show how he found the most freedom when lost in the joys of music, both performing and creating.... His accidental overdose death is all the more tragic in the context of a time when it seemed his career was getting back on track."—Publishers Weekly

"A sweeping portrait of the life and legacy of Michael Jackson."—Neil Pond, Parade

"Well-researched... It's a highly-sympathetic view, presenting Jackson as a committed artist with a probing intellect."—Jay Gabler, The Current