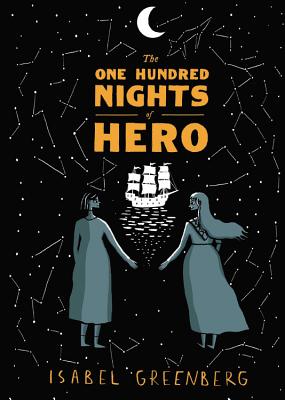 The One Hundred Nights of Hero
A Graphic Novel
Hardcover

* Individual store prices may vary.
Description
In the tradition of The Arabian Nights, a beautifully illustrated tapestry of folk tales and myths about the secret legacy of female storytellers in an imagined medieval world.

In the Empire of Migdal Bavel, Cherry is married to Jerome, a wicked man who makes a diabolical wager with his friend Manfred: if Manfred can seduce Cherry in one hundred nights, he can have his castle -- and Cherry.

But what Jerome doesn't know is that Cherry is in love with her maid Hero. The two women hatch a plan: Hero, a member of the League of Secret Story Tellers, will distract Manfred by regaling him with a mesmerizing tale each night for 100 nights, keeping him at bay. Those tales are beautifully depicted here, touching on themes of love and betrayal and loyalty and madness.

As intricate and richly imagined as the works of Chris Ware, and leavened with a dry wit that rivals Kate Beaton's in Hark! A Vagrant, Isabel Greenberg's One Hundred Nights of Hero will capture readers' hearts and minds, taking them through a magical medieval world.
Praise For The One Hundred Nights of Hero: A Graphic Novel…
"Greenberg's art perfectly suits the stories she's telling and the tone she's telling them in. Her rough line work is reminiscent of Kate Beaton'st Hark! A Vagrant and Emily Carroll's Through the Woods, and lends the stories, and their world, a folkloric charm."--Entertainment Weekly

"You've never encountered a gathering of fables as funny and Sapphic as this graphic novel."--O, the Oprah Magazine
"Greenberg is a staunch believer in the power of stories...readers get sucked into each one she tells. Highly recommended for adult readers, especially those who enjoy mythology and fable."--Library Journal (starred review)

"Greenberg combines elements from fairy tales, children's books, and folklore from around the world to create an original but teasingly familiar mythos... Above all, it's a book about the power of storytelling... Greenberg's primitive woodcut-style illustrations suggest folk art from another planet."--Publishers Weekly, (starred review)

"Wry and wise...sure to become a feminist classic.... A cry against oppression, a love letter to the human need for stories, a celebration of the many bonds between women, The One Hundred Nights of Hero will leave readers wishing Greenberg had written 1,000 nights instead."--Shelf Awareness
"Enchanting.... Greenberg's artwork is whimsical, and her plots reference countless fables. But there's also real darkness, and the stories speak movingly of the desperation of a narrow, patriarchal world in which 'happily ever after' often translates as forced marriage to a strange man."--The Guardian

Praise for The Encyclopedia of Early Earth

One of Time's Top 10 Fiction Books of 2013

One of National Public Radio's Great Reads of 2013

One of Slate's Best Books of 2013

One of Amazon's Top Ten Books of December 2013

A Top Ten Graphic Novel of 2013, Booklist.

"It's a book about many things--love, snow, God, poisoned sausages...but mostly it's a celebration of storytelling itself. Strange and wry and funny and beautifully drawn." ---Mark Haddon, author of The Curious Incident of the Dog in the Night-Time

"Greenberg speaks of storytellers, but she's a great storyteller hself, and it's easy to be pulled into the worlds that she writes, housed neatly by tight drawings in a style that is bright enough to bring these worlds to life, and detached enough to feel a little otherworldly." ---Kate Beaton, author of Hark! A Vagrant

"The Encyclopedia of Early Earth is a delightful accordian of a book. This graphic novel casts a spell like that of Scheherazade--when you sit down with it, prepare to stay until the last page." ---Eowyn Ivey, author of The Snow Child

"A loving homage to storytelling itself...Sewing her own sly humor, Greenberg deeply immerses readers in the themes and lessons of world mythology...Just as evocative is her art, which uses simple, childlike illustrations to channel the power of ancient cave paintings and archetypal images from our own imaginations. A unique, compelling standout." -- Jesse Karp, Booklist

"This little gem of a graphic novel is... Part storybook, part allegory, part meditation on the need for mankind to tell stories, the book manages to encompass all of existence without ever feeling too big for its britches. Never has a story about the primordial world felt so cozy." - A.V. Club

"Ambitious and impressive enough as a feat of world-building, but it's a good deal more than that. From its gods and ghosts and monsters, a rich and palpably human tale emerges - a sad and unshowily beautiful love story that lands with an emotional impact you likely won't see coming." -- National Public Radio

"Hands down the most accomplished and satisfying graphic novel of the year." ---Salon

"In all its trapdoored complexity, its stories within stories about stories, The Encyclopedia of Early Earth is a funny and touching celebration of the narrative species that we are." --- Slate

"It seems most years there is a singular graphic novel release that positions itself above the majority: Building Stories (Chris Ware) in 2012, Habibi (Craig Thompson) in 2011...I would suggest Isabel Greenberg's book could be that title this year." --- IGN

"With immersive storytelling and a wry sense of humor, Greenberg's latest regales readers with a series of tales that seem both timely and timeless.... There's a distinctly modern sensibility to the message here, which makes the tales remarkably fresh.... Greenberg's lush world building, captivating storytelling, and idiosyncratic artwork will easily entrance fans of literary graphic novels."
—Booklist, starred review
Little, Brown and Company, 9780316259170, 224pp.
Publication Date: December 6, 2016
About the Author
Isabel Greenberg is a writer and illustrator who lives and works in North London. She studied illustration at the University of Brighton in 2010, and has worked for NoBrow Press, Seven Stories Press, and Solipsistic Pop. She is the winner of the 2011 Observer/Cape Graphic Short Story Prize.