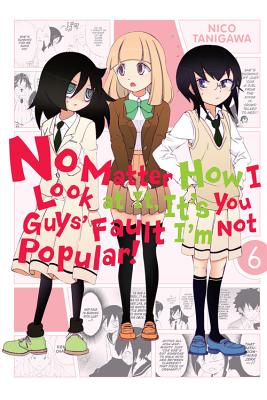 No Matter How I Look at It, It's You Guys' Fault I'm Not Popular!, Vol. 6 (Paperback)
Yen Press, 9780316259415, 144pp.
Publication Date: January 20, 2015
Other Editions of This Title:
Paperback (3/26/2019)
Paperback (10/29/2013)
Paperback (10/28/2014)
Paperback (11/22/2016)
Paperback (1/21/2014)
Paperback (12/19/2017)
Paperback (7/22/2014)
* Individual store prices may vary.
Description
A face from Tomoko's past shows up at her high school...but Tomoko can't remember her middle school classmate Komiyama for the life of her! As if that's not bad enough, Komiyama holds a serious grudge against Tomoko, and there's no way she's gonna just let it go. On the grand stage of high school, these two lonely hearts wage war...on each other!
About the Author
A team of two manga artists, Nico Tanigawa is the creator of a number of school-life comedies, including No Matter How I Look At It, It's You Guys' Fault I'm Not Popular!