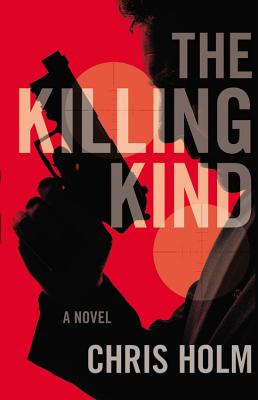 The Killing Kind (A Michael Hendricks Novel #1) (Hardcover)
Mulholland Books, 9780316259538, 320pp.
Publication Date: September 15, 2015
Other Editions of This Title:
Digital Audiobook (9/14/2015)
Paperback (8/2/2016)
Pre-Recorded Audio Player (9/15/2015)
Hardcover, Large Print (3/22/2017)
* Individual store prices may vary.
Description
Michael Hendricks kills people for money. That aside, he's not so bad a guy.

Once a covert operative for a false-flag unit of the US military, Hendricks was presumed dead after a mission in Afghanistan went sideways. He left behind his old life -- and beloved fiancée -- and set out on a path of redemption...or perhaps one of willful self-destruction.

Now Hendricks makes his living as a hitman entrepreneur of sorts -- he only hits other hitmen. For ten times the price on your head, he'll make sure whoever's coming to kill you winds up in the ground instead. Not a bad way for a guy with his skill-set to make a living -- but a great way to make himself a target.
About the Author
Chris Holm is the author of the Collector trilogy, which blends crime and fantasy, and the Michael Hendricks thrillers. His Hendricks novel, The Killing Kind, was named a New York Times Editors' Choice and won the Anthony Award for Best Novel. His second Hendricks novel, Red Right Hand, was nominated for the Anthony Award for Best Novel. Holm lives in Portland, Maine.
Praise For The Killing Kind (A Michael Hendricks Novel #1)…
"Chris Holm's
The Killing Kind
is my favorite thriller of the fall lineup. Here's a solid gold premise: an assassin who only kills other assassins. . . . The cat-and-mouse game that follows is pure joy. . . . This novel is so fast-moving, so expertly arranged, every piece fitting together with a well-oiled snap, that it feels weaponized. Read it. Or else."—
Benjamin Percy
,
New York Times Book Review (Editors' Choice)
"Pure thriller with a smart, vicious twist . . . What makes this book sing [is] its lean action, breakneck execution, and a nervy concept that's almost too perfect. . . . The book has plenty of sly humor, sharp dialogue, and even the occasional yanked heartstring. And there's a rhythm to it, relentless and breathtaking."
—
Jason Heller
,
NPR
"The writing is tight and tense . . . This is a fun spin on crime fiction."
—
Jeff Ayers
,
Associated Press
"With
The Killing Kind
, Chris Holm has created a story of rare, compelling brilliance, with a concept so high you'll need oxygen to finish it. Hit man against hit man, one pure silk and evil, the other not exactly good, but we root for him anyway as the classic antihero. This is a one-sitting, extravagant, mind-blowing reading pleasure with a stable of characters who come across as all flesh, bone and folly. You will never look at men hired to kill other humans the same way. You won't merely read this book, you will inhale it."—
David Baldacci, bestselling author of The Escape
"Chris Holm loads an ingenious premise-an assassin who kills only other assassins-into a high-powered story that goes off like a rocket. His protagonist, Mike Hendricks, is an all-American anti-hero with his own code of justice, living on stolen time.
The Killing Kind
is sleek and smart, and will stay with you long after you've finished reading."—
Joseph Finder, New York Times bestselling author of The Fixer
"An ultra-strategic cat-and-mouse game of mind-blowing proportions. . . . Holm is terrific at rendering characters with empathy and humor. . . . You'll want to go along for the ride - but keep that seat belt fastened."
—
Daneet Steffens
,
Boston Globe
"I love Chris Holm. He can evoke a landslide of character in a single detail.
The Killing Kind
crackles with muscle and moxie and wit. I will read it again and again."—
Chelsea Cain, author of the New York Times bestseller One Kick
"Fast-paced . . . A skillfully woven cat-and-mouse thriller . . . [Holm's] style here is clean and uncluttered, no-nonsense but flexible enough to serve up either high-octane violence or straight-faced dark humor. . . .
The Killing Kind
is the kind of well-wrought entertainment that builds an enthusiastic fan base."—
Michael Berry
,
Portland Press Herald
"A premise as intriguing as it is original . . . [Holm] brilliantly unleashes a cross-country game of cat-and-mouse in which the predator becomes the prey. . . .
The Killing Kind
is an intelligent and droll shot of adrenaline that aims high and more than makes the mark."—
John Valeri
,
Hartford Books Examiner
"An adrenaline-packed read from start to finish, this first installment in what we hope is a new series is a must for thriller fans."
—
Jordan Foster
,
Strand Magazine
"Lean, brutal and riveting, Chris Holm's
The Killing Kind
is the kind of novel you can't put down but also want to savor. With sharply etched characters, knifelike twists and hardboiled energy to burn, it's an utter winner, beginning to end."—
Megan Abbott, bestselling author of The Fever
"A high-octane, cat-and-mouse thrill ride, written with style and a flair for the spectacular. Chris Holm is a master storyteller, and
The Killing Kind
is his best work to date. Don't miss it."—
Owen Laukkanen, author of the bestselling The Professionals
"[A] fast-moving, witty tale of good guy versus bad guy versus worse guy."
—
Kirkus Reviews (starred)
"Holm's action scenes are breathtaking whirlwinds. . . He builds an improbable level of suspense. . . . It's clear [Holm] is a writer with a strong future. Stick with him."
—
Booklist
"[An] inventive thriller . . . Holm carries off a preposterous plot with brazen aplomb, creating a diverting, action-packed story interspersed with excellent character vignettes."
—
Publishers Weekly
"Chris Holm's latest is exceptional in every way, with breakneck pacing, sensational storytelling, and razor-sharp prose. At its hardboiled core is an unforgettable antihero who inhabits a violent purgatory of his own making, but discovers there's a piece of his soul he hasn't lost yet. Dark, riveting, and instantly addictive,
The Killing Kind
is this year's must-read thriller."—
Hilary Davidson, Anthony Award-winning author of Blood Always Tells
"With a great writer, a great premise, and a great protagonist, how can you lose? With his unique take on the hit man thriller, Chris Holm claims his place amongst the best suspense novelists working today. It takes real talent to make a hero of a cold-blooded killer, and Chris Holm pulls it off with style."
—
Stuart Neville, author of LA Times Book Prize-winning The Ghosts of Belfast
or
Not Currently Available for Direct Purchase