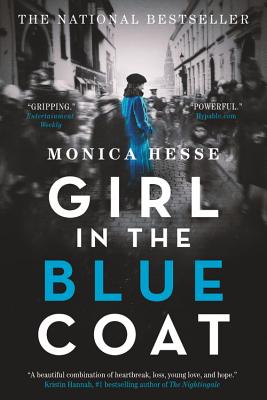 Girl in the Blue Coat
Paperback

* Individual store prices may vary.
Other Editions of This Title:
Digital Audiobook (4/4/2016)
CD-Audio (4/5/2016)
Prebound (4/4/2017)
Compact Disc (4/5/2016)
Description
The bestselling, "gripping" (Entertainment Weekly), "powerful" (Hypable), "utterly thrilling" (Paste.com) winner of the Edgar Award for Best Young Adult Mystery, perfect for readers of Kristin Hannah and Ruta Sepetys

Amsterdam, 1943. Hanneke spends her days procuring and delivering sought-after black market goods to paying customers, her nights hiding the true nature of her work from her concerned parents, and every waking moment mourning her boyfriend, who was killed on the Dutch front lines when the Germans invaded. She likes to think of her illegal work as a small act of rebellion.

On a routine delivery, a client asks Hanneke for help. Expecting to hear that Mrs. Janssen wants meat or kerosene, Hanneke is shocked by the older woman's frantic plea to find a person--a Jewish teenager Mrs. Janssen had been hiding, who has vanished without a trace from a secret room. Hanneke initially wants nothing to do with such dangerous work, but is ultimately drawn into a web of mysteries and stunning revelations that lead her into the heart of the resistance, open her eyes to the horrors of the Nazi war machine, and compel her to take desperate action.

Beautifully written, intricately plotted, and meticulously researched, Girl in the Blue Coat is an extraordinary novel about bravery, grief, and love in impossible times.

Don't miss The War Outside and They Went Left, two more gripping historical novels by Monica Hesse
Praise For Girl in the Blue Coat…
The Edgar Award Winner for Best Young Adult Mystery Novel 2017
An Entertainment Weekly Best YA Book of 2016
A Booklist Best Young Adult Book of 2016
A 2017 Indies Choice Awards Finalist for Best Young Adult Book
A YALSA 2017 Best Book for Young Adults
A New York Public Library Best Book for Teens of 2016
A Notable Social Studies Trade Books for Young People Selection 2017
A 2017 Bank Street College of Education Best Children's Book of the Year
A 2018-2019 California Young Reader Medal nominee
2018 All Iowa Young Adults Read


"Girl in the Blue Coat is a powerful, compelling coming-of-age story set against the dark and dangerous backdrop of World War II. It's an important and page-turning look at the choices all of us--including young adults--have to make in wartime. A beautiful combination of heartbreak, loss, young love, and hope."—Kristin Hannah, #1 New York Times bestselling author of The Nightingale

"A tapestry of guilt and acceptance, growing responsibility, and reluctant heroism, Hanneke's coming-of-age under heartbreaking circumstances is a jarring reminder of how war consumes and transforms the passions of ordinary life. Every devastating moment of this beautiful novel is both poignant and powerful, and every word feels true."
—ElizabethWein, New York Times bestsellingauthor of Black Dove, White Raven; Rose Under Fire; and the Printz Honor-winningCode Name Verity

"In an occupied city, a young woman's daring transforms into true courage when she confronts a mystifying disappearance. From page one, I couldn't turn the pages fast enough. Enthralling."—Judy Blundell, New York Times bestselling author of Strings Attached and the National Book Award-winning What I Saw and How I Lied

"It's no small feat to bring the past to life, especially a history as dark and desperate as World War II. Monica Hesse does just this with Hanneke's story. Brace yourself, dear reader, to have your heart bruised--and possibly even broken--in the most meaningful of ways."—Ryan Graudin, author of The Walled City and Wolf by Wolf

* "[An] affecting novel...that skillfully combines reality with fiction. Her characters come alive, and...Hesse's pacing infuses her story with thriller suspense, enriching the narrative with dramatic surprises both small and large."—Booklist

* "Riveting... a gripping historical mystery."
—Publishers Weekly

* "This fast-paced story is alternately touching, heart-pounding and wrenching-but always gripping. ...a heartrending, moving story."
—VOYA

* "A poignant, wonderfully crafted story of love and loss, courage and redemption."
—Shelf Awareness

"Taut and intelligent... the historical setting is rendered the way only an expert can do it."
—The Washington Post

"The themes of love, betrayal, heroism, social responsibility, and atonement are beautifully intertwined with well-developed characters and a compelling story line. Thoroughly researched, this work brings history alive in a clear and concise way that rings true. A must-read for fans of historical fiction, especially stories set during World War II."
—School Library Journal

"Rich in content and emotion, this is a first-rate companion to the historical tales of the onderduikers, the hidden Jews of Holland, and a compelling read"
—Kirkus Reviews

"This heartbreaking story of terror and loss sweeps you into a time-is-running-out mystery that delivers plot twists and a shocking final punch that'll haunt you for days."
—Justine Magazine

"A moving immersion into life in WWII."
—The St. Louis Post-Dispatch
Little, Brown Books for Young Readers, 9780316260633, 320pp.
Publication Date: April 4, 2017
About the Author
Monica Hesse is the bestselling author of Girl in the Blue Coat and American Fire, as well as a journalist with The Washington Post. She lives outside Washington, D.C. with her husband and their dog.
1. Hanneke begins her story by recounting an argument she had with Bas about whose fault it was that he'd fallen in love with her. How does this anecdote tie into the novel's larger theme of fault and responsibility? At the end of the novel, does Hanneke still think about fault in the same way?
2. Although numerous large, powerful nations clashed during World War II, Girl in the Blue Coat takes place in the Netherlands, a comparatively small, German-occupied country. Why might Monica Hesse have chosen Amsterdam as a setting when other places were more directly involved in the conflict?
3. Hanneke spends most of the novel slowly unraveling the mystery of Mirjam's disappearance. However, just before she achieves her goal, a girl she believes is Mirjam is shot in front of her. Were you surprised by this abrupt, violent climax? How does it reframe Hanneke's journey?
4. At first, Hanneke is opposed to resisting the German occupation directly. She deals in the black market for the benefit of her family and no one else. Various other characters hold a similar viewpoint—they loathe the Nazi occupation but do not fight back outright. How do you feel about the people who acted this way? Did Girl in the Blue Coat humanize them, or were their actions immoral?
5. At the end of the novel, Hanneke finds the real Mirjam and informs Mirjam of her friend Amalia's death. Why do you think she chose to do so? Do you think she made the right decision?
6. Hesse ends Girl in the Blue Coat with an anecdote about Bas changing the last line in a book Hanneke is reading. What do you think is the symbolism of this scene? Why might Hesse have decided to end Hanneke's story this way?