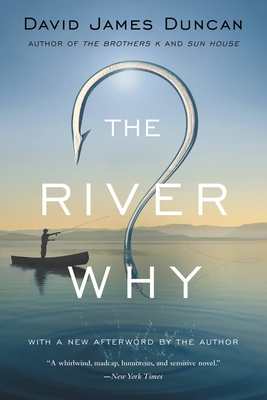 The River Why (Paperback)
Back Bay Books, 9780316261227, 432pp.
Publication Date: March 29, 2016
Other Editions of This Title:
Paperback (12/1/1984)
Compact Disc (6/6/2017)
Compact Disc (6/1/2006)
Audio Cassette (4/1/2006)
MP3 CD (10/1/2006)
Compact Disc (4/1/2006)
* Individual store prices may vary.
Description
The classic novel of fly fishing and spirituality republished with a new Afterword by the author.

Since its publication in 1983, THE RIVER WHY has become a classic. David James Duncan's sweeping novel is a coming-of-age comedy about love, nature, and the quest for self-discovery, written in a voice as distinct and powerful as any in American letters.

Gus Orviston is a young fly fisherman who leaves behind his comically schizoid family to find his own path. Taking refuge in a remote cabin, he sets out in pursuit of the Pacific Northwest's elusive steelhead. But what begins as a physical quarry becomes a spiritual one as his quest for self-knowledge batters him with unforeseeable experiences.

Profoundly reflective about our connection to nature and to one another, THE RIVER WHY is also a comedic rollercoaster. Like Gus, the reader emerges utterly changed, stripped bare by the journey Duncan so expertly navigates.
About the Author
David James Duncan is the author of the novels The River Why and The Brothers K, the story collection River Teeth, and two nonfiction collections. His work has appeared in numerous national anthologies, including Best American Essays (twice), Best American Sportswriting, and Best American Spiritual Writing (five times). Duncan is widely renowned as an activist and expert fly fisher. He lives with his family in western Montana.
Praise For The River Why…
Praise for The River Why:

"A whirlwind, madcap, humorous and sensitive novel"—New York Times

"A hymn to the waters of the earth and the wholeness of life. It is also funny."—Miami Herald

"A veritable epic of flyfishing... done in a high-velocity, exuberant style, sprawling in scale, heedless of form... The feeling for and evocation of the imperiled natural world is rhapsodic in its intensity; the writing energetic, literary in a distinctly American way... So amiable is the prevailing tone that the flowing narrative is able to absorb Koranic and Eastern mysticisms, Tao, Sufism, Zen-the religions of oneness and gospel of love-without turning into the kind of maudlin choral chanting that so often disfigures treatments of fusion of self and the world."—Publishers Weekly

This is a modern-repeat, modern -tale of maturity and redemption.—Christian Science Monitor