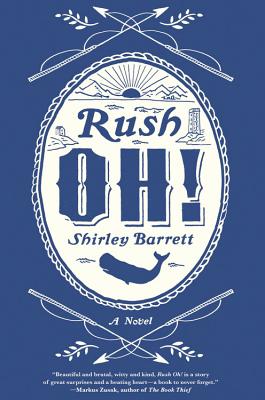 Rush Oh!
Hardcover

* Individual store prices may vary.
Other Editions of This Title:
Digital Audiobook (3/21/2016)
Paperback (1/10/2017)
Description
An impassioned, charming, and hilarious debut novel about a young woman's coming-of-age, during one of the harshest whaling seasons in the history of New South Wales.

1908: It's the year that proves to be life-changing for our teenage narrator, Mary Davidson, tasked with providing support to her father's boisterous whaling crews while caring for five brothers and sisters in the wake of their mother's death. But when the handsome John Beck -- a former Methodist preacher turned novice whaler with a mysterious past -- arrives at the Davidson's door pleading to join her father's crews, suddenly Mary's world is upended.

As her family struggles to survive the scarcity of whales and the vagaries of weather, and as she navigates sibling rivalries and an all-consuming first love for the newcomer John, nineteen-year-old Mary will soon discover a darker side to these men who hunt the seas, and the truth of her place among them.

Swinging from Mary's own hopes and disappointments to the challenges that have beset her family's whaling operation, Rush Oh! is an enchanting blend of fact and fiction that's as much the story of its gutsy narrator's coming-of-age as it is the celebration of an extraordinary episode in history.
Praise For Rush Oh!…
"Barrett writes with a warmth and humor
that lift the story free of its historical sources....
A fresh and subversive take on a genre traditionally owned by male leviathans like Melville and Hemingway."
—
Tom Gilling, New York Times Book Review"Irresistible
.... RUSH OH! is an elegiac tale...but
Mary's voice is so fresh and Ms. Barrett's sidewinding story so spry and amusing
that readers will think less of endings than of the auspicious start to a novelist's career."—
Sam Sacks, Wall Street Journal"One of the genuinely addictive books of the season."
—
Meredith Turits, ELLE"Wonderfully crisp.... [An] epic tale."
—
Karen Bender, O: The Oprah Magazine"Beautiful and brutal, witty and kind,
RUSH OH!
is a story of great surprises and a beating heart--a book to never forget."—
Markus Zusak, author of The Book Thief"Vividly portrays the hunt as well as its moral ambiguities."
—
Editors' Choice, New York Times Book Review"A charming coming-of-age tale."
—
Tom Beer, Newsday"RUSH OH! is a masterpiece. It's human, heart-stopping, heart-warming, and hilarious, and I fell instantly, lastingly in love."
—
Jennifer Niven, author of All the Bright Places and The Ice Master
"[Barrett's]
vivid and visualstorytelling
transfers perfectly to the page."—
Peter Meinertzhagen, Electric Literature"Funny and sweet and wonderful."
—
Book Riot"Moby Dick meets a grownup Anne of Green Gables
.... One of the funniest books I've ever read."—
Sarah Shaffi, Monocle"[A] rip-roaring account.... filled with evocative, briny descriptions,
humorous set pieces, and newspaper extracts that come together nicely to create an intimate, wry story of one tumultuous year on the seas."—
Publishers Weekly"Hugely funnyand peopled with a cast of characters I came to treasure like my own friends,
RUSH OH!
reminded me why I love reading."—
Hannah Kent, author of Burial Rites"A poetic meditation on love in its many forms... RUSH OH! is terrific."
—
Jay Parini, author of The Last Station
"Drolly tart and unsentimental.... Prickly yet endearing Mary is the star....
With a narrator reminiscent of Jo March, the sensibility here is...akin to Little Women."
—
Kirkus Reviews"A heart-warming, beautifully written story of an unusual young woman who prevails against all odds.
Colorful characters and exquisite humor bring to life a near-forgotten world of hard work and modest hopes-a world we must not allow ourselves to forget. Fans of Jane Austen will love the playful energy of the book, and so will anyone looking for a unique, inspiring read. Shirley Barrett is a masterful storyteller."—
Anne Fortier, author of Juliet and The Lost Sisterhood"This is the best sort of historical fiction, as entertaining as it is illuminating."
—
Sharma Shields, author of The Sasquatch Hunter's Almanac
"
Funny and fascinating and haunting:
the skeleton of the killer whale Old Tom is on exhibit in an Australian museum, but his great spirit-like that of many bygone bipedal Australians he knew-lives on in this book."—
Brian Kimberling, author of Snapper"[An] absorbing historical romance."
—
Michael Cart, Booklist"Barrett is a marvel.By turns matter-of-fact and romantic, comical and historical, RUSH OH! is always utterly charming,
and I know I will make repeated visits to Mary and her world."—
Alison Jean Lester, author of Lillian on Life"A lively, humorous portrayal of the domestic side of whaling at the end of its heyday, told with genuine sympathy and good will."
—
Lauren Bufferd, BookPage
"Mary possesses the spunk and pluck you'd find in the heroine of a 19th-century British novel of manners, and there is wit enough to get this story told with humanity and humor even while the odds are stacked against her."
—
Steven Nester, January Magazine
Little, Brown and Company, 9780316261548, 368pp.
Publication Date: March 22, 2016
About the Author
Shirley Barrett is best known for her work as a screenwriter and director. Her film Love Serenade won the Caméra d'Or for best first feature at the Cannes Film Festival in 1996. In 2010, the script for her film South Solitary won the Queensland Premier's Prize and the West Australian Premier's Prize. Rush Oh! is her first novel. She lives in Sydney, Australia.
or
Not Currently Available for Direct Purchase