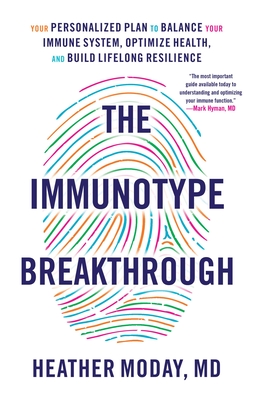 The Immunotype Breakthrough
Your Personalized Plan to Balance Your Immune System, Optimize Health, and Build Lifelong Resilience
Hardcover

* Individual store prices may vary.
Other Editions of This Title:
Digital Audiobook (12/20/2021)
Compact Disc (12/21/2021)
Description
A respected immunologist, allergist, and functional medicine doctor breaks down the latest science on immunity, offering "the most important guide available" (Mark Hyman, MD) to balancing your system for optimal health and longevity.
To most of us, the immune system is seemingly unknowable—it's an invisible, complex network of cells, receptors, and messengers, and there's no standard way to see if it's functioning as it should. Yet in spite of this, it affects every aspect of our health, influencing (and sometimes even causing) nearly every disease known to humanity. Much has been made about "boosting" immunity, but what exactly does that mean, and what if boosting isn't really what your unique system needs?
 
In The Immunotype Breakthrough, Dr. Heather Moday explains that for most, immune system balance is key. Drawing on a wealth of cutting edge research and fascinating case studies, Dr. Moday explains that the immune system is fluid and significantly influenced by our behaviors, diet, habits, and environment. She identifies four primary Immunotypes—Smoldering, Weak, Hyperactive, and Misguided—that underlie the immune imbalances that commonly lead to disease, chronic inflammation, infection, allergies, and autoimmunity. By identifying your personal immunotype—where you fall on this immunity spectrum—you can intervene by making focused, individualized, natural lifestyle changes to ensure it functions optimally 

Featuring engaging and accessible science, practical and customizable takeaways, and interactive quizzes to help you zero in on your specific needs, The Immunotype Breakthrough is a revolutionary program for creating an individualized lifestyle and diet that will lead to immune resilience, vitality, and longevity. 
Praise For The Immunotype Breakthrough: Your Personalized Plan to Balance Your Immune System, Optimize Health, and Build Lifelong Resilience…
"In an era of heightened awareness of our immune system, the threat of pandemics, the rise of autoimmunity, and the revelatory new science that everything from heart disease to cancer, Alzheimer's to autism, and depression to diabetes is linked to disordered immune function and inflammation, The Immunotype Breakthrough is the most important guide available today to understand and optimize our immune function. It is an essential roadmap for anyone with an immune system (essentially everyone!), anyone looking to optimize their health and avoid today's modern plague — inflammation."—Mark Hyman, MD, New York Times-bestselling author of The Pegan Diet

"This is a must-read for anyone who has experienced the pitfalls of conventional medicine and is ready to balance their immune system for optimal health."—Amy Myers, MD, New York Times-bestselling author of The Autoimmune Solution and Thyroid Connection

"The immune system has been overlooked and misunderstood for far too long. In The Immunotype Breakthrough, Dr. Moday gives us a glimpse into her world and specialty and explains the recent research in a way that we can all understand. Best of all, she gives us action steps we can each take to prioritize our immune system to elevate our overall health."—Dr. Will Cole, New York Times-bestselling author of Intuitive Fasting

"A revolutionary book from one of the best immunity experts around. The Immunotype Breakthrough explains the latest science on immunity, and offers unique, customizable advice to help you balance your immune system. A must-read for anyone interested in living a long and healthy life."—Jason Wachob, Founder & Co-CEO of mindbodygreen

"An indispensable roadmap to balancing your immune system. Dr. Moday shares life-changing wisdom on how to eat, sleep, move, and live for your unique immunotype — and gives you all the tools you need to create a personalized plan to suit your needs. I can't recommend it enough."—Dr. Jolene Brighten, author of Beyond the Pill

"The Immunotype Breakthrough is a much-needed resource to help anyone understand the complex nature of our immune system, and how diet, lifestyle, and toxin exposure all impact our immune health. Autoimmune disease, allergies, and other immune disorders have become rampant in Western society, so the timing of this book could not be better. Dr. Moday provides practical, simple steps on getting your immune system back on track and improving your immune resilience using a functional medical approach to a complicated problem. This book will help anyone suffering from an immune or autoimmune disorder take steps toward healing their immune system and living a healthier life."—Darin Ingels, ND, author of The Lyme Solution
Little, Brown Spark, 9780316262170, 288pp.
Publication Date: December 21, 2021
About the Author
Dr. Heather Moday is a board-certified allergist and immunologist, as well as an integrative and functional medicine physician. After years of working as an allergist and immunologist in private practice, she completed a fellowship in Integrative Medicine at the Arizona Center of Integrative Medicine in Tucson, and became certified by the Institute for Functional Medicine. She is part of the Mindbodygreen "Collective"—the wellness website's curated group of top 50 experts in the wellness space. Through her practice, The Moday Center, she works to empower people to reclaim their health through comprehensive lifestyle programs, which focus on reversing chronic disease, as well as creating optimum wellness. She lives in Virginia with her partner and their cats, Flannel and Raphael, and dog, Remi. Follow her on Instagram @theimmunityMD and Facebook @modaycenter215.