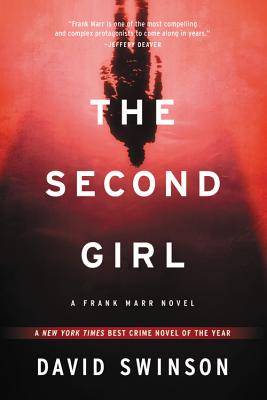 The Second Girl (Frank Marr #1) (Paperback)
Mulholland Books, 9780316264198, 384pp.
Publication Date: April 4, 2017
Other Editions of This Title:
Digital Audiobook (6/6/2016)
Compact Disc (2/12/2019)
Hardcover (6/7/2016)
Compact Disc (2/12/2019)
* Individual store prices may vary.
Description
He's a good detective...with a bad habit.
One of the Year's Best Crime Novels - The New York Times Book Review, Booklist
Frank Marr knows crime in Washington, DC. A decorated former police detective, he retired early and now ekes a living as a private eye for a defense attorney. Frank Marr may be the best investigator the city has ever known, but the city doesn't know his dirty secret.
A high-functioning drug addict, Frank has devoted his considerable skills to hiding his usage from others. But after accidentally discovering a kidnapped teenage girl in the home of an Adams Morgan drug gang, Frank becomes a hero and is thrust into the spotlight. He reluctantly agrees to investigate the disappearance of another girl--possibly connected to the first--but the heightened scrutiny may bring his own secrets to light, too.
Frank is as slippery and charming an antihero as you've ever met, but he's also achingly vulnerable. The result is a mystery of startling intensity, a tightly coiled thriller where every scene may turn disastrous. THE SECOND GIRL is the crime novel of the season, and marks the start of a refreshing series from an author who knows the criminal underworld inside and out.
About the Author
David Swinson is a retired police detective, having served 16 years with the Washington DC Metropolitan Police Department. Before joining the DC police Swinson was a record store owner in Seal Beach, California, a punk rock/alternative concert promoter in Long Beach, California, and a music video producer and independent filmmaker in Los Angeles, California. Swinson currently lives in Northern Virginia with his wife, daughter, bull mastiff, and bearded dragon.
Praise For The Second Girl (Frank Marr #1)…
"The Second Girl is a terrific DC crime novel."—@shoedog11 (George Pelecanos)

"Within the first couple of pages, David Swinson pulls off a masterly piece of characterization: he creates a damaged, damned protagonist who no sane person would want to get close to, and then he grabs you by the collar and hauls you into Frank Marr's mind so fast and so thoroughly that none of that matters. The writing throws sparks, and the ferocious plot peels back layer after layer of Frank's character as we - and he - find out how much of his humanity is still left."—Tana French, author of The Secret Place

"Once you're drawn into Frankie Marr's world (in, oh, the first few pages of this fine novel), you won't want to leave. Marr is one of the most compelling and complex protagonists to come along in years. And, not content with just creating a memorable hero, author Swinson also offers up a breakneck plot, which he recounts in muscular prose and with a commanding knowledge of cops, bad guys and the streets of Washington, D.C. Reminiscent of The Wire and the writing of George Pelecanos and Dennis Lehane, The Second Girl is a winner."—Jeffrey Deaver, author of The Kill Room

"It's actually refreshing to pick up The Second Girl."—Marilyn Stasio, New York Times Book Review

"This is the DC crime novel you should be reading this summer . . . The delight of The Second Girl is how smoothly its engine runs . . . [Marr's] character just works. He's damaged enough to prove interesting, and self-aware enough not to drive a reader batty."—Hillary Kelly, Washingtonian

"Frank Marr turns the PI mold on its head; he's an addict with a self-serving vigilante streak. But he's also a pretty decent guy deep down who works the streets with expertise, and readers will be fascinated by the day-in-the-life perspective of an unrepentant cocaine addict. A gritty knockout debut that screams for a series."—Booklist (starred)

"An auspicious, and gleefully amoral, series debut . . . Swinson, himself a former D.C. police detective, brings the neighborhood and its criminal underworld to gritty life. . . . Marr may be a disaster on legs, but he gets inside a reader's head with ease. . . . It's good news that this is merely an introduction to a character who plans to return."—Kirkus Reviews (starred)

"The book's action is forever on the boil."—Jack Batten, Toronto Star

"[A] sweaty, suspenseful saga . . . This book will sell like crazy."—Long Beach Press Telegram

"Like Dennis Lehane and Richard Price, David Swinson gives us a gritty urban crime novel populated with morally complex, utterly believable characters. Swinson knows how to build suspense, and he has a great ear for the patois of the streets, but it is detective Frank Marr's tightrope walk between his noble and darker impulses that makes The Second Girl such a rewarding read from start to finish."—Ron Rash, author of Serena

"[A] highly original noir...Swinson keeps the outcome in doubt to the end. He also does a fine job portraying the varied neighborhoods of contemporary Washington."—Publishers Weekly

"Like the very best of classic crime writing, The Second Girl made me want to read faster and slower at the same time. Now I want David Swinson to write faster."—Michael Robotham, author of Life or Death and Shatter

"David Swinson steps into the mean streets of American fiction with an unforgettable character, Frank Marr, and that journey takes readers into realities most people never see. The Second Girl is a non-stop drive through American crime, punishment and even an alley or two of justice. It's bracing to see fiction created by an author who paid his dues to learn our hidden truths."—James Grady, author of Six Days at the Condor

"In a world of pretenders and wannabes, David Swinson is the real deal. The Second Girl crackles with authenticity, and introduces an antihero in Frank Marr as compelling as the habit he can't shake. In Swinson's hands, Marr is a reflection of the mean streets of DC he calls home: tarnished, drug-addled, but maybe-just maybe-not too far-gone to save."—Chris Holm, author of The Killing Kind

"The Second Girl is as good as it gets. Deeply compelling crime fiction that is gritty, authentic, and with an anti-hero you end up rooting for. It reminded me of The Wire and I enjoyed it every bit as much. A great read; close to perfect."—Peggy Blair, author of Hungry Ghosts

"Brimming with equal parts authenticity and heart, The Second Girl boasts a cops-and-corner-boys milieu as gritty and compelling as anything in The Wire, as told by a tough-talking P.I. protagonist with a vulnerable side. David Swinson is a hell of a fine writer, and The Second Girl is a stellar first entry in what's sure to be a can't miss series."—Owen Laukkenen, author of Stolen Ones

"The Second Girl is a down-and-dirty thriller with real heart from an author who knows what he's talking about. This is firmly in George Pelecanos territory and it doesn't get much better than that."—Mark Billingham, author of The Bones Beneath

"This is a tight, tense tale that sucks you in [and] won't let you go. There is a feel [of] "The Wire" about this book, along with writing that's reminiscent of Michael Connelly or Jo Nesbo's best work. Gritty, authentic action, spot-on dialogue, a sense of place and voice, and the plot just moves like a river. I felt like I stuck a toe in and got caught in that cold river where [Frank Marr] liked to dump people...I was swept away, and washed up in the end with a sense of relief and hope...which is just what I like in a crime story. Well told, David Swinson!"—Toby Neal, author of the Lei Crime series