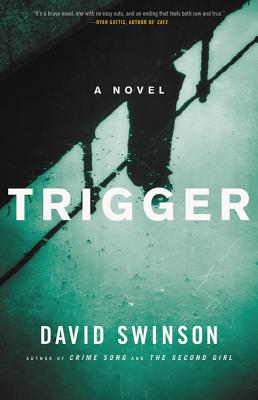 Trigger (Frank Marr #3) (Hardcover)
Mulholland Books, 9780316264259, 352pp.
Publication Date: February 12, 2019
Other Editions of This Title:
Compact Disc (2/12/2019)
Paperback (2/18/2020)
Compact Disc (2/12/2019)
* Individual store prices may vary.
Description
In the latest novel from David Swinson, "one of the best dialogue hounds in the business" (New York Times Book Review), Frank Marr, a good cop with a bad habit, must choose between justice and loyalty to an old friend.
Frank Marr was a good cop, until his burgeoning addictions to alcohol and cocaine forced him into retirement from the D.C. Metro police. Now, he's barely eking out a living as a private investigator for a defense attorney--also Frank's ex-girlfriend.
Ostracized by his family after a botched case that led to the death of his baby cousin, Jeffrey, Frank was on a collision course with rock bottom. Now clean and clinging hard to sobriety, Frank passes the time--and tests himself--by robbing the houses of local dealers, taking their cash and flushing their drugs down the toilet. When an old friend from his police days needs Frank's help to prove he didn't shoot an unarmed civilian, Frank is drawn back into the world of dirty cops and suspicious drug busts, running in the same circles that enabled his addiction those years ago.
Never one to play by the rules, Frank recruits a young man he nearly executed years before. Together--a good man trying not to go bad and a bad man trying to do good--detective and criminal charge headfirst into the D.C. drug wars. Neither may make it out.
About the Author
David Swinson is a retired police detective, having served 16 years with the Washington, D.C. Metropolitan Police Department. He is the author of two previous novels featuring Frank Marr: The Second Girl and Crime Song. Swinson currently lives in Northern Virginia with his wife, daughter, bull mastiff, and bearded dragon.
Praise For Trigger (Frank Marr #3)…
"Streetwise."—
The New York Times Book Review
"With ripped-from-the-headlines intensity,,,Swinson sustains the velocity of the drama and ingeniously gets at the power dynamic of personal relationships with nuance and generosity toward broken people in his messy world of ambiguous boundaries."
—
The National Book Review
"Frank Marr prowls Washington like a creature from a different age: hard-knuckled, hard-drinking, equal parts loyalty, craving, determination, and regret. But in
Trigger
, David Swinson's detailed, glittering, vicious DC is up-to-the-minute. Never one to bend a rule when he can smash it instead, Marr leads us straight back into the wreckage he left in
The Second Girl
and
Crime Song
. It's a thrill to watch him pick up the pieces."—
Bill Beverly, Edgar Award-winning author of Dodgers
"Chock full of pace and purpose,
Trigger
lays out hard-hustle D.C. in all its gritty shades of gray without ever once sneering at them. It's a brave novel, one with no easy outs, and an ending that feels both raw and true."—
Ryan Gattis, author of Safe
"Frankie Marr, the ex-cop turned PI with a skewed sense of justice, situational ethics and a drug habit he kicked by turning to alcohol, is back. The ex-cop turned author, David Swinson, takes us on another pulse-pounding, stripped-down excursion into the badlands of the nation's capital. An old friend and colleague teeters on the brink of catastrophe and Frankie answers the call; his street wits, reckless courage, and pit bull tenacity racing ahead of glorious and soulful collapse. I missed you, Frankie, and I'm very happy to see you again."—
Joe Ide, author of IQ
"George Pelecanos fans will welcome Swinson's gritty third novel featuring PI Frank Marr. . . . Swinson, a former police officer, writes with authority and honesty, giving readers a timely, informed look at the mean streets from an insider's perspective."—
Publishers Weekly
PRAISE FOR DAVID SWINSON AND FRANK MARR:
"Swinson is one of the best dialogue hounds in the business."
—
The New York Times Book Review
"Within the first couple of pages, David Swinson pulls off a masterly piece of characterization: he creates a damaged, damned protagonist who no sane person would want to get close to, and then he grabs you by the collar and hauls you into Frank Marr's mind so fast and so thoroughly that none of that matters. The writing throws sparks, and the ferocious plot peels back layer after layer of Frank's character as we--and he--find out how much of his humanity is still left."—
Tana French, author of The Trespasser
"Frank remains a fascinating, deeply flawed protagonist. . . . He remains a hard-boiled hero well worth our attention."—
Booklist