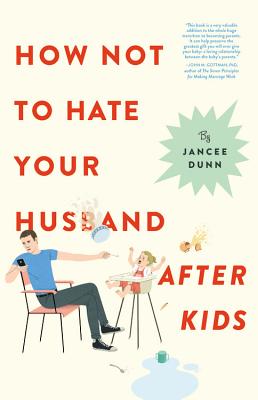 How Not to Hate Your Husband After Kids
Hardcover

* Individual store prices may vary.
Other Editions of This Title:
Digital Audiobook (3/20/2017)
Paperback (3/27/2018)
Compact Disc (3/21/2017)
Compact Disc (3/21/2017)
Description
"Get this for your pregnant friends, or yourself" (People): a hilariously candid account of one woman's quest to bring her post-baby marriage back from the brink, with life-changing, real-world advice.
Recommended by Nicole Cliffe in Slate
Featured in People Picks
A Red Tricycle Best Baby and Toddler Parenting Book of the Year
One of Mother magazine's favorite parenting books of the Year
How Not To Hate Your Husband After Kids
tackles the last taboo subject of parenthood: the startling, white-hot fury that new (and not-so-new) mothers often have for their mates. After Jancee Dunn had her baby, she found that she was doing virtually all the household chores, even though she and her husband worked equal hours. She asked herself: How did I become the 'expert' at changing a diaper?
Many expectant parents spend weeks researching the best crib or safest car seat, but spend little if any time thinking about the titanic impact the baby will have on their marriage - and the way their marriage will affect their child.
Enter Dunn, her well-meaning but blithely unhelpful husband, their daughter, and her boisterous extended family, who show us the ways in which outmoded family patterns and traditions thwart the overworked, overloaded parents of today.
On the brink of marital Armageddon, Dunn plunges into the latest relationship research, solicits the counsel of the country's most renowned couples' and sex therapists, canvasses fellow parents, and even consults an FBI hostage negotiator on how to effectively contain an "explosive situation." Instead of having the same fights over and over, Dunn and her husband must figure out a way to resolve their larger issues and fix their family while there is still time. As they discover, adding a demanding new person to your relationship means you have to reevaluate -- and rebuild -- your marriage. In an exhilarating twist, they work together to save the day, happily returning to the kind of peaceful life they previously thought was the sole province of couples without children.
Part memoir, part self-help book with actionable and achievable advice,
How Not To Hate Your Husband After Kids
is an eye-opening look at how the man who got you into this position in this first place is the ally you didn't know you had.
Praise For How Not to Hate Your Husband After Kids…
"Drawing from her own life, journalist Dunn offers up a hilarious-and actually useful!-take on the lopsided division of labor that bedevils many a marriage post-baby."
—
People, People Picks
"The book is steeped in sociological and scientific research on how men's and women's roles have changed (and not) in family life, and it's also hilarious. As Dunn and her husband take a bumpy ride through therapy, research and in-home experiments in an effort to make their family life equitable and peaceful again, you'll learn a little, and laugh a lot."
—
The Seattle Times, best books of 2018
"Dunn's writing is effortless and chatty.... The book is compassionate and reasonable.... This book would make a far more practical shower gift than, say, yet another organic cotton receiving blanket. Babies grow up fast and require less stuff than we usually buy them; we adults are the ones that keep growing."
—
Jezebel
"Part memoir, part self-help book, Jancee Dunn's
How Not To Hate Your Husband After Kids
offers relationship research combined with personal anecdotes. Strategies learned from therapists, friends and even an FBI hostage negotiator help Dunn heal her marriage--and set a good example for her kid."
—
Real Simple
"How Not to Hate Your Husband After Kids
," is equal parts romp and eye-opener, as she [Dunn] tackles relationship self-help from every angle-and through many experts and therapists. A few chapters in, one goop staffer had already photographed a dozen pages to send to her spouse."—
Goop
"Jancee Dunn blends marital advice from real experts with her down to earth folksy wit in
Hot Not To Hate Husband After Kids
. If your husband has a better relationship with his phone than he does with his baby, you need to hit him with this book--and then ask him to read it."
—
Jen Mann, New York Times bestselling author of People I Want to Punch in the Throat
"I already knew I loved my husband, but Jancee Dunn's book makes me realize how much I owe it to my kids to love their father harder and more visibly. And maybe to take a big timeout the next time I want to run over his pipe collection with my jog stroller."
—
Faith Salie, author of Approval Junkie
"Readers familiar with Dunn's honest and humorous writing will appreciate the behind-the-scenes look at her own semi-messy family life, and those who need guidance through the rough spots can glean advice while being entertained.... A highly readable account of how solid research and personal testing of self-help techniques saved a couple's marriage after the birth of their child."
—
Kirkus
"Dunn proves herself a clever, honest, and hilarious writer who isn't afraid to take her own marriage on a great experiment. Few writers would be courageous enough to lay bare such uncomfortable truths as her verbal abuse of her husband in response to his selfishness and how it may be threatening to the normal development of their daughter.... Her book should become a baby shower classic."
—
Publishers Weekly
"Hilarious.... This truly fascinating text is delightful. One of the best books on the subject. Highly recommended."
—
Library Journal (starred review)
"Why does your once-hot-and-harmonious relationship turn tense after you bring home a baby? Jancee Dunn, a
Parents
contributor, tackles the issue with brutal honesty and a healthy dose of humor."
—
Parents
"This book is a very valuable addition to the whole huge transition to becoming parents. This book can help preserve the greatest gift you will ever give your baby: a loving relationship between the baby's parents."
—
John Gottman, author of The Seven Principles for Making Marriage Work
"This part memoir, part self-help book is designed for anyone who's ever gone through the relationship shake-up that is parenting a child."
—
Nancy Schatz Alton
,
Parent Map
"a breezy page-turner, a comedy of manners (and errors), and a treat to get lost in each night"
—
Well Rounded NY
"Taking experiences from her own evolving marriage and combining it with the wisdom of professionals - neuroscientists, psychologists, parenting experts, and more - she has penned this book to help women navigate everything from household chores, budgets, and weekends with family to both fighting and having sex with your spouse."
—
Whitney C. Harris
,
Red Tricycle
"Jancee Dunn takes a sticky issue and gives it personality . . . she gives hope to her readers and their partners that working together is possible and essential for their success as parents"
—
Mother Magazine
Little, Brown and Company, 9780316267106, 288pp.
Publication Date: March 21, 2017
About the Author
Jancee Dunn is the New York Times bestselling author of five books, including a memoir, a children's book, and Cyndi Lauper: A Memoir. Her essay collection, Why Is My Mother Getting a Tattoo? was a finalist for the Thurber Prize for American Humor. She is a frequent contributor to the New York Times, Vogue, O, The Oprah Magazine, and Parents. She lives in Brooklyn with her husband and daughter.
or
Not Currently Available for Direct Purchase