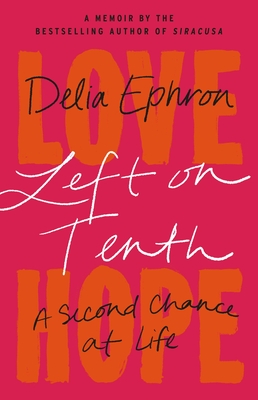 Left on Tenth
A Second Chance at Life: A Memoir
Hardcover

* Individual store prices may vary.
Other Editions of This Title:
Digital Audiobook (4/11/2022)
Paperback (1/31/2023)
Description
The bestselling, beloved writer of romantic comedies like You've Got Mail tells her own late-in-life love story in her "resplendent memoir," complete with a tragic second act and joyous resolution (Adriana Trigiani, bestselling author of The Good Left Undone).
Delia Ephron had struggled through several years of heartbreak. She'd lost her sister, Nora, and then her husband, Jerry, both to cancer. Several months after Jerry's death, she decided to make one small change in her life—she shut down his landline, which crashed her internet. She ended up in Verizon hell. 
She channeled her grief the best way she knew: by writing a
New York Times
op-ed. The piece caught the attention of Peter, a Bay Area psychiatrist, who emailed her to commiserate. Recently widowed himself, he reminded her that they had shared a few dates fifty-four years before, set up by Nora. Delia did not remember him, but after several weeks of exchanging emails and sixties folk songs, he flew east to see her. They were crazy, utterly, in love. 
But this was not a rom-com: four months later she was diagnosed with AML, a fierce leukemia. 
In
Left on Tenth
, Delia Ephron enchants as she seesaws us between tears and laughter, navigating the suicidal lows of enduring cutting-edge treatment and the giddy highs of a second chance at love. With Peter and her close girlfriends by her side, with startling clarity, warmth, and honesty about facing death, Ephron invites us to join her team of warriors and become believers ourselves.
A "Most Anticipated Book of 2022" by TIME, Bustle, Parade, Publishers Weekly, Boston.com
A "Best Memoir of 2022" by Marie Claire
A "Best Memoir of April" by Vanity Fair
Praise For Left on Tenth: A Second Chance at Life: A Memoir…
"[This] is less the story of a woman losing a husband than it is that of a woman falling in love again at age 72…Ephron's story is inspiring for all of us out there whose romantic lives or longings will never be the stuff of a big-box-office romantic comedy…If there's such a thing as a feel-good memoir, this is it."—Joyce Maynard, The New York Times Book Review

"Delia Ephron is the voice of our times and a master craftsman of the written word. If you are looking for a book that tells you the truth about love, marriage, friendship, family, creativity, loss, redemption and your internet provider, look no further. Ephron soars on the page, and takes us with her. A resplendent memoir, Delia style."—Adriana Trigiani, bestselling author of The Good Left Undone

"The funny, poignant and sometimes magical memoir is an open-eyed look at later life and what Ephron calls the left turns that can be perilous or wonderous."—Anita Snow, The Associated Press

"Delia Ephron's stunning Left on Tenth will make you believe in love again, and also in miracles. And it's so very, very funny."—Sarah Dunn, author of The Arrangements

"Delia masterfully and hilariously reminds us that there is always more life to be found just around the corner. A powerful, beautiful, life affirming testament to hope and meaning in the darkest hour. Somehow it felt like the answers to all of the big questions were immediately lurking in the text, and like any decent existentialist and searcher, I couldn't put it down and finished it in one sitting."
 —Natasha Lyonne, writer, director, actor

"Oh, huge-hearted Delia Ephron! I loved this book. It's a memoir about grief and illness, but it's also basically a love letter to her people, and it's a gorgeous one. Because here is someone who chooses joy over and over again—who chooses friendship and love, like a fountain of gratitude that turns despair into a glittery, rainbow-scattering spray of light. Her lucky friends! Forgive yourself for wishing you were one of them."—Catherine Newman, author of Catastrophic Happiness: Finding Joy in Childhood's Messy Years

"Ephron's memoir is a heart-wrenching tale of second chances at life and love."—TIME Magazine

"A fun and rewarding read."
 
 —Boston.com

"[A] straight-out-of-a-movie memoir."—Parade

"Radiant…readers will be swept away by this triumphant story."—Publishers Weekly

"Only someone with a heart of stone could resist the charms of Delia Ephron's tender, moving story of late-life love and illness. Ephron writes with singular transparency of her treatment for leukemia—the same disease that killed her sister seven years earlier—and the unbearable terror and pain she suffered. But Ephron is at heart a writer naturally drawn to light who finds joy and humor even in life's darkest corners. This wonderful memoir is an ode to the enduring power of love and friendship."
 —Joanna Rakoff, bestselling author of My Salinger Year

"She knows how to grip a reader with plot twists and punchy prose."—The Forward
Little, Brown and Company, 9780316267656, 304pp.
Publication Date: April 12, 2022
About the Author
Delia Ephron is a bestselling author, screenwriter, essayist, and playwright.  Her novels include the New York Times bestseller Siracusa and The Lion Is In.  She has written books of essays (Sister Mother Husband Dog (Etc.)), books of humor (How To Eat Like A Child), and books for children and young adults. Her movie credits include You've Got Mail, The Sisterhood of the Traveling Pants, This is My Life, Michael, and Hanging Up (based on her novel).  Her play, "Love, Loss, and What I Wore," written with her sister Nora Ephron (based on the book by Ilene Beckerman), ran for two years off Broadway and has been performed internationally.