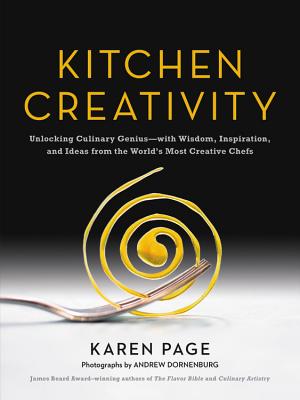 Kitchen Creativity (Hardcover)
Unlocking Culinary Genius-with Wisdom, Inspiration, and Ideas from the World's Most Creative Chefs
Little, Brown and Company, 9780316267809, 464pp.
Publication Date: October 31, 2017
* Individual store prices may vary.
Description
"An incredible reference for home cooks, young chefs, and seasoned pros alike. Kitchen Creativity should be in everyone's library." - Eric Ripert, chef and co-owner of Le Bernardin and New York Times bestselling author of 32 Yolks
Unlock your creative potential with the world's most imaginative chefs.
In this groundbreaking exploration of culinary genius, the authors of The Flavor Bible reveal the surprising strategies great chefs use to do what they do best. Beyond a cookbook, Kitchen Creativity is a paradigm-shifting guide to inventive cooking (without recipes!) that will inspire you to think, improvise, and cook like the world's best chefs.
Great cooking is as much about intuition and imagination as it is about flavor and technique. Kitchen Creativity distills brilliant insights into these creative processes from more than 100 top restaurant kitchens, including the Bazaar, Blue Hill,
Daniel, Dirt Candy, Eleven Madison Park and the NoMad, Gramercy Tavern, the Inn at Little Washington, Le Bernardin, Oleana, Rustic Canyon, Saison, Single Thread, and Topolobampo.
Based on four years of extensive research and dozens of in-depth interviews, Kitchen Creativity illuminates the method (and occasional madness) of culinary invention. Part I reveals how to learn foundational skills, including how to appreciate, taste, and season classic dishes (Stage 1: Mastery), before reinventing the classics from a new perspective (Stage 2: Alchemy). Einstein's secret of genius-combinatory play-pushes chefs to develop unique creations and heighten their outer and inner senses (Stage 3: Creativity). Part II's A-to-Z entries are an invaluable culinary idea generator, with exercises to prompt new imaginings.
You'll also discover:
experts' criteria for creating new dishes, desserts, and drinks;
comprehensive seasonality charts to spark inspiration all year long;
how to season food like a pro, and how to create complex yet balanced layers of flavor;
the amazing true stories of historic dishes, like how desperate maitre d' "Nacho" Anaya invented nachos; and
proven tips to jump-start your creative process.
The ultimate reference for culinary brainstorming, Kitchen Creativity will spur your creativity to new heights, both in the kitchen and beyond.
About the Author
Kitchen Creativity's author Karen Page and photographer Andrew Dornenburg have been described as "perhaps the most influential and important of all food writers working today" (KLAV Radio), having created "many definitive guides" (Wall Street Journal) and "some of the most important books on cooking" (Good Food, KCRW/NPR), "making their mark with books that bring us inside the craft and life of America's chefs and their restaurants" (The Splendid Table, NPR).
Drawing on a shared passion for food, as well as previous careers as a creativity and strategy consultant to Fortune 500 companies (Page) and as a restaurant chef (Dornenburg), the duo's thought-provoking books are often fueled by creative pursuits outside the kitchen, from Harvard Business School's famed creativity course to a dance company's advisory board. Their books have been translated into multiple languages and received citations as sources of information and/or inspiration in numerous scholarly, fiction, nonfiction, and other creative works globally.
Former Washington Post wine columnists who have run six marathons between them, the married couple lives in New York City.
Praise For Kitchen Creativity: Unlocking Culinary Genius-with Wisdom, Inspiration, and Ideas from the World's Most Creative Chefs…
One of the Best Books of the Year - Washington Post, Shelf Awareness, Eat Your Books
Winner of the 2018 Gourmand World Cookbook Award for Food Writing
"
Utter genius
... if Leonardo da Vinci wrote a book on culinary creativity in 2017, this would be it."—
Michael Gelb, New York Times bestselling author of How to Think Like Leonardo da Vinci and The Art of Connection
"
An instant classic
, the rare book that helps the creator learn to think, not just do."—
Seth Godin, New York Times bestselling author of Linchpin
"Who was that visionary who first intuited that the tasteless red berry on the bush, if processed just right, could burst into coffee? Who made that first cake? Chefs have always been an intuitive lot. The best are visionary sensualists for whom food is high lovemaking, unleashing ever new and ancient, multisensory delights.
Kitchen Creativity is a walk on the wild side with today's most visionary chefs
."—
Rebecca Alban Hoffberger, founder and Director of the American Visionary Art Museum
"Karen Page and Andrew Dornenburg have dedicated their storied careers as gastronomic scribes--diligently researching and documenting the culture, history, science, and techniques of cooking. Not surprisingly,
each one of their acclaimed books has become a must-read for professional chefs and home cooks alike
. Their latest,
Kitchen Creativity,
proudly joins the family--generously ladling practical advice towards acing the art of culinary innovation, imbuing the reader with newfound confidence, skill, and inspiration. No doubt it will become essential in my own collection!"—
Danny Meyer, CEO, Union Square Hospitality Group, and New York Times bestselling author of Setting the Table
"The hardest question I've ever been asked is: 'How do you teach someone to be creative?' Now I have a resource I can wholeheartedly recommend!"—
Michael Nischan, founder and CEO of Wholesome Wave and 2015 James Beard Foundation Humanitarian of the Year
"This splendid book is
the perfect roadmap for a young chef to attain culinary stardom
. First, follow the great classic cooks by imitating them. Second, massage that knowledge to fit your palate and esthetic sense. Third and finally, become yourself."—
Jacques Pepin, author of A Grandfather's Lesson, Emmy Award-winning television host, and recipient of France's Legion d'Honneur
"An incredible reference for home cooks, young chefs, and seasoned pros alike.
Kitchen Creativity
should be in everyone's library."—
Eric Ripert, Chef and Co-owner, Le Bernardin
"
Kitchen Creativity
is a book we would love to have written. A delectable mix of sensuality, intellect, insight and surprise that
reveals not only the secrets of creative chefs, but of creativity itself.
"—
MacArthur fellow Robert Root-Bernstein and Michele Root-Bernstein, authors of Sparks of Genius: The 13 Thinking Tools of the World's Most Creative People
"Just as
The Flavor Bible
and
Culinary Artistry
have been invaluable to chefs and cooks navigating the world of flavor,
Kitchen Creativity
promises to guide them insightfully and inspirationally through the creative process--mindful of the fact that this is something that should
always
be
fun
."—
Marcus Samuelsson, chef-owner of several restaurants including Red Rooster, Ginny's Supper Club, and Streetbird, and New York Times bestselling author of Yes, Chef
"Karen Page has grasped the secrets and joys of food like no other.
Kitchen Creativity is a delight of insight and inspiration
that will do more than enrich your table... it will enrich your life."—
Shoshanna Zuboff, Harvard Business School professor and author of Master or Slave? The Fight for the Soul of our Information Civilization
"Forget recipes. This whimsical book aims to unleash your kitchen creativity by talking about flavors and their combinations, techniques and ingredients. Learn what inspires top chefs to create their own dishes in interviews with chefs like Dan Barber, Daniel Boulud, Amanda Cohen, and Eric Ripert."—
Forbes
"Karen Page... achieves a substantial feat in condensing what motivates dozens of America's greatest chefs, including Jose Andres, Patrick O'Connell of the Inn at Little Washington, and Rasika's Vikram Sunderam."—
Washington Post
"Page gathers insights both philosophical and practical from famed chefs... [and] points out the patterns in how great dishes come about, encouraging readers to recognize the pressures and accidents that often result in something wonderful, as well as the self-reflection and experimentation required to get you there."—
Maggie Hoffman
,
Plate
"In
Kitchen Creativity
[Page] compiles the advice of successful chefs, and studies how they manage their creative lives... this book will appeal to cooks at every level, and those interested in creativity, whatever the medium."—
Shelf Awareness