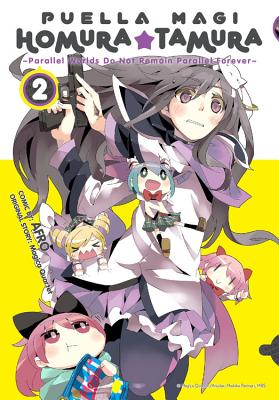 Puella Magi Homura Tamura, Vol. 2 (Paperback)
~Parallel Worlds Do Not Remain Parallel Forever~
Yen Press, 9780316269025, 112pp.
Publication Date: February 23, 2016
Other Editions of This Title:
Paperback (8/18/2015)
Paperback (9/19/2017)
* Individual store prices may vary.
Description
In each new time flow she visits, Tamura--er, Homura--is introduced to a unique Madoka, Kyubey, Sayaka, and Kyouko...and a fresh headache. Traveling blindly through the temporal landscape, Tamura--er, Homura--encounters worlds ever more wildly different from the one where she first befriended Madoka Kaname. The more Madokas-behaving-oddly she sees, the more Tamura--er, Homura--longs to meet her dearest friend as she once knew her...if only to reassure herself she hasn't gone absolutely crazy!!
About the Author
Afro is the artist behind the newest comedy spin-off of the Puella Magi Madoka Magica series, Puella Magi Homura Tamura and the creator of Laid-Back Camp! Magica Quartet is a team formed of members of anime production studios SHAFT and Aniplex who came together to create "Puella Magi Madoka Magica." Members include Iwakami Atsuhiro, Akiyuki Shinbo, Gen Urobuchi, and Ume Aoki, who is also the creator behind "Sunshine Sketch."
or
Not Currently Available for Direct Purchase