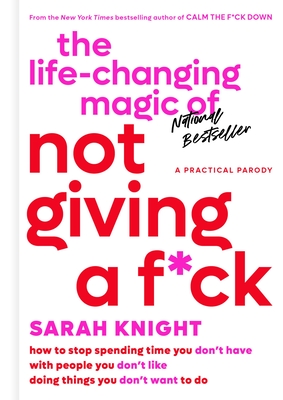 The Life-Changing Magic of Not Giving A F*ck: How to Stop Spending Time You Don't Have with People You Don't Like Doing Things You Don't Want to Do (Hardcover)
How to Stop Spending Time You Don't Have with People You Don't Like Doing Things You Don't Want to Do
Little Brown and Company, 9780316270724, 224pp.
Publication Date: December 29, 2015
Description
THE "GENIUS" (Cosmopolitan) NATIONAL BESTSELLER ON THE ART OF CARING LESS AND GETTING MORE-FROM THE AUTHOR OF GET YOUR SH*T TOGETHER
Are you stressed out, overbooked, and underwhelmed by life? Fed up with pleasing everyone else before you please yourself?
It's time to
stop giving a f*ck.
This brilliant, hilarious, and practical parody of Marie Kondo's bestseller
The Life-Changing Magic of Tidying Up
explains how to rid yourself of unwanted obligations, shame, and guilt--and give your f*cks instead to people and things that make you happy. The easy-to-use, two-step NotSorry Method for
mental decluttering
will help you unleash the power of not giving a f*ck about:
Family drama
Having a "bikini body"
Iceland
Co-workers' opinions, pets, and children
And other bullsh*t
And it will free you to spend your time, energy, and money on the things that really matter. So what are you waiting for? Stop giving a f*ck and start living your best life today.
About the Author
Sarah Knight is the internationally bestselling author of The Life-Changing Magic of Not Giving a F*ck and Get Your Sh*t Together. She lives in the Dominican Republic with her husband and a sh*tload of lizards. You can follow her on Twitter and Instagram @MCSnugz and learn more about the books at sarahknightauthor.com.
Advertisement