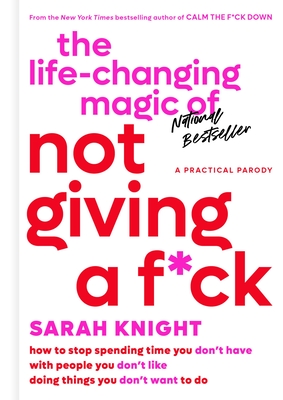 The Life-Changing Magic of Not Giving a F*ck (Hardcover)
How to Stop Spending Time You Don't Have with People You Don't Like Doing Things You Don't Want to Do (A No F*cks Given Guide)
Little, Brown and Company, 9780316270724, 224pp.
Publication Date: December 29, 2015
Other Editions of This Title:
Digital Audiobook (12/28/2015)
* Individual store prices may vary.
Description
THE "GENIUS" (Cosmopolitan) NATIONAL BESTSELLER ON THE ART OF CARING LESS AND GETTING MORE--FROM THE AUTHOR OF GET YOUR SH*T TOGETHER AND YOU DO YOU
Are you stressed out, overbooked, and underwhelmed by life? Fed up with pleasing everyone else before you please yourself?
It's time to
stop giving a f*ck.
This brilliant, hilarious, and practical parody of Marie Kondo's bestseller
The Life-Changing Magic of Tidying Up
explains how to rid yourself of unwanted obligations, shame, and guilt--and give your f*cks instead to people and things that make you happy.
The easy-to-use, two-step NotSorry Method for
mental decluttering
will help you unleash the power of not giving a f*ck about:
Family drama
Having a "bikini body"
Iceland
Co-workers' opinions, pets, and children
And other bullsh*t!
And it will free you to spend your time, energy, and money on the things that really matter. So what are you waiting for? Stop giving a f*ck and start living your best life today!
About the Author
Sarah Knight's first book, The Life-Changing Magic of Not Giving a F*ck, has been published in more than twenty languages, and her TEDx talk, "The Magic of Not Giving a F*ck," has more than four million views. All of the books in her No F*cks Given Guides series have been international bestsellers, including Get Your Sh*t Together, which was on the New York Times bestseller list for sixteen weeks. Her writing has also appeared in Glamour, Harper's Bazaar, Marie Claire, Red, Refinery29, and elsewhere. After quitting her corporate job to pursue a freelance life, she moved from Brooklyn, New York, to the Dominican Republic, where she currently resides with her husband, two feral rescue cats, and a sh*tload of lizards.
You can learn more and sign up for her newsletter at nofucksgivenguides.com, follow Sarah on Twitter and Instagram @MCSnugz, and follow the books @NoFucksGivenGuides (Facebook and Instagram) and @NoFucksGiven (Twitter).
Praise For The Life-Changing Magic of Not Giving a F*ck: How to Stop Spending Time You Don't Have with People You Don't Like Doing Things You Don't Want to Do (A No F*cks Given Guide)…
"You'll feel liberated"—Shape

"[A] mix of Oprah Winfrey-style mantras and Amy Schumer-esque obscenities."—ELLE (Australia)

"Self-help with an edge."—Vogue

"Genius."—Cosmopolitan

"The Life Changing Magic of Not Giving a F*ck is every women's handbook."—Evening Standard (London)

"A funny take on that very popular cleaning up book, but so much more. It's about taking care of yourself and not giving a f*ck what people think of your choices (but without being an a**hole). This book is kicking ass all over bestseller lists. Buy it. You won't be disappointed."—Jen Kirkman, stand-up comedian and author of I Can Barely Take Care of Myself

"[An] hilarious guidebook aims to rid your mind of annoying coworkers, family issues, and body pressures... In the process you'll lighten your spirit and clear your calendar, freeing up time and energy for yourself (and your Netflix account)."—Real Simple

"This kind-of-genius parody of The Life-Changing Magic of Tidying Up might actually change your life."—Women's Health

"The self-help equivalent of a Weird Al parody song. (That's a compliment.)"—Molly Young, The New York Times Book Review

"Self-help to swear by... Knight's admittedly profane and giddy advice book is pretty darn useful."—The Boston Globe

"If 2015 was the year of learning how to tidy up our lives, 2016 is the year of learning not to give a f*ck. . . . Where the KonMari Method is concerned with possessions, Knight's NotSorry Method - "deciding what you don't give a fuck about [and] not giving a fuck about those things" - is about all the cares we hold onto that stand in the way of our best lives. . . . Despite its definitive R-rated streak, The Life-Changing Magic of Not Giving A F*ck is not about rudeness or being jackass. In fact, being honest and polite are your key concepts for embracing your best life with as little f*cks to be had. I don't know about you, but I'm ready to race into 2016 with a little more concern and care for myself than the things around me."—Sarah Galo, Bustle

"She's become my new Oprah."—Lucy Sykes, bestselling author of The Knockoff

"Hilarious... [and] truly practical. Expect demand!"—Booklist

"Sarah Knight is a personal hero of mine... The Life-Changing Magic of Not Giving a F*ck... made me realize that I don't have to spend a Sunday making Play-Doh babies at the baby shower of a co-worker I'm not close to... literally a life- (and budget)-changing shift in mindset."—Well + Good

"This how-to book grabs us with its catchy title, no doubt inspired by Marie Kondo's bestseller, but delivers by empowering us to learn to say no and banish the word 'should' from our lives."—Parade

"A parody of the wildly popular The Life-Changing Magic of Tidying Up . . . Knight's take also deals in a kind of spiritual enlightenment, but with far more wit and profanity. . . . There really is some life-changing potential here. . . . In a world that seems to demand more of our time and attention every day - and makes us feel like we should apologize when we just don't have enough - we could all benefit from a little schooling in the fine art of just 'not giving a f*ck.'"—The Globe & Mail (Canada)

"I spend most days in terror, wondering who on earth is going to email me next, crushing me, oppressing me, making demands. The best book I have read recently is The Life-Changing Magic Of Not Giving A F**k, by Sarah Knight. Absolutely blinding. Read it. Do it."—Liz Jones, The Daily Mail (UK)

"After reading this book cover-to-cover and compiling a list of ten things I don't give a f*** about (Kanye West and exfoliation figured pretty highly), I realise how wonderfully liberating it is to stop apologising for things I'm not sorry about."—Red (UK)

"I love Knight's book before I even start reading it"—Sunday Times Magazine (UK)

"My new saviour...hilarious."—Psychologies (UK)

"This unashamedly funny, honest and practical book promises to show you 'how to stop spending time you don't have with people you don't like doing things you don't want to do', which sounds pretty darn tempting to us. You'll learn how to shrug off debilitating things such as guilt, misguided obligation and shame, and embrace the things that really make you happy. And it makes you laugh. Bring it on!"—Heat (UK)

"While organisational guru Marie Kondo has turned millions of people on to the importance of 'sparking joy' by tidying up their physical space, a new book is turning attention to the need to declutter one's mental space. The Life-Changing Magic of Not Giving a F--k is a self-help book for people who don't do self-help books...[it] stands out from the self-help pack not only for its frank language and sense of humour, but also because it is about less in a culture of more."—Daily Life (Australia)