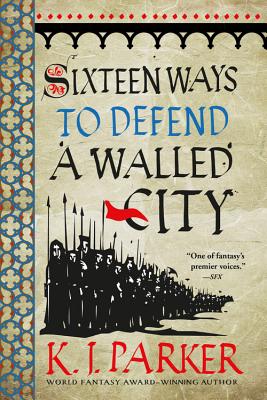 Sixteen Ways to Defend a Walled City (Paperback)
Orbit, 9780316270793, 384pp.
Publication Date: April 9, 2019
* Individual store prices may vary.
Description
K. J. Parker's new novel is the remarkable tale of the siege of a walled city, and the even more remarkable man who had to defend it.
A siege is approaching, and the city has little time to prepare. The people have no food and no weapons, and the enemy has sworn to slaughter them all.
To save the city will take a miracle, but what it has is Orhan. A colonel of engineers, Orhan has far more experience with bridge-building than battles, is a cheat and a liar, and has a serious problem with authority. He is, in other words, perfect for the job.
Sixteen Ways To Defend a Walled City is the story of Orhan, son of Siyyah Doctus Felix Praeclarissimus, and his history of the Great Siege, written down so that the deeds and sufferings of great men may never be forgotten.
For more from K. J. Parker, check out:
The Two of Swords
The Two of Swords: Volume One
The Two of Swords Volume Two
The Two of Swords: Volume Three
The Fencer Trilogy
Colours in the Steel
The Belly of the Bow
The Proof House
The Scavenger Trilogy
Shadow
Pattern
Memory
Engineer Trilogy
Devices and Desires
Evil for Evil
The Escapement
The Company
The Folding Knife
The Hammer
Sharps
About the Author
K.J. Parker is a pseudonym for Tom Holt. He was born in London in 1961. At Oxford he studied bar billiards, ancient Greek agriculture and the care and feeding of small, temperamental Japanese motorcycle engines; interests which led him, perhaps inevitably, to qualify as a solicitor and emigrate to Somerset, where he specialized in death and taxes for seven years before going straight in 1995. He lives in Chard, Somerset, with his wife and daughter.
Praise For Sixteen Ways to Defend a Walled City…
"Full of invention and ingenuity . . . Great fun."—SFX

"Launches a witty adventure series . . . Readers will appreciate the infusion of humor and fun-loving characters into this vivid and sometimes grim fantasy world."—Publishers Weekly

"Parker's acerbic wit and knowledge of human nature are a delight to read as he explores the way conflict is guided, in equal measure, by the brilliance and unerring foolishness of humanity . . . . Thoroughly engaging."—RT Books Reviews on The Two of Swords: Volume One

"[Sharps] is a ripping good adventure yarn, laced with frequent barbed witticisms and ace sword fighting... Parker's settings and characterizations never miss a beat, and the intricate political interplay of intrigue is suspenseful almost to the last page."—Publishers Weekly on Sharps

"This is another splendid offering from K.J. Parker, the (pseudonymous) British fantasist who seems incapable of writing in anything but top form."—Locus on Sharps

"Well-crafted, powerful and downright unmissable"—SFX on The Company

"Brilliant."—Locus on The Engineer Trilogy

"Parker carries the reader on a headlong gallop to the powerful conclusion."—Publishers Weekly on The Company (starred review)

"A richly textured and emotionally complex fantasy...Highly recommended."—Library Journal on The Engineer Trilogy (starred review)

"Astonishingly good."—RT Book Reviews on Sharps