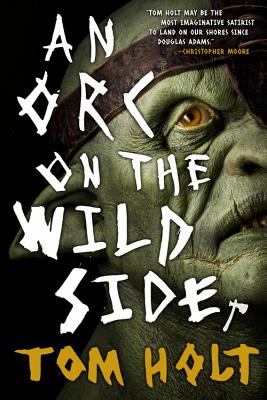 An Orc on the Wild Side
Paperback

* Individual store prices may vary.
Description
An Orc on the Wild Side is the latest comic masterpiece from one of the funniest writers in fantasy.
Winter is coming, so why not get away from it all?
Being the Dark Lord and Prince of Evil is not as much fun as it sounds, particularly if you are a basically decent person. King Mordak is just such a person. Technically he's more goblin than person, but the point is that he is really keen to be a lot less despicable than his predecessors.
Not that the other goblins appreciate Mordak's attempts to redefine the role. Why should they when his new healthcare program seems designed to actually extend life expectancy, and his efforts to end a perfectly reasonable war with the dwarves appear to have become an obsession? With confidence in his leadership crumbling, what Mordak desperately needs is a distraction. Perhaps some of these humans moving to the Realm in search of great homes at an affordable price will be able to help?

For more from Tom Holt, check out:
The Management Style of the Supreme BeingsThe Good, The Bad, and the SmugThe Outsorcerer's ApprenticeWhen It's a JarDoughnutLife, Liberty, and the Pursuit of SausagesBlonde Bombshell
Praise For An Orc on the Wild Side…
"Clever and entertaining all the way through, this should find a place in the hearts of anyone who likes their fantasy with a side of irreverent humor. "—Publishers Weekly (starred review)

"A broadly comic, pratfall-filled commentary on society."—Locus

"Extremely entertaining . . . . Holt's verbal acuity simply does not falter."—Publishers Weekly (Starred Review) on The Management Style of the Supreme Beings

"This is a must-read for those who grew up in awe of The Phantom Tollbooth...Holt achieves near-perfection in his new comic fantasy."—Publishers Weekly (Starred Review) on The Good, The Bad and The Smug

"Exceedingly clever and funny."
—RT Book Reviews on The Good, The Bad and The Smug

"Satisfying and entertaining."
—RT Book Reviews on The Outsorcerer's Apprentice

"Holt has a zany humor that will appeal to fans of Terry Pratchett and Christopher Moore."
—Library Journal on The Outsorcerer's Apprentice

"Tom Holt's Doughnut presents a roller-coaster ride through the world of physics and the origins of the universe."—Library Journal on Doughnut

"Holt adds to his repertoire of comedic sf, one of the most difficult genre acts to master. Theo is an engaging hero; his brilliance is counteracted by his laziness and his compassion, which is matched by his sense of survival. Place this title alongside Terry Pratchett and Neil Gaiman's Good Omens, Pratchett's "Discworld" series, and the absurdist works of mainstream authors such as John Barth and Gilbert Sorrentino."—Library Journal (Starred Review) on Doughnut

"Blonde Bombshell is a clever, funny, tirelessly inventive, apocalyptic leg-hump of a book."—Christopher Moore, New York Times bestselling author, on Blonde Bombshell
Orbit, 9780316270854, 400pp.
Publication Date: September 10, 2019
About the Author
Tom Holt was born in London in
1961. At Oxford he studied bar billiards, ancient Greek agriculture and
the care and feeding of small, temperamental Japanese motorcycle
engines; interests which led him, perhaps inevitably, to qualify as a
solicitor and emigrate to Somerset, where he specialized in death and
taxes for seven years before going straight in 1995. He lives in Chard, Somerset, with his wife and daughter.
or
Not Currently Available for Direct Purchase