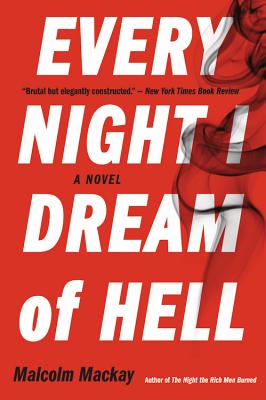 Every Night I Dream of Hell
Hardcover

* Individual store prices may vary.
Other Editions of This Title:
Digital Audiobook (4/10/2017)
Description
From the award-winning author of The Glasgow Trilogy comes Every Night I Dream of Hell, a dark and thrilling Glaswegian crime drama.

Nate Colgan would be the first to admit that his violent reputation makes him very good at his job -- and bad at everything else. After eighteen years spent working on the sidelines of Glasgow's criminal underworld, there's no question he'll accept the central position that Peter Jamieson's organization offers him, despite his better judgment.

The organization isn't as strong as it once was: its most powerful members are either dead or behind bars, including Jamieson himself, and the time is ripe for change. Chang begins with an execution -- a message for Jamieson's supporters -- which promptly sets the various factions within the organization against one another.

Colgan's position as "security consultant" means his duty is clear: identify the killer and find out who's willing to seize power, even if it means igniting a war. Meanwhile, on the other side of the law, DI Michael Fisher conduscts his own investigation into the murder.

Both men can't help but wonder: Why do these events coincide with the return of Zara Cope, the mother of Colgan's child, a disreputable woman with an uncanny ability to attract trouble and troublemakers? A dark and thrilling crime drama, Every Night I Dream of Hell takes us deep into a world of violence, fear and double-crosses.

"Don't pick up a Mackay book unless you've got spare time. They're habit-forming." -- New York Times
Praise For Every Night I Dream of Hell…
"Don't pick up a Mackay book unless you've got spare time. They're habit-forming."—Janet Maslin, The New York Times

"The [Glasgow] trilogy was a bravura performance, and one had every reason to expect that Mackay would do more with such rich material. That expectation has now been met, and rousingly so."—Dennis Drabelle, The Washington Post

"A piece of writing that lives up to its gritty title . . . We can't get enough of this morally complex antihero. . . . It is a joy to wallow in the muck with Mackay, who writes in a bold style that reflects confidence rather than bravado, occasionally breaking up the tension with a wry joke."—Marilyn Stasio, The New York Times Book Review

"Contemporary noir doesn't boast a more elegant stylist than Mackay. Even in evoking a world of scuzziness, he makes the lure of redemption sing."—Lloyd Sachs, Chicago Tribune

"A dark read, complex but satisfying, and all the more real for it. . . . I frankly cannot imagine a situation where anyone picking up the novel would not want to immediately dive into Mackay's past work, which is its own fully realized dark criminal universe."—Joe Hartlaub, BookReporter

"Mackay continues to ascend the ranks of hard-boiled British crime fiction authors. His latest novel [is] streaked with black humor and a fast-paced plot that never sacrifices the truly fleshed-out characters."—Library Journal (starred review)

"Morally complex . . . Filled with bloody intrigue, Scottish slang, and enough twists and turns to keep even the most astute reader guessing, this is hard-boiled fiction at its finest."—Publishers Weekly
Mulholland Books, 9780316271776, 304pp.
Publication Date: April 11, 2017
About the Author
Malcolm Mackay's Glasgow Trilogy has been nominated for several international prizes. The Necessary Death of Lewis Winter was shortlisted for the Edgar Awards' Best Paperback Original, the CWA John Creasey (New Blood) Dagger, and the Theakstons Old Peculier Crime Novel of the Year Award. How a Gunman Says Goodbye won the Deanston Scottish Crime Book of the Year Award. Mackay was born in Stornoway on Scotland's Isle of Lewis, where he still lives.
or
Not Currently Available for Direct Purchase