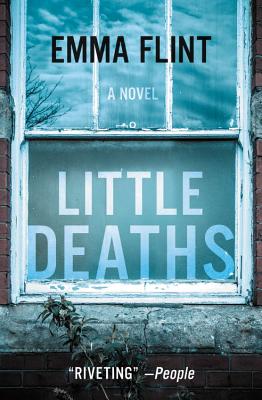 Little Deaths
A Novel
Paperback

* Individual store prices may vary.
Other Editions of This Title:
Digital Audiobook (1/16/2017)
Hardcover, Large Print (5/3/2017)
Hardcover (1/17/2017)
Compact Disc (1/17/2017)
Compact Disc (1/17/2017)
Description
It's 1965 in a tight-knit working-class neighborhood in Queens, New York, and Ruth Malone -- a single mother who works long hours as a cocktail waitress -- wakes to discover her two small children, Frankie Jr. and Cindy, have gone missing. Later that day, Cindy's body is found in a derelict lot a half mile from her home, strangled. Ten days later, Frankie Jr.'s decomposing body is found. Immediately, all fingers point to Ruth.

As police investigate the murders, the detritus of Ruth's life is exposed. Seen through the eyes of the cops, the empty bourbon bottles and provocative clothing which litter her apartment, the piles of letters from countless men and Ruth's little black book of phone numbers, make her a drunk, a loose woman -- and therefore a bad mother. The lead detective, a strict Catholic who believes women belong in the home, leaps to the obvious conclusion: facing divorce and a custody battle, Malone took her children's lives.

Pete Wonicke is a rookie tabloid reporter who finagles an assignment to cover the murders. Determined to make his name in the paper, he begins digging into the case. Pete's interest in the story develops into an obsession with Ruth, and he comes to believe there's something more to the woman whom prosecutors, the press, and the public have painted as a promiscuous femme fatale. Did Ruth Malone violently kill her own children, is she a victim of circumstance -- or is there something more sinister at play?

Inspired by a true story, Little Deaths, like celebrated novels by Sarah Waters and Megan Abbott, is compelling literary crime fiction that explores the capacity for good and evil in us all.
Praise For Little Deaths: A Novel…
"Gripping.... Flint...nails with authority the voices, commonplace wisdom, and dusty claustrophobia of the borough. Just as important, Flint captures the mundane yet mythic horror of the case that has memorialized it in the annals of New York City crime.... Flint is scrupulous about centering this moody thriller in the facts, yet giving them a deeper psychological spin."
—
Maureen Corrigan, Washington Post
"Riveting."
—
People
"Affecting, achingly beautiful debut...This stunning novel is less about whodunit than deeper social issues of motherhood, morals, and the kind of rush to judgment that can condemn someone long before the accused sees the inside of a courtroom."
—
Publishers Weekly (starred review)
"Compelling ... the closing scene is a jaw-dropper.... This is absolutely absorbing literary crime fiction, perfect for fans of Megan Abbott and Sarah Waters."
—
Booklist (starred review)
"This accomplished debut novel will intrigue fans of both true crime and noir fiction. Flint...is a welcome addition to the world of literary crime fiction. Readers of Megan Abbott may want to investigate."
—
Library Journal (starred review)
"A phenomenal achievement.
Little Deaths
is one of those so-very-rare accomplishments: a lightning fast, heart-pounding, psychologically resonant crime novel that effortlessly transcends genre. If you believed that literary fiction can't be a one-sitting read, think again."—
Jeffery Deaver
"Emma Flint's
Little Deaths
beguiles readers with a most harrowing crime: two children dead, their mother, Ruth, the likely suspect. Readers will as easily pity Ruth as doubt and denounce her, as Flint seduces us with a gem of a whodunit, making us question our every instinct. Deeply moody and moving,
Little Deaths
embodies the role of women in the sixties, especially those who dared to deviate from societal norms."—
Mary Kubica, New York Times bestselling author of The Good Girl
"Utterly atmospheric and with style to burn, Emma Flint's
Little Deaths
is a novel that troubles and transfixes from its simmering first pages all the way to its searing final words."—
Megan Abbott, author of You Will Know Me
"
Little Deaths
is a rarity: a period piece and police procedural that is wrenching and real and deeply moving. I fell fast and hard under the spell of this lush, moody, film noir of a novel."—
Chris Bohjalian, New York Times bestselling author of The Guest Room, The Sandcastle Girls, and Midwives
"An absolutely gripping debut! Emma Flint spins a lyrical tale of horror and suspense in the vivid and thick atmosphere of 1965 Queens. Even after I finished, the story would not leave me. I cannot wait to read more from this talented author."
—
Beth Harbison, New York Times bestselling author of One Less Problem Without You
"I couldn't put it down.... So utterly satisfying, intriguing, and brilliant that everything else falls short. I can't wait for Emma Flint's next book."
—
Emma Chapman, author of How To Be a Good Wife
"Gripping and shattering. Ruth's story will stay with me for the rest of my life."
—
Erin Kelly, author of The Poison Tree
"
Little Deaths
is a stunning feat . . . Ruth Malone's descent into hell is a riveting tale of bad luck, heartbreak, and prejudice, written with the pace of a thriller and the rich detail of a historical novel."—
Jane Casey, author of The Missing
"I read this with a dry mouth and a pounding heart--and can think of no higher praise for a literary crime novel."
—
The Bookseller (UK)
"A gripping read that is at the same time deeply real. A beautifully written and realized debut. I absolutely loved it."
—
Kate Hamer, author of The Girl in the Red Coat
"Sharply rendered literary noir."
—
Kirkus Reviews
"This thrilling suspense story will make you question your loyalties at every turn."
—
Harper's Bazaar
"Wonderfully atmospheric.... Simmering with tension,
Little Deaths
is a stylish, troubling look at how appearances can deceive."—
The Express (UK)
"Involving and atmospheric, and immensely gripping."
—
Sophie Hannah, author of Woman with a Secret
"[An] excellent debut...Flint is unsparing and convincing in her portrayal of Malone, a woman of little education and flawed habits, fighting a society that believes she could not be a good mother."
—
The Times (UK)
"As a character study, [
Little Deaths
is] a killer."—
Entertainment Weekly
"As a psychological study of the subtle terror visited on a woman who is alone and essentially a victim herself, it's superlative."
—
BookPage
"Mesmerizing.... Flint captures the loneliness, struggles, and ennui of the residents of working-class Queens in the mid-1960s, especially the women who, for the most part, are stay-at-home moms.... Flint...turns
Little Deaths
into a poignant look at a woman fighting for her emotional independence, who keeps her grief, heartbreak and frustrations deep inside her soul."—
Associated Press
"[
Little Deaths
] is, just like the real-life case, a story I cannot get out of my head. Ruth Malone, Flint's fictionalized version, is a woman of great contradictions and fierce independence. She won't apologize and won't explain her life, and in mid-1960s New York, that's perhaps a greater crime than whether she killed her children .... The underlying crimes Ruth is accused of -- being independent, promiscuous, defiant, putting her own pleasure first -- are leveled at women today and, sadly, will continue to be leveled."—
Sarah Weinman, "The Crime Lady"
"Debut novelist Flint has taken the story as the inspiration for her smart, atmospheric thriller about how a "loose" woman can be judged in the court of public opinion."
—
Newsday
"It has been a long time since a novel captured a time and place as powerfully as Emma Flint's shattering debut.... Flint goes where
Mad Men
dared not go. That the author is British makes her achievement all the more amazing."—
Chicago Tribune
"A meticulously detailed period piece, a searching exploration of sexual hypocrisy, and a twisty and enthralling murder mystery.... With something of the hallucinatory force of Eoin McNamee's Blue Trilogy and the dark fire of Megan Abbott's early noirs,
Little Deaths
is an unsettling portrait of a glamorous, reckless woman unsuited to and unsatisfied by the domestic role that is her lot, and of a society that only knows how to exploit and judge her. It's an absorbing, seductive read; I absolutely loved it."—
Declan Hughes, Irish Times
"What is dynamite is first-time novelist
Flint's ability to strike a match on page one and keep the flame burning for
the next 300 pages....She doesn't stiff the readers, but Ms. Flint does make them
wait, almost until the end, to reveal the who, what, when, where, why and
how...it likely will shock or surprise you, even if you're a seasoned mystery
fan....That is just one mark of a skilled storyteller and Ms. Flint, a native of
northeast England working as a technical writer in London, proves that herself
- tapping into her lifelong fascination with true crime accounts, murder cases
and unorthodox women."
—
Pittsburgh Post-Gazette
"
Little Deaths
offers vivid, psychologically convincingportraits of memorable, multifacetedcharacters... Evenminor details and characters are fully realized.This impressive debut novel is asmuch literary fiction as it is a compellingmystery."—
Mystery Scene
"This taut thriller really shines when it goes
deep into Ruth's head, revealing not only her grief and despair over her loss
but also her chafing at the conformist culture that pronounces her 'guilty
in the beauty parlors, the backyards, and the kitchens of Queens.'"
—
Oprah.com
"Couldn't
stop reading.... The magic of Flint's book lies in its feverish,
spellbinding, summer-sticky atmosphere. .... She's created a nuanced historical
portrait of lower-middle class life, and the desperate obsession that Rose and
her accusers share seeps slowly into the reader, in the best style of Ross
Macdonald or Megan
Abbott."
—
Charles Finch, USA Today
Hachette Books, 9780316272483, 320pp.
Publication Date: October 17, 2017
About the Author
Emma Flint was born in Newcastle upon Tyne in northeast England. She studied English and History at the University of St Andrews and is a graduate of the Faber Academy writing program in London. Since her childhood, Flint has read true-crime accounts, developing an encyclopedic knowledge of real-life murder cases and of notorious historical figures, as well as a fascination with unorthodox women -- past, present and fictional. Flint works as a technical writer in London, where she lives. She is the author of Little Deaths.
or
Not Currently Available for Direct Purchase