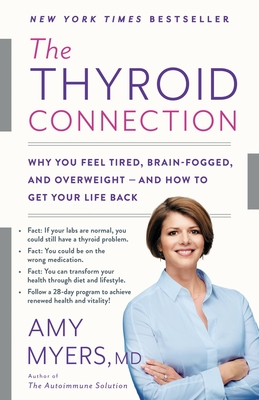 The Thyroid Connection
Why You Feel Tired, Brain-Fogged, and Overweight -- and How to Get Your Life Back
Paperback

* Individual store prices may vary.
Other Editions of This Title:
Digital Audiobook (9/26/2016)
Hardcover (9/27/2016)
CD-Audio (9/27/2016)
Description
From the author of the New York Times bestseller The Autoimmune Solution, a comprehensive, accessible overview of thyroid problems that will help you learn to identify the warning signs and finally take back your health.

Are you exhausted all the time, plagued by brain fog, and unable to lose weight? Do you struggle with insomnia, panic attacks, and tremors? But does your doctor insist that your labs are normal, and that you just need to eat less and exercise more? As anyone who has been there knows, nothing is more frustrating, stressful, and emotionally draining than feeling unwell and being told you're fine by the very person who is supposed to heal you.

The truth is, your symptoms could be triggered by a thyroid disorder—the hidden cause behind a wide array of health problems that can threaten to ruin your life. Thyroid dysfunctions like Hashimoto's disease, hypothyroidism, and hyperthyroidism affect at least 20 million Americans and yet conventional medicine frequently misses the diagnosis. The scariest part? Most doctors won't even order thyroid tests unless you specifically ask.

Now, in The Thyroid Connection, Dr. Amy Myers teaches you how to take your health into your own hands. Dr. Myers, originally misdiagnosed herself, understands the struggles of thyroid dysfunction firsthand. Fortunately, she also knows how achievable recovery and well-being are, and just how to get you there. In The Thyroid Connection, you'll discover:

How to work with your doctor to get the correct diagnosis What blood tests to ask for, as well as what they mean How to find the right type and dose of supplemental thyroid hormone for you The role of gut health, diet, toxins, infections, and stress in thyroid dysfunction A complete 28-day plan to jumpstart your health and reverse your thyroid symptoms

Complete with advice on diet and nutrition, supplements, exercise, stress relief, and sleep, The Thyroid Connection is the ultimate roadmap back to your happiest, healthiest self.
Praise For The Thyroid Connection: Why You Feel Tired, Brain-Fogged, and Overweight -- and How to Get Your Life Back…
"Who doesn't want to eat delicious foods, have more energy, and feel their absolute best? You don't have to upend your life to see amazing results--you just have to read THE THYROID CONNECTION."—Mark Hyman, MD, Director, Cleveland Clinic Center for Functional Medicine

"Thyroid disease is incredibly prevalent and affects every organ system in the human body. In THE THYROID CONNECTION, Dr. Amy Myers skillfully and eloquently guides us to the understanding that our lifestyle choices play major roles in determining thyroid health and function. Her message is empowering for those with thyroid issues as well as those who want to maintain thyroid health and resistance to disease. This book belongs on the reference shelf for anyone wishing to remain healthy!"—David Perlmutter, MD, author of Grain Brain and Brain Maker

"In THE THYROID CONNECTION, Dr. Myers paints a picture of how thyroid dysfunction can subtly contribute to health problems, and then brightens that picture with a brilliant, comprehensive plan to solve your thyroid problems once and for all."—Dallas Hartwig, coauthor of The Whole30

"Dr. Myers's plan is one of the most accessible, inspiring, and effective programs I have ever encountered. Anyone with a diagnosed, misdiagnosed, or even undiagnosed thyroid disorder will benefit from reading THE THYROID CONNECTION."—Robb Wolf, author of The Paleo Solution

"In THE THYROID CONNECTION, Dr. Amy Myers dismantles myths and exposes the truth about thyroid dysfunctions--some of the most misunderstood disorders plaguing millions of Americans."—Frank Lipman, MD, author of The New Health Rules

"As a sufferer of thyroid dysfunction herself, Dr. Myers writes with a compassion and understanding that is not only comforting, but hugely inspiring."—Terry Wahls, MD, author of The Wahls Protocol

"Dr. Amy Myers is the hero that 20 million Americans suffering with undiagnosed thyroid disorders have been waiting for. THE THYROID CONNECTION is a revelation."—Dr. Josh Axe, author of Eat Dirt
Little, Brown Spark, 9780316272858, 432pp.
Publication Date: March 16, 2021
About the Author
Amy Myers, MD, is a specialist in autoimmune diseases whose career was set in motion by her own experience dealing with Graves' disease. Myers earned her medical degree at Louisiana State University Health Sciences Center and is the founder and medical director of the nationally renowned functional medicine clinic Austin UltraHealth. She is the author of the New York Times bestseller The Autoimmune Solution.