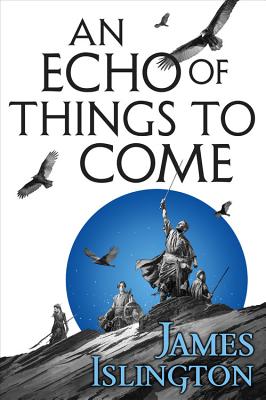 An Echo of Things to Come (The Licanius Trilogy #2) (Paperback)
Orbit, 9780316274135, 784pp.
Publication Date: June 12, 2018
* Individual store prices may vary.
Description
The second book in the acclaimed Licanius Trilogy by James Islington.
"Love The Wheel of Time? This is about to become your new favorite series." - B&N SF & Fantasy Blog
"Fans of Robert Jordan and Brandon Sanderson will find much to admire." - Guardian
In the wake of a devastating attack, an amnesty has been declared for all Augurs-finally allowing them to emerge from hiding and openly oppose the dark forces massing against the land of Andarra. As the Augur Davian and his new allies hurry north toward the ever-weakening Boundary, however, fresh horrors along their path suggest that their reprieve may have come far too late.
His ally in the Capital, the new Northwarden, contends with assassins and politicians, and uncovers a dangerous political secret. Meanwhile, their compatriot Asha begins a secret investigation into the disappearance of the Shadows.
And Caeden races against time to fulfill his treacherous bargain with the Lyth, but as more and more of his memories return, he begins to realise that the two sides in this ancient war may not be as clear-cut as they first seemed...
The Licanius Trilogy
The Shadow of What Was Lost
An Echo of Things to Come
The Light of All That Falls
About the Author
James Islington was born and raised in southern Victoria, Australia. An avid fantasy reader for many years, it was only when he read Brandon Sanderson's Mistborn series that he was finally inspired to write something of his own. He now lives with his wife and daughter on the Mornington Peninsula in Victoria.
Praise For An Echo of Things to Come (The Licanius Trilogy #2)…
"Islington's magic-soaked setting has plenty of opportunities for conflict between competing powers even as earth-shattering evil approaches. Epic fantasy fans will enjoy this dense, suspenseful adventure. "—Publishers Weekly on An Echo of Things to Come

"Reminiscent of Robert Jordan or Brandon Sanderson, Islington's writing is refreshingly fast paced, with a light and clever touch."—Booklist on An Echo of Things to Come

"Fans of this genre will find themselves immersed in the magical battles, suspense and backstabbing political intrigue."—RT Book Reviews on An Echo of Things to Come

"Islington's natural storytelling ability provides incessant plot twists and maintains a relentless pace...A promising page-turner from a poised newcomer who's well worth keeping tabs on."—Kirkus on The Shadow of What Was Lost

"Islington has built a world with all the right genre elements: complex magic, terrifying threats out of legend, political intrigue, and a large cast of characters whose motivations are seldom clear. Fans of doorstop epic fantasy will not be disappointed."—Publishers Weekly on The Shadow of What Was Lost

"Love The Wheel of Time? This is about to become your new favorite series."—B&N SF & Fantasy Blog on The Shadow of What Was Lost

"Storytelling assurance rare for a debut . . . Fans of Robert Jordan and Brandon Sanderson will find much to admire."—Guardian on The Shadow of What Was Lost

"The plot twists are unexpected, the world building is fascinating, and the fledgling love story is a charmer.... This sweeping and compelling epic is ripe for a sequel."—Booklist on The Shadow of What Was Lost

"The Shadow of What was Lost is an engrossing fantasy debut.... The twisting and complex storylines, fascinating characters and inventive magic make for a fun read packed with plenty of mystery."—Book Reporter