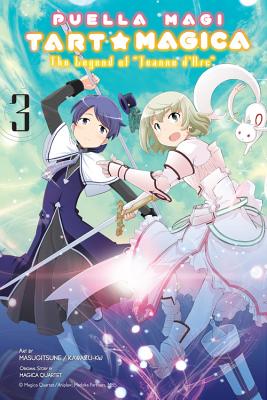 Puella Magi Tart Magica, Vol. 3 (Paperback)
The Legend of Jeanne d'Arc
Yen Press, 9780316276245, 160pp.
Publication Date: July 26, 2016
Other Editions of This Title:
Paperback (4/21/2015)
Paperback (11/17/2015)
* Individual store prices may vary.
Description
Taking the full impact of Flèche's great arrow, Tart's companions rally against the trio of powerful magical girls who are aiding the English forces. Melissa has accepted Cube's offer and become a magical girl herself, but will the addition of one novice be enough to tip the scales in La Pucelle's favor, assuming Tart can survive her injuries?!
About the Author
Magica Quartet is a team formed of members of anime production studios SHAFT and Aniplex who came together to create "Puella Magi Madoka Magica." Members include Iwakami Atsuhiro, Akiyuki Shinbo, Gen Urobuchi, and Ume Aoki, who is also the creator behind "Sunshine Sketch."