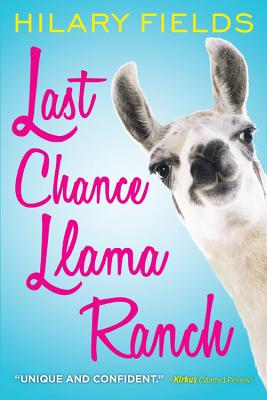 Last Chance Llama Ranch
Paperback

* Individual store prices may vary.
Description
From the author of Bliss comes a heartwarming tale of friendship, romance, self-discovery. . . and llama drama.

When a close encounter with an eighty-foot spruce steals Merry Manning's dreams of Olympic gold, the former ski champ finds herself falling into a career she never expected -- the life of a travel writer. Picturing glamorous trips to exotic places, Merry is speechless when her boss assigns her to the blog, "Don't Do What I Did," and sends her to a middle-of-nowhere llama ranch with instructions to "fall on her fanny" as often as possible.

Soon she's eyeball-deep in alpacas, llamas, goats, and all the mess that comes with them. But when the Last Chance Llama Ranch -- and a certain gruff cowboy -- start to grow on her, Merry finds that each life might actually be just what she's been missing.

You know what they say: when life gives you llamas. . ..
Praise For Last Chance Llama Ranch…
Irresistible...this is a tale for travel buffs, small-town devotees, romantics and cynics alike, and should not be missed.—RT Book Reviews on Last Chance Llama Ranch (Top Pick!)

"Last Chance Llama Ranch is all kinds of funny. Sophisticated funny, sweet funny, flat-out-belly-laugh funny. Had me grinning from start to finish. Except when it made me want to pump my fist and shout 'Oh, yeah!' for every woman who has ever feared she couldn't do her One Big Thing -- and did it anyway."—Diane Thomas

"An engrossing story with a unique cast of characters-both human and animal-written in a unique and confident voice."
—Kirkus on Last Chance Llama Ranch

"[A] smart, bawdy, tenderhearted beach read"—New Mexico Magazine on Last Chance Llama Ranch

"I loved every page of this deliciously funny, jaw-droppingly scandalous, full-of-heart novel about life, love, family, food, and very interesting back rooms."—Mia March, author of The Meryl Streep Movie Club and Finding Colin Firth on Bliss

"Cupcakes, sex toys, and a hippie lesbian aunt -- this book contains all the elements of my ideal life. Go on a wacky little adventure with Hilary Fields and enjoy the stranger side of Santa Fe."—Sara Benincasa, author of Agroafabulous! on Bliss

"The best new book we've read in a long time!"—Woman's Day on Bliss

"Charming characters...interesting and fun."—Library Journal on Bliss
Redhook, 9780316277426, 496pp.
Publication Date: August 25, 2015
About the Author
A scion of Manhattan's Upper East Side, Hilary Fields wrote her first romance novel at sixteen, and continued to write women's fiction even as she studied classics and philosophy at St. John's College, a tiny liberal arts college in Santa Fe, New Mexico. In the spirit of cognitive dissonance, she still divides her time between Manhattan and the Land of Enchantment, and enjoys cooking, crocheting, and her obligatory feline companions.
or
Not Currently Available for Direct Purchase