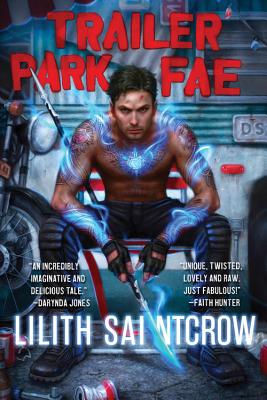 Trailer Park Fae (Gallow and Ragged #1) (Paperback)
Orbit, 9780316277853, 352pp.
Publication Date: June 23, 2015
Other Editions of This Title:
Digital Audiobook (6/22/2015)
* Individual store prices may vary.
Description
New York Times bestselling author Lilith Saintcrow returns to dark fantasy with a new series where the faery world inhabits diners, dive bars and trailer parks.

Jeremiah Gallow is just another construction worker, and that's the way he likes it. He's left his past behind, but some things cannot be erased. Like the tattoos on his arms that transform into a weapon, or that he was once closer to the Queen of Summer than any half-human should be.

Now the half-sidhe all in Summer once feared is dragged back into the world of enchantment, danger, and fickle fae - by a woman who looks uncannily like his dead wife. Her name is Robin, and her secrets are more than enough to get them both killed. A plague has come, the fullborn-fae are dying, and the dark answer to Summer's Court is breaking loose.

Be afraid, for Unwinter is riding...


Gallow and Ragged
Trailer Park Fae
Roadside Magic
Wasteland King


For more from Lilith Saintcrow, check out:

Blood Call (e-only)

Bannon and Clare
The Iron Wyrm Affair
The Red Plague Affair
The Ripper Affair
The Damnation Affair (e-only)

Dante Valentine Novels
Working for the Devil
Dead Man Rising
Devil's Right Hand
Saint City Sinners
To Hell and Back

Dante Valentine (omnibus)

Jill Kismet Novels
Night Shift
Hunter's Prayer
Redemption Alley
Flesh Circus
Heaven's Spite
Angel Town

Jill Kismet (omnibus)

A Romance of Arquitaine Novels
The Hedgewitch Queen
The Bandit King

About the Author
Lilith Saintcrow was born in New Mexico, bounced around the world as an Air Force brat, and fell in love with writing when she was ten years old. She currently lives in Vancouver, WA.

Praise For Trailer Park Fae (Gallow and Ragged #1)…
"Trailer Park Fae is what you'd get if you mixed a Bourne film, a political thriller, and a weepy Lifetime movie about abusive, drunken trailer park fathers together, and shook vigorously."—B&N Sci-Fi & Fantasy Blog on Trailer Park Fae

"Lilith Saintcrow spins an incredibly imaginative and delicious tale with vivid language and a story you will not be able to put down. I loved every minute!"—Darynda Jones on Trailer Park Fae

"A true faery story, creepy and heroic by turns. Love and hope and a touch of Midsummer Night's Dream. I could not put it down."—Patricia Briggs on Trailer Park Fae

"Saintcrow deftly mixes high-minded fantasy magic with rough, real-world rust using prose that veers between the beautiful and the bloodcurdling. Honestly, I wish I'd written it."—Chuck Wendig on Trailer Park Fae

"Unique, twisted, lovely, and raw. Just fabulous."—Faith Hunter on Trailer Park Fae

"Saintcrow's urban fantasy series launch is expertly crafted with heartbreak and mistrust, far darker and lovelier than the title suggests... Saintcrow's artful, poignant descriptions remain with the reader long after the tale's end, as does the persistent sense of dark, unsettling unease."—Publishers Weekly on Trailer Park Fae

"A strong start to a dark urban fantasy series."—Library Journal on Trailer Park Fae