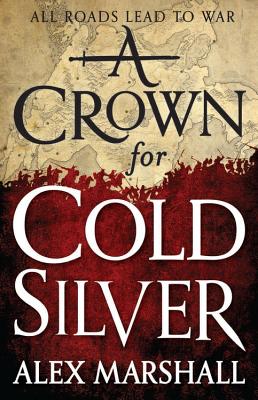 A Crown for Cold Silver (The Crimson Empire #1) (Hardcover)
Orbit, 9780316277983, 656pp.
Publication Date: April 14, 2015
* Individual store prices may vary.
Description
"It was all going so nicely, right up until the massacre."
Twenty years ago, feared general Cobalt Zosia led her five villainous captains and mercenary army into battle, wrestling monsters and toppling an empire. When there were no more titles to win and no more worlds to conquer, she retired and gave up her legend to history.
Now the peace she carved for herself has been shattered by the unprovoked slaughter of her village. Seeking bloody vengeance, Zosia heads for battle once more, but to find justice she must confront grudge-bearing enemies, once-loyal allies, and an unknown army that marches under a familiar banner.
FIVE VILLAINS. ONE LEGENDARY GENERAL. A FINAL QUEST FOR VENGEANCE.
About the Author
Alex Marshall is a pseudonym for Jesse Bullington, acclaimed author of several novels in different genres including The Sad Tale of the Brothers Grossbart and The Enterprise of Death. He lives in the Pacific Northwest.
Praise For A Crown for Cold Silver (The Crimson Empire #1)…
"This is my favorite kind of fantasy -- alternatively irreverent and brutal, with a cast of wonderfully scarred and nasty people. Any fans of Steven Erikson, Mark Lawrence, or Joe Abercrombie will love A Crown for Cold Silver; I've just finished it, and I'm already eager for more."—Django Wexler

"Alex Marshall builds a sprawling world that grows larger and deeper with every page. Instantly believable. Zosia and her Five Villains are as fun as they are twisted."—David Dalglish

"An epic fantasy that will surprise you. When was the last time you read one of those? Marshall deftly sets up and subverts expectations at every turn. If you think you know what's coming, think again."—Kameron Hurley

"Brimming with imagination and invention... Fabulous!"—John Gwynne

"Exceptional writing, middle-aged warrior heroine, and organically infused gender nonconformity make this fantasy epic a first-rate trailblazer... splendid storytelling, wry humor, and unresolved intrigue."—Publishers Weekly (Starred Review)

"This brawny revenge fantasy feels like a Tarantino movie: a hugely entertaining mix of adventure and comedy, punctuated by moments of darkness, with clever dialogue and explosive set-pieces... A pure joy to read."—Booklist (Starred Review)

"This sweeping adventure is a first from Marshall and delivers a colorful cast. It sparkles with details that make a fantasy world come alive: echoes of cultures jumbled together in new ways, drug addicts who allow poisonous insects to sting them for a high, and unusual gender roles and depictions."—Library Journal (Starred Review)

"Full of bloody battles, intimidating monsters and incredible feats, fans of thoughtful storytelling, tough-as-nails heroines and absorbing fantasy will love this novel."—RT Book Reviews

"Marshall's rich cast of characters .... are driven by passion, duty and humanizing, terrifying flaws... A Crown for Cold Silver drags epic fantasy through the mud - but it does so with wit, wonder and wisdom."—NPR Books

"A complex, mold-breaking fantasy protagonist."—B&N Sci-Fi & Fantasy Blog

"This lusty debut will have you gasping in one breath and laughing in the next with its cast of multicultural characters, gender-bending soldiers, same-sex coupled kings and warrior women of all ages who throw themselves into the fray. By the latter half of the novel, you realize Marshall is playing a long, glorious game."—Washington Post