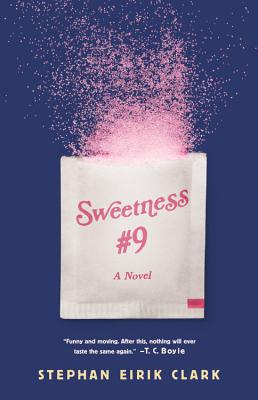 Sweetness #9 (Hardcover)
A Novel
Little, Brown and Company, 9780316278751, 352pp.
Publication Date: August 19, 2014
Other Editions of This Title:
Digital Audiobook (8/18/2014)
Paperback (8/4/2015)
Compact Disc (8/19/2014)
Compact Disc (8/19/2014)
* Individual store prices may vary.
Description
It's 1973, and David Leveraux has landed his dream job as a Flavorist-in-Training, working in the secretive industry where chemists create the flavors for everything from the cherry in your can of soda to the butter on your popcorn. While testing a new artificial sweetener -- "Sweetness #9" -- he notices unusual side-effects in the laboratory rats and monkeys: anxiety, obesity, mutism, and a generalized dissatisfaction with life. David tries to blow the whistle, but he swallows it instead.

Years later, Sweetness #9 is America's most popular sweetener -- and David's family is changing. His wife is gaining weight, his son has stopped using verbs, and his daughter suffers from a generalized dissatisfaction with life. Is Sweetness #9 to blame, along with David's failure to stop it? Or are these just symptoms of the American condition?

David's search for an answer unfolds in this expansive novel that is at once a comic satire, a family story, and a profound exploration of our deepest cultural anxieties. Wickedly funny and wildly imaginative, Sweetness #9 questions whether what we eat truly makes us who we are.
About the Author
Stephan Eirik Clark was born in West Germany and raised between England and the United States. He is the author of the short story collection Vladimir's Mustache. A former Fulbright Fellow to Ukraine, he teaches English at Augsburg College in Minneapolis. Sweetness #9 is his first novel.
Praise For Sweetness #9: A Novel…
"Funny and moving. After this, nothing will ever taste the same again."--T.C. Boyle

"Sweetness #9 does for flavor science and its sweetly dangerous concoctions what White Noise did for chemical transportation and airborne toxic events--that is, makes them real enough to produce legitimate anxiety and funny enough to make you fall off the couch."--Keith Lee Morris, author of The Dart League King

"Sweetness #9 is funny but still human, entertaining but also illuminating, smart but not smug, thought-provoking without lecturing: it's a rare book that does all this at once, and does it so well."--Caitlin Horrocks, author of This Is Not Your City

"A truly gifted writer, Stephan Eirik Clark writes with an inventiveness and artistry that few can match."--Ben Fountain, author of Billy Lynn's Long Halftime Walk

"Haunting and hilarious, Sweetness #9 is so compelling that it made me throw the maraschino cherries in the trash and run out to buy organic greens. That's how sucked in I was by Stephan Eirik Clark's sly, bold version of our modern world, where nature and falseness vie for supremacy, and nothing can taste sweet enough, vivid enough, for children intoxicated by the tang of chemicals. This book offers us something amazing, with the startling ring of truth: the fact that not knowing where our food comes from is inexorably linked to not knowing who we are."--Stacey Richter, author of Twin Study

"Sweetness #9 is that rare thing: an intelligent page-turner. Read this book for its whip-smart prose, its thoughtful characters, and its sharp observations about the synthetic (and authentic) aspects of modern life."--Karl Iagnemma, author of On the Nature of Human Romantic Interaction

"This debut novel is a hilarious take down of an industry more interested in getting us to buy its products than in selling us good food. Essential for fans of Christopher Buckley's Thank You for Smoking."--Library Journal

"The energetic mixture of laughter and revulsion, outrage and dismay, fact and fiction, skewer a food industry that provides neither food nor sustenance and damages us in ways we are just beginning to fathom."--Publishers Weekly

"All Hail Stephan Eirik Clark! He writes with terrific gusto, insight, and compassion."--Ken Kalfus, author of Equilateral

"A comic novel that brims with insight and imagination. Stephan Eirik Clark casts a sharp eye on our addiction to simple solutions and quick fixes."--Laila Lalami, author of Secret Son

"So smart, so funny, and totally entertaining. Nothing on the dinner table escapes Stephan Clark's incisive wit--and that's only the beginning."--Bonnie Nadzam, author of Lamb

"Sweetness #9 is a Trojan Horse of brilliant, social critique hiding in a sugar packet. A dysfunctional family, a fantastic sense of history and presence, dire cultural portents - with so many addictive hooks... Like Gary Shteyngart, Clark writes with bombastic color and satirical sweetness. It's an exciting time for new American authors; Clark uses vantage points towering and small to create a treasure of complex ideas."

—Zane Jungman, Austin-American Statesman



"The pitch-perfect first half of the novel demonstrates that Clark is not only an adept stylist...but possesses a flair for pacing....Comparisons to Don Delillo's White Noise aptly signal Clark's ability to, like Delillo, cast fearful question onto the most basic and unavoidable structures of our daily modern lives (and hint at the deft homage to Delillo's masterpiece built into the plot's final turns)."--The Huffington Post

"Set in the world of fake flavorings, a snappy satire with plenty of bite."--O, The Oprah Magazine

"This funny, provocative novel examines the grievous consequences of living in denial about what we eat."--New York Times

"Positively fresh and unique.... SWEETNESS #9 is a family story, a corporate thriller and delicious entertainment. It's also very much a social commentary that entices us into taking a closer look at what we eat....High-calorie food for the brain wrapped in a mouth-wateringly delicious morality tale."--Chicago Tribune

"Clark's lively and funny debut is set in the world of food flavorists sparring over an artificial sweetener....SWEETNESS #9 convincingly argues that food may be the last truly mass culture we have....A fast-moving, witty satire."--Minneapolis Star Tribune

"A scary/funny/tender/thought-provoking novel"--St. Paul Pioneer Press

"SWEETNESS #9 is a Trojan Horse of brilliant, social critique hiding in a sugar packet. A dysfunctional family, a fantastic sense of history and presence, dire cultural portents -- with so many addictive hooks "Sweetness #9" refuses to be ignored.... Like Gary Shteyngart, Clark writes with bombastic color and satirical sweetness. It's an exciting time for new American authors; Clark uses vantage points towering and small to create a treasure of complex ideas." --Austin American Statesman

"If the best social satire makes the bitter pill of truth easier to swallow, SWEETNESS #9 coats it with something better than sugar. This debut novel by Clark shows up our national obsession with instant gratification as both poisonous and desirable, and very, very funny."--Boston Globe

"SWEETNESS #9 is as American as an apple pie deep-fried in artificial sugar....This is a story of a man who wants nothing more than the American Dream for himself and his family but has to live with the crushing feeling of being responsible for the decay of the American condition. Though funny, SWEETNESS #9 presents in every way an America tragedy."--Boston Herald

"You know how they say you reap what you sow? Well, let's just say Clark's delightfully twisted, funny tale about a man coming to believe that an artificial sweetener he developed is the source of many modern-day troubles will make fans of Sam Lipsyte quite happy."--Flavorwire

"Clark takes the Levereaux family to the brink of the absurd and then reels them back to consider the ramifications of a world getting fatter and fatter... Clark turns a dystopian nightmare into a comic romp through the dark side of the American dream.—San Diego City Beat

"Sweetness #9 is a surprisingly gentle story about the passage of time, and Clark leads us through the years to a poignant ending that satisfyingly pulls at the heart. For a story about artificial sweeteners, and trying to understand where to draw the line between the confusion of the head and the gut, it's fully rewarding. Bittersweet, even."—Minnesota Monthly

"Sweetness #9 hits that seriously sweet spot between speculative and literary fiction--the place where writers like Margaret Atwood live. Put this on the must-read list."—Sacramento News and Review
Coverage from NPR
or
Not Currently Available for Direct Purchase