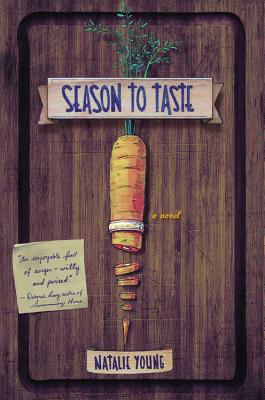 Season to Taste (Hardcover)
A Novel
Little, Brown and Company, 9780316282482, 272pp.
Publication Date: July 15, 2014
Other Editions of This Title:
Digital Audiobook (7/14/2014)
* Individual store prices may vary.
Description
A startling debut about the extraordinary end of a marriage and its very strange aftermath.

Meet Lizzie Prain. She is an ordinary housewife and lives with her lovely dog and her husband, who is a bit of a difficult fellow, in a quiet cottage in British country side. She's a wonderful cook. She enjoys her garden. And, occasionally, she makes cakes for the village parties.

No one has seen Lizzie's husband, Jacob, for a few days. That's because last Monday and Lizzie snapped and cracked him on the head with her garden shovel. No one quite misses Jacob though, and Lizzie surely didn't kill him on purpose. And now that she has the chance to live beyond his shadow, she won't neglect her good fortune. Over the course of the following month, with a body to get rid of and few fail-proof options at hand, Lizzie will channel her most practical instincts and do what she does best: she'll cook Jacob, and she'll eat him. But when Lizzie inadvertently befriends an isolated misfit, she will be tested: Will Lizzie turn to this new person for solace and abandon her desperate plan or will her new friend be an unwitting accessory to her crime?

Dark, unexpectedly funny, and achingly human, Season to Taste is a deliciously subversive treat. In Lizzie Prain, Natalie Young has created one of the most remarkable and surprising heroines in fiction.


About the Author
Natalie Young is a London-based writer. Her first novel, We All Ran Into the Sunlight, was published in England in 2011. She has written articles for The Times, the Sunday Times, Prospect, and Mslexia.
Praise For Season to Taste: A Novel…
"Yes, it really is a novel about a woman who eats her husband, but only as much as, say, Rapunzel is a story about a woman who won't cut her hair. Season to Taste is a modern-day fable about the end of love and moving on. Natalie Young has given us a shockingly, thrillingly original new vantage on a timeless story of a marriage's demise." -Stefan Merrill Block, author of The Storm at the Door

"An enjoyable feast of anger - witty and poised." -Deborah Levy, author of Swimming Home

"A very smartly told tale... clever and twisted and a lot of fun."—Booklist



"Most books about murder focus on the act of homicide (which can be all too instant and easy), so it makes a toothsome change to read one about the disposal of the body... As she slices her husband's carcass into edible portions, one meal at a time, making a numbered series of notes to herself (or to anyone who might want to try this at home), Lizzie also dissects the sad truths of her marriage and her hitherto malnourished existence. Cannibalism is her final act of congress with Jacob, and it's fascinating to witness. Natalie Young's sparse prose captures Lizzie's daze and confusion as she eats, cooks, eats, and may take you to some dark places as you ponder the way your own current relationships sustain you."—Lit Reactor