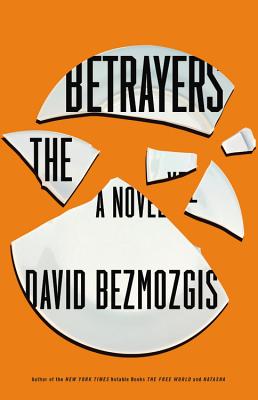 The Betrayers
A Novel
Hardcover

* Individual store prices may vary.
Other Editions of This Title:
Digital Audiobook (9/22/2014)
Paperback (6/23/2015)
Compact Disc (2/29/2016)
Compact Disc (9/23/2014)
Description
These incandescent pages give us one fraught, momentous day in the life of Baruch Kotler, a Soviet Jewish dissident who now finds himself a disgraced Israeli politician. When he refuses to back down from a contrary but principled stand regarding the settlements in the West Bank, his political opponents expose his affair with a mistress decades his junior, and the besieged couple escapes to Yalta, the faded Crimean resort of Kotler's youth. There, shockingly, Kotler encounters the former friend whose denunciation sent him to the Gulag almost forty years earlier.

In a whirling twenty-four hours, Kotler must face the ultimate reckoning, both with those who have betrayed him and with those whom he has betrayed, including a teenage daughter, a son facing his own moral dilemma in the Israeli army, and the wife who once campaigned to secure his freedom and stood by him through so much.

Stubborn, wry, and self-knowing, Baruch Kotler is one of the great creations of contemporary fiction. An aging man grasping at a final passion, he is drawn inexorably into a crucible that is both personal and biblical in scope.

In prose that is elegant, sly, precise, and devastating in its awareness of the human heart, David Bezmozgis has rendered a story for the ages, an inquest into the nature of fate and consequence, love and forgiveness. The Betrayers is a high-wire act, a powerful tale of morality and sacrifice that will haunt readers long after they turn the final page.
Praise For The Betrayers: A Novel…
"
When was the last time you tore through a work of literary fiction at the rate of a Tom Clancy thriller?
Personally, when I discover I'm holding a smart novel that's also a page turner, I get punchy. Not only have I spotted a unicorn; we are gamboling down the dale hand in hand. A novel of ideas and an engrossing story?... I consumed David Bezmozgis's third book...in roughly the amount of time the planet of the apes took to dawn at the Cineplex. (You know something special is happening when you plan to knock off for the day once you hit the next chapter break, and then sail past it.) This is a testament not to the simplicity of the work but to the exceptional skill and effort with which its author has constructed the narrative... In
The Betrayers
, Bezmozgis's prose retains the extreme economy that won
Natasha
so many admirers, while rising to a whole new level of stylistic distinction...
Bezmozgis has developed a daunting feel for structure and craft...It achieves a seamlessness that marks it as the most persuasive political novel in years...
Even a novel as short as this has to make thousands of decisions; that Bezmozgis made so many smartly feels like a small miracle.
The Betrayers can serve as a master class for fledgling writers, and an inspiration for any reader trying to figure out how novels will be saved.
"--
New York Times Book Review
"A lesser writer may have wilted under the expectation that attended this work. But Mr. Bezmozgis's deft plotting, atmospheric scene-setting and limpid style remain assured.
Each page is a gem
, its prose carefully weighed and polished."--
The Economist
"Mr. Bezmozgis accomplishes the higher task of understanding and humanizing his characters creeds.
A reminder that good fiction aspires not to be timely but timeless,
The Betrayers
illuminates old, stubborn arguments that usually inspire only heat and noise."--
The Wall Street Journal
"[A] remarkable, ebullient, tough-minded novel."--
The Boston Globe
"The Betrayers...designates Bezmozgis
a literary heir to Philip Roth
."--
Los Angeles Review of Books
"Now that Philip Roth has finished his life's work, let us turn our attention to David Bezmozgis. His bravery and style are off the charts and
The Betrayers is his finest, slyest, most robust work yet
."—
Gary Shteyngart, author of Little Failure and Super Sad True Love Story
"This unforgettable novel squanders no words in its brilliant, deft depictions of love, of memory, of compassion-and, ultimately, despite its title, of loyalty."
—
Edith Pearlman, winner of the National Book Critics Circle Award and finalist for the National Book Award for Binocular Vision
"
The Betrayers
presents us with the novel-as-scalpel, a brilliant dissection of lives formed and deformed by tyranny, temptation, and the demands of conscience. Just when we think we've arrived at the heart of the story's moral complexity, Bezmozgis cuts again and lays bare yet another layer. It's harrowing, but also thrilling, to see our nature revealed with such unflinching precision. This outstanding novel not only shows Bezmozgis at the top of his form, but also
definitively establishes him as one of the foremost writers of his generation.
"—
Ben Fountain, winner of the National Book Critics Circle Award and LA Times Book Prize and finalist for the National Book Award for Billy Lynn's Long Halftime Walk
"In this taut, fierce, forensically insightful novel, David Bezmozgis explores the frictions between goodness and kindness, public and private virtue, forgiveness and forgetting.
Compulsive and profound
."—
A. D. Miller, finalist for the Man Booker Award for Snowdrops
"
The Betrayers
is a moral thriller in the tradition of Bernard Malamud, but the generosity, grace, and wisdom of the writing belong entirely to David Bezmozgis. The magic of fiction is that it makes the reader care deeply about imaginary strangers, and
Bezmozgis is a magician
."—
Aleksandar Hemon
"
The Betrayers
is a work of high moral seriousness dispatched with a gripping elegance that recalls some of our finest mid-century writers. Bezmozgis's story of fallen saints and redeemed outcasts is, to put it plainly,
the work of a great writer."
—
Joshua Ferris, author of To Rise Again at a Decent Hour and Then We Came to the End
"Philosophical, provocative and nervy-an interior novel that manages to encompass a breadth of issues."
—
Kirkus (starred review)
"A novel of compulsive dramatic power,
The Betrayers
feels as urgent as the news, and as eternal as scripture. David Bezmozgis weds precise, perfect craft with a generous moral vision of the heart, and head, in ceaseless conflict."—
Charles Foran, prize-winning author of Mordecai: The Life and Times and Planet Lolita
"
An intensely penetrating, transcendent novel
... with characters that are absolutely themselves, their flaws, strengths and desires so tenderly and truthfully imagined as they move through the startling turns of a story that rises out of the deep center of Bezmozgis's fine intelligence. Extraordinary."—
Barbara Gowdy, Giller Prize finalist author of The White Bone and The Romantic
"In this taut, vigorous, and fast-flowing tale of an unexpected encounter between two old enemies in Crimea...Bezmozgis' dialogue has the ringing clarity of a play, while his characters' churning thoughts address dilemmas of marriage and family relationships and the hidden predicaments that make judging others such a perilous undertaking. Nearly everyone is a betrayer in some way in Bezmozgis' wise, transfixing, and annealing novel of humor and pathos in which today's personal and political paradoxes embody the archetypal conflicts of humankind."
—
Booklist (starred review)
"A beautifully written exploration of the role fate can play in the finer distinctions between a heroic life and a villainous one... Bezmozgis's novel feels vast, its pages heavy with the complicated debts we owe one another, which are impossible to leave behind."
—
Publishers Weekly (starred review)
"
A masterly treatise on the complexity of blame and forgiveness
that successfully articulates the loss of individual freedom one experiences while navigation political, family, and religious structures."—
Library Journal (starred review)
"Bezmozgis captures timeless moral questions of betrayal and loyalty in the timely context of Crimean and Israeli history and politics."
—
Shelf Awareness
"Bezmozgis has given us a complex moral thriller with weighty political implications regarding the continued effects of migration of Soviet Jews to Israel on global politics."
—
New Republic
"The effects of Bezmozgis' writing, the depth of his characters, is poignant and captivating."
—
Fiction Writers Review
"Bezmozgis, for the most part, has created an utterly believable and memorable cast of characters whose passions and problems are as timeless as the allure of a Black Sea summer resort."
—
Associated Press
"Bezmozgis not only presents complex, endearing characters in dramatic situations, but also poses (and attempts to answer) difficult questions about how the individual can affect politics, and how politics in turn affects the individual."
—
The Believer
"
The Betrayers
tells such a rich story that it could be an enduring success regardless of the front-page news."—
Shelf Awareness for Readers
"In scarcely more than 200 pages, this tension-packed story explores themes of betrayal, forgiveness, moral courage and its opposite that are both contemporary and timeless... Bezmozgis refuses to pass judgment on these characters, almost daring us to do so. There are no saints, and perhaps no sinners, in the bleak world he so meticulously creates, only flawed human beings struggling to navigate a moral universe painted here in shades of gray."
—
Bookpage
"
The Betrayers
turns a mirror on readers' own moral choices through a compelling and piercing exploration of guilt and self-justification."
—
Huffington Post
"The book has a taut, almost noir-ish style, reminiscent of Arthur Koestler's
Darkness at Noon
and Philip Roth's
The Ghostwriter
, climaxing in a confrontation between the two betrayers in which issues of morality and justice are played out in scenes that seem like they could exist on the stage as well as in a book."
—
The Forward
Little, Brown and Company, 9780316284332, 240pp.
Publication Date: September 23, 2014
About the Author
David Bezmozgis is an award-winning writer and filmmaker whose fiction has appeared in The New Yorker, Harper's, Zoetrope, and Best American Short Stories. He was named one of the New Yorker's "20 Under 40" writers in 2010. He lives in Toronto.
Book Videos
or
Not Currently Available for Direct Purchase