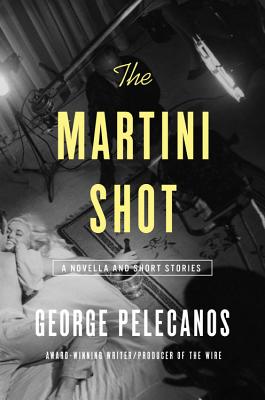 The Martini Shot
A Novella and Stories
Hardcover

* Individual store prices may vary.
Other Editions of This Title:
Digital Audiobook (1/5/2015)
CD-Audio (1/13/2015)
Description
Short stories and a novella from one of crime fiction's most revered writers.

Whether they're cops or conmen, savage killers or creative types, gangsters or God-fearing citizens, George Pelecanos' characters are always engaged in a fight for their lives. They fight to advance or simply to survive; they fight against odds, against enemies, even against themselves. In this, his first collection of stories, the acclaimed novelist introduces readers to a vivid and eclectic cast of combatants.

A seasoned claims investigator tracks a supposedly dead man from Miami to Brazil, only to be thrown off his game by a kid from the local slum. An aging loser takes a last stab at respectability by becoming a police informant. A Greek-American couple adopts an interracial trio of sons and then struggles to keep their family together, giving us a stirring bit of background on one of Pelecanos' most beloved protagonists, Spero Lucas. In the title novella - which takes its name from Hollywood slang for the last shot of the day, the one that comes before the liquor shots begin - we go behind the scenes of a television cop show, where a writer gets caught up in a drama more real than anything he could have conjured for a script.

By turns heartbreaking and humane, brutal and funny, these finely constructed tales expose the violence and striving beneath the surface of any city and within any human heart. Tough, sexy, fast-paced, and crackling with energy, The Martini Shot is Pelecanos at his very best.
Praise For The Martini Shot: A Novella and Stories…
Praise for THE MARTINI SHOT:
"one of [Pelecanos'] freshest and most original recent works."
—
Janet Maslin
,
New York Times
"Here we see what makes Pelecanos' best writing so resonant: the sense of longing, of miscommunication, the way love does not enlarge us but rather makes us small."

—
David L. Ulin
,
Los Angeles Times
"His writing is properly hard-boiled, his heroes are attractively flawed and his villains leave trails of blood from here to yonder. But even at his most gripping...he sets his aims high, bringing a sociologist's concerns to the street -level dramas that play out in his hometown of Washington, D.C."
—
Lloyd Sachs
,
Chicago Tribune
"fast, dark, and dangerous...The gritty world [Pelecanos] knows so well provides ample fodder for the vignettes in this book, the characters are strong and the dialogue is sharp. The collection is a solid read for anyone who's a fan of crime writing and especially Pelecanos' work."

—
Tim Alamenciak
,
Toronto Star
"bracing and witty...an inventive study of deception and fakery--one of Pelecanos's best works, at any length."

—
Mark Athitakis
,
The Washington Post
"serves as an introduction to his dark, unblinking vision and a reason to stay until the night's bitter end. Don't miss this collection, a must-have for newcomers and longtime fans alike."

—
Joe Hartlaub
,
Book Reporter
Praise for THE DOUBLE:
"It's astonishing all the good stuff Pelecanos can pack into one unpretentious book that make the story so rich."—
Marilyn Stasio
,
New York Times Book Review
"Pungent, funny dialogue...believable black-and-white friendships...outstanding scene-setting...
The Double
is fast-paced, its villains feel fresh...Call me a hard-core Pelecanos junkie."—
Jocelyn McClurg
,
USA TODAY
"The author laces his story with vivid descriptions of Washington's changing urban landscape. The writing is taut, the violence is graphic and the characters are so well-drawn that they step off the page and into your life.
The Double
is as good as it gets."—
Bruce DeSilva
,
Associated Press
Praise for THE CUT:
"The writing is spare; the dialogue rings with authenticity; and walking D.C.'s mean streets with Lucas is the next best thing to being there. Easily the best crime novel I've read this year."—
Hallie Ephron
,
Boston Globe
"Pelecanos at his best...
The Cut
crackles with energy."—
Dan DeLuca
,
Philadelphia Inquirer
"Every time I read one of George Pelecanos's novels, I'm left a little awed...The guy's a national treasure."
—
Dennis Lehane
,
-
"A lean, swift, atmospheric detective novel...The characters-good-hearted, ill-intentioned or in between-are shown by Mr. Pelecanos with loving clarity, free of cliché, condescension or illusion. Spero Lucas is an engagingly layered character...
The Cut
is a resourceful and notably original work the delivers the thrills of an action movie and the poignancy of fine storytelling."—
Tom Nolan
,
Wall Street Journal
Little, Brown and Company, 9780316284370, 304pp.
Publication Date: January 6, 2015
About the Author
George Pelecanos is the bestselling author of twenty novels set in and around Washington, D.C. He is also an independent film producer, and a producer and Emmy-nominated writer on the HBO series The Wire, Treme, and The Deuce. He lives in Maryland.
Coverage from NPR
or
Not Currently Available for Direct Purchase