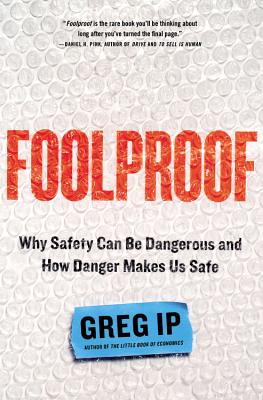 Foolproof
Why Safety Can Be Dangerous and How Danger Makes Us Safe
Hardcover

* Individual store prices may vary.
Other Editions of This Title:
Digital Audiobook (10/12/2015)
Compact Disc (10/13/2015)
Compact Disc (10/13/2015)
Description
How the very things we create to protect ourselves, like money market funds or anti-lock brakes, end up being the biggest threats to our safety and wellbeing.

We have learned a staggering amount about human nature and disaster -- yet we keep having car crashes, floods, and financial crises. Partly this is because the success we have at making life safer enables us to take bigger risks. As our cities, transport systems, and financial markets become more interconnected and complex, so does the potential for catastrophe.

How do we stay safe? Should we? What if our attempts are exposing us even more to the very risks we are avoiding? Would acceptance of danger make us more secure? Is there such a thing as foolproof?

In Foolproof, Greg Ip presents a macro theory of human nature and disaster that explains how we can keep ourselves safe in our increasingly dangerous world.
Praise For Foolproof: Why Safety Can Be Dangerous and How Danger Makes Us Safe…
One of The Financial Times' best books of 2015

"In this incisive and richly reported book, Greg Ip forces us to rethink our assumptions about risk. He shows that progress might depend on less safety, not more -- and that stability can often be destabilizing. FOOLPROOF is the rare book you'll be thinking about long after you've turned the final page."—Daniel H. Pink, author of Drive and To Sell Is Human

"Drawing on a fascinating range of stories about forest fires and flood control, football helmets and anti-lock brakes, bank runs and epidemics, Foolproof is about the unintended and often very surprising consequences of our attempts to protect ourselves from disasters. Illuminating and entertaining, this book will change the way you think about the world of risk."—Liaquat Ahamed, Pulitzer Prize-winning author of Lords of Finance: The Bankers Who Broke the World

"The safer you are, the more you are at risk; crises are born of success as much as failure. Surveying a century of struggles to fend off catastrophe, from financial panic to forest fires, Greg Ip explores these paradoxes deftly, cementing his position as a leading observer of the modern economy--and of the human condition."—Sebastian Mallaby, author of More Money Than God

"This book is so much fun to read that it's easy to forget it's also very important. We live, now, in a world of constant risk--financial, geopolitical, meteorological. There are so many risks that many of us become either numb or blindly panicked or, somehow, both. Greg Ip has written a beautiful guide to thinking properly about the risks we face. It is a book that can make you feel empowered and optimistic, even as it details some of the scariest challenges we face. It's a book we need now, in a world that has become so complex that it's outrun our human brain's ability to make proper sense of the risks we face. But don't read it because it's important. Read it because it's fun, it has good narratives, some psychology, a bit of (easy, enjoyable) maths and a lot of clear, common sense. You will feel smarter and more capable and you will have tons of stories to tell your friends."—Adam Davidson, co-founder and co-host of Planet Money

"It has been said that the problem with making things idiot-proof is that someone will just build a better idiot. Greg Ip's new book shows us just how that happens, from anti-lock brakes to the gold standard, to the financial crisis we are still reckoning with today. Deftly written and filled with lucid explanations of complex topics, this is a must-read for anyone who wants to understand why seemingly safe territory so often turns out to be dangerous quicksand."—Megan McArdle, author of The Up Side of Down

"[An] eye-opening book about risk-taking and crisis.... A provocative challenge to the tendency to elevate ideology over thoughtfulness."—Kirkus Reviews

"Foolproof may change the way you think about some of the most important political, economic and social problems besetting us. It changed my thinking.... An elegant antidote to our myopia.... Foolproof could produce a national, and deserves to be the next, Tipping Point."—Ralph Benko, Forbes

"A powerful and original book on a vital subject - read it!"—Tim Harford, author of The Undercover Economist Strikes Back

"A thoughtful, entertaining read for those interested in the inner workings of global risk management."—Publishers Weekly

"A short, sharp history of the United States' never-ending search for safety."—Charles Lane, Washington Post

"Entertaining and provocative."—Lorien Kite, Financial Times

"Not just one of the more informative books on the financial crisis, but one of the more entertaining and readable ones."—Jared Bernstein, On the Economy
Little, Brown and Company, 9780316286046, 336pp.
Publication Date: October 13, 2015
About the Author
Greg Ip is an award-winning journalist and the Wall Street Journal's Chief Economics Commentator. He's spent two decades in financial and economic journalism, including eleven years at the Wall Street Journal and six years at The Economist. He appears frequently on television and radio, including National Public Radio, PBS, MSNBC, and CNBC. He lives in Bethesda, Maryland.
or
Not Currently Available for Direct Purchase