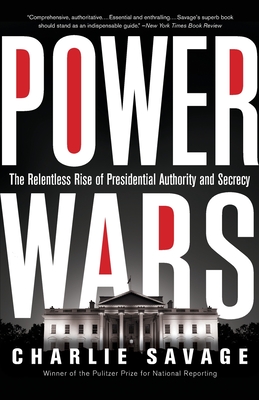 Power Wars (Paperback)
The Relentless Rise of Presidential Authority and Secrecy
Back Bay Books, 9780316286596, 848pp.
Publication Date: June 27, 2017
Other Editions of This Title:
Digital Audiobook (11/2/2015)
Hardcover (11/3/2015)
* Individual store prices may vary.
Description
Pulitzer Prize-winning journalist Charlie Savage's penetrating investigation of the Obama presidency and the national security state.

Barack Obama campaigned on changing George W. Bush's "global war on terror" but ended up entrenching extraordinary executive powers, from warrantless surveillance and indefinite detention to military commissions and targeted killings. Then Obama found himself bequeathing those authorities to Donald Trump. How did the United States get here?

In Power Wars, Charlie Savage reveals high-level national security legal and policy deliberations in a way no one has done before. He tells inside stories of how Obama came to order the drone killing of an American citizen, preside over an unprecendented crackdown on leaks, and keep a then-secret program that logged every American's phone calls. Encompassing the first comprehensive history of NSA surveillance over the past forty years as well as new information about the Osama bin Laden raid, Power Wars equips readers to understand the legacy of Bush's and Obama's post-9/11 presidencies in the Trump era.
About the Author
Pulitzer Prize-winning journalist Charlie Savage is a Washington correspondent for the New York Times and has been covering post-9/11 legal policy issues since 2003. A native of Fort Wayne, Indiana, he graduated from Harvard College and holds a master's degree from Yale Law School. His first book, Takeover, a bestselling and award-winning account of the Bush-Cheney administration's efforts to expand presidential power, was named one of the best works of 2007 by the Washington Post, Slate, and Esquire.
Praise For Power Wars: The Relentless Rise of Presidential Authority and Secrecy…
A New York Times Editors' Choice

Named one of the best books of 2015 by ABC News and The Guardian

"Offers a master class in how to think seriously about crucial aspects of the [war on terrorism]. ... comprehensive, authoritative ... anyone truly interested in foreign policy or national security should find it essential and enthralling, thanks to the author's intelligence, objectivity, legwork and literary skill. ... Savage's superb book should stand as an indispensable guide to the debate."—Gideon Rose, New York Times Book Review

Power Wars "will almost certainly stand as the most comprehensive account of the Obama administration's policies, views, theories and bureaucratic battles over national security laws and the legacy of the 2001 attacks. His account is thoughtful and consistently fair-minded... no small achievement."—James Mann, New York Times

"Both the most comprehensive and the most engrossing look at how Obama morphed from a candidate beloved by the civil liberties community into what many saw as a continuation of George W. Bush...could not be more timely."—Trevor Timm, The Guardian

"The most essential explanation of modern-day American national security policy.... Anyone who has followed current events on drone strikes, surveillance, and encryption, and other essential issues at the forefront of modern America--and wants the entire inside baseball play-by-play to go with it--will love this book."—Cyrus Farivar, Ars Technica

"Delves deeply into the nooks and crannies of every significant national security debate touching on the intersection of national security and law. The product of prodigious research and interviews with seemingly every player, Savage's book provides a revealing picture of the inner workings of the Obama presidency."—Gabriel Schoenfeld, The Weekly Standard

"The book has much broader appeal than to those in the national security law bubble... [Deeply sourced] is an understatement, as Savage reveals the contents of never-before released documents, memos, and internal deliberations across a variety of topics."—Cully Stimson, Lawfare

"Over the years, Savage has become one of the most knowledgeable and tireless reporters chronicling the civil liberties and war powers controversies under the Obama administration. ... Savage has written a book that will clearly be the comprehensive historical account of these controversies."—Glenn Greenwald, The Intercept

"A rich blow-by-blow account of how and why the Obama administration determined the legality of its war-on-terrorism policies."—Jack Goldsmith, The New Rambler

"It is hard to imagine many journalists capable of writing a book on this topic on the scale, and with the ambition, of this one."—Robert Bauer, Time

"The value that Savage brings to his book is in reporting out how Obama's lawyers, who were often the toughest critics of Bush when they were out of power, wrestled with and ultimately sanctioned this retrenchment."—Eli Lake, Bloomberg View

There is "no more comprehensive guide to today's debates over national security and civil liberties."—Dina Temple-Raston, The Washington Post

"The most comprehensive account to date of the Obama administration's approach to national security law and policy-making."—Matthew C. Waxman, Time

"Extraordinarily comprehensive."—Marty Lederman, Just Security

Power Wars covers "in intricate detail nearly every major issue in Obama's national security policy: detainees, military commissions, torture, surveillance, secrecy, targeted killings, and war powers. Its behind-the-scenes story will likely stand as the definitive record of Obama's approach to law and national security. ... His main interest is presidential power in its perennial struggle with Congress and the courts. Ultimately, the stakes are high: whether we will continue to have, in John Adams's words, 'government of laws, and not of men.'"—David Luban, The New York Review of Books

Power Wars "offers a unique and thorough history of the American surveillance policy post-9/11, the inner machinations of the executive branch at the highest levels, the legal battles, the battling personalities, and the strange evolution from Bush to Obama in this critical area of law and policy ... As one who has studied and written about the Snowden phenomenon, I can't imagine a better, more total and fair inside history of that dramatic event."—Ronald Goldfarb, Washington Lawyer

"Already classic.... Savage's 700 page book, with access to a staggering 150 current and former top officials, including executive branch lawyers normally terrified of the press, paints a picture like no other."—Yonah Jeremy Bob, The Jerusalem Post

"Deserve[s] to be widely read, by the public at large and by those who will staff the next administration...Will stand among the definitive accounts of the United States' approach to national security and law over the past decade and a half."—Dawn Johnsen, Foreign Affairs