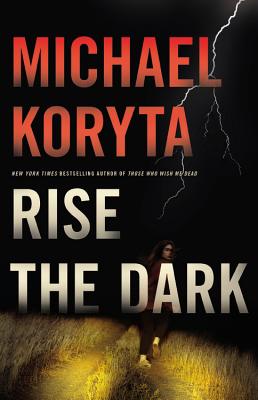 Rise the Dark
Hardcover

* Individual store prices may vary.
Other Editions of This Title:
Digital Audiobook (8/15/2016)
Mass Market (7/25/2017)
Paperback (5/1/2018)
Hardcover, Large Print (3/21/2017)
Compact Disc (8/16/2016)
Compact Disc (8/16/2016)
Description
Rise the dark.

These were the last words written in Lauren Novak's notebook before she was murdered in a strange Florida village. They've never meant anything to the police or to her husband, investigator Markus Novak. Now the man he believes killed her is out of prison, and draws Markus to the place he's avoided for so long: the lonely road where his wife was shot to death beneath the cypress trees and Spanish moss in a town called Cassadaga.

In Red Lodge, Montana, a senseless act of vandalism shuts the lights off in the town where Sabrina Baldwin is still trying to adjust to a new home and mourning the loss of her brother, who was a high voltage linesman just like her husband, Jay. As the spring's final snowstorm calls Jay deeper into the mountains, chasing the destruction on the electrical grid, Sabrina is abducted by Garland Webb, the man Markus Novak believes killed his wife. Drawing them all together is a messianic villain who understands that you can never outpace your past. You can only rise against the future.
Praise For Rise the Dark…
One of the Best Books of 2016 - Michael Connelly, The New York Times Book Review, Kirkus Reviews
—
-
"A superb thriller literally humming and buzzing with power and tension, given depth and resonance by Koryta's fascination with pitting lone human emotion against a vast and forbidding landscape."
—
Lee Child
"This book arrived with high praise from several stars of the genre--"A master," says Stephen King; "Outstanding," adds Lee Child--and they're right.
Rise the Dark
is both first-rate entertainment and an unusually interesting thriller in terms of its characters, its plot and the ideas it explores, which include the electrical grid, Tesla's history, spiritualism, and the nation's possible vulnerability to a right-wing takeover."—
The Washington Post
"Among his many gifts, Michael Koryta is a virtuoso in his use of outdoor settings... his thrillers present the great outdoors in their most frightening aspects. The book's atmospheric power and strong cast of supporting characters make
Rise the Dark
compelling from the get-go."—
The Chicago Tribune
"Welcome to Michael Koryta's latest nightmare.... Wonderfully eerie scenes... [and] distinct thrills."
—
Marilyn Stasio
,
New York Times
"Koryta always uses setting to great effect in his bestselling thrillers... In
Rise The Dark
, Koryta again constructs a hold-your-breath thriller around believable characters and the bonds, familial and romantic and ideological, that bind them. It's a wild ride."—
Tampa Bay Times
"Koryta has a gift for terrific suspense that immerses the reader while also delivering prose that almost reads like poetry....[A] road that should definitely be traveled."
—
The Associated Press
"For fans of darker mystery and suspense, you won't be disappointed."
—
Marion Star
"A frightening thriller about the holes in our infrastructure and the security protecting it. In this second Markus Novak novel, following 2015's
Last Words
, Koryta effectively combines a compelling premise, a villain who seems too smart to be stopped, and a revealing look at the hero's dysfunctional family."—
Booklist
"As with his spellbinding 2014 effort,
Those Who Wish Me Dead
, Koryta employs the desolate Montana setting with such mastery and deep sense of mystery that it's a compelling character itself. And with an intriguing cody that reverberates with themes of family, myth, and psychic possibility, this new novel leaves us keenly anticipating the next installment of the Novak saga. Again proving himself one of today's top thriller writers, Koryta creates edgy suspense not with trickery but with characters who test the limits of their courage."—
Kirkus Reviews - Starred Review
"[With] a compelling narrative, relatable characters, and action scenes that play out like a blockbuster film, Koryta has written his best book to date. Highly recommended for fans of the author and readers of Dan Brown and Dennis Lehane."
—
Library Journal - starred review
"Michael Koryta has done a fine job with Rise The Dark as he presents his most suspenseful novel since the terrific Those Who Wish Me Dead. At times his writing has toed the line between suspense and the supernatural. This is a thriller of the highest caliber that will dare readers to put it down before reaching the exciting climax."
—
BookReporter
"Michael Koryta is very creative in his creation of characters, but he is even more successful in his establishment of place."
—
The Huffington Post
"
Rise The Dark
is a powerfully written and fast moving novel...a perfect end of summer read."—
LitReactor
"Outstanding in every way, and a guaranteed thriller-of-the-year...Stephen King would be proud of the set up, Cormac McCarthy would be proud of the writing, and I would be proud of the action. Don't you dare miss it."
—
Lee Child
,
bestselling author of Never Go Back
"
Those Who Wish Me Dead
is an absolutely thrilling read. I read most of it with my breath held, occasionally exhaling to ask myself, 'What will happen next?' I highly recommend it."—
Kevin Powers
,
National Book Award Finalist and author of The Yellow Birds
"Absolutely breathtaking, nail-biting, and edge-of-your-seat. Michael Koryta is a master at maintaining suspense and a hell of a good writer.
Those Who Wish Me Dead
is one of the best chase-and-escape novels you'll read this year - or any other year. The pace never lets up."—
Nelson DeMille
,
author of The Quest
Little, Brown and Company, 9780316293839, 400pp.
Publication Date: August 16, 2016
About the Author
Michael Koryta (pronounced ko-ree-ta) is the New York Times bestselling author of nine novels, including The Prophet. His last three novels, The Ridge, The Cypress House, and So Cold the River were all New York Times notable books and nominated for several national and international awards.

In addition to winning the Los Angeles Times Book Prize, his novel Envy the Night was selected as a Reader's Digest condensed book. Koryta's work has been translated into more than twenty languages. A former private investigator and newspaper reporter, Koryta graduated from Indiana University with a degree in criminal justice. He currently lives in St. Petersburg, Florida, and Bloomington, Indiana.
or
Not Currently Available for Direct Purchase