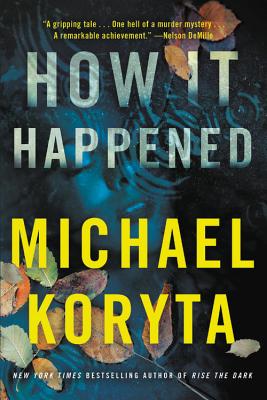 How It Happened
Paperback

* Individual store prices may vary.
Other Editions of This Title:
Digital Audiobook (5/14/2018)
Hardcover, Large Print (5/15/2018)
Hardcover (5/15/2018)
CD-Audio (5/22/2018)
Compact Disc (5/15/2018)
Description
An FBI investigator must uncover the secrets of his hometown to solve a double murder in this twisty "page turner" that's "perfect summer reading" (Stephen King).

"And that is how it happened. Can we stop now?"

Kimberly Crepeaux is no good, a notorious jailhouse snitch, teen mother, and heroin addict whose petty crimes are well-known to the rural Maine community where she lives. So when she confesses to her role in the brutal murders of Jackie Pelletier and Ian Kelly, the daughter of a well-known local family and her sweetheart, the locals have little reason to believe her story.

Not Rob Barrett, the FBI investigator and interrogator specializing in telling a true confession from a falsehood. He's been circling Kimberly and her conspirators for months, waiting for the right avenue to the truth, and has finally found it. He knows, as strongly as he's known anything, that Kimberly's story -- a grisly, harrowing story of a hit and run fueled by dope and cheap beer that becomes a brutal stabbing in cold blood -- is how it happened. But one thing remains elusive: where are Jackie and Ian's bodies?

After Barrett stakes his name and reputation on the truth of Kimberly's confession, only to have the bodies turn up 200 miles from where she said they'd be, shot in the back and covered in a different suspect's DNA, the case is quickly closed and Barrett forcibly reassigned. But for Howard Pelletier, the tragedy of his daughter's murder cannot be so tidily swept away. And for Barrett, whose career may already be over, the chance to help a grieving father may be the only one he has left. How it Happened is a frightening, tension-filled ride into the dark heart of rural America from a writer Stephen King has called "a master" and the New York Times has deemed "impossible to resist."
Praise For How It Happened…
"Cool and cunning... the story feels like the real deal... Gives me goose bumps, a credit to Koryta's descriptive powers."—Marilyn Stasio, New York Times Book Review

"Michael Koryta is one hell of a writer, and How it Happened is one hell of a murder mystery. It's a tribute to Koryta's craftsmanship and skill that the reader can't put the book down until the last layer of the onion is peeled away to reveal the truth at the core of this gripping tale... A remarkable achievement that rises high above the genre."—Nelson DeMille, #1 New York Times bestselling author of The Cuban Affair

"This gripping and absorbing story about a protagonist coming to terms with his conflicted past, a lost love, and a crime that seems determined not to be solved could only be penned by Michael Koryta, whose sense of place and insight into the human experience are unsurpassed."—Sandra Brown, #1 New York Times bestselling author of Seeing Red

"Ingenious.. Koryta' s plotting is sure-footed, and the secrets he discloses, one by one, at the novel's end are both surprising and plausible... How It Happened [is] a book the reader won't soon forget."—The Washington Post

"Michael Koryta's latest may be [the summer's] best page-turner. This isn't a whodunit: We know from the start that the upwardly upstanding, inwardly creepy Mathias Burke murdered a young couple in the town of Port Hope, Maine. The book casts its spell in revealing the whys and wherefores of the killings, as investigated by Burke's onetime high school classmate, Rob Barrett, a Boston FBI agent whom Burke likes nothing better than to humiliate... Koryta, who has introduced supernatural elements into several novels, plays it pretty straight here. But that doesn't mean he fails to deliver his usual blend of dark psychology and pulse-pounding action."—Lloyd Sachs, Chicago Tribune

"Koryta drew on his experience as a private eye to craft this harrowing suspense novel set in Maine."—O Magazine

"With this searing look at an investigator's obsessive efforts to close a case that has awakened childhood demons, bestseller Koryta has produced his most powerful novel in years... Koryta, when he's at the top of his game, has few peers in combining murder mysteries with psychological puzzles."—Publishers Weekly (starred review)

"Is Koryta capable of telling a less-than-gripping tale? ... flawless, unpredictable storytelling streaked with his usual dark undercurrents. Crime fiction doesn't get any more enjoyable."—Kirkus (starred review)

"Fans of Koryta's previous works, readers who enjoy rogue investigators as protagonists, and devotees of murder mysteries will enjoy this enthralling tale."—Library Journal (starred review)

"A compelling psychological thriller...ingenious...[and] heartfelt."—The Tampa Bay Times

"Koryta excels at action set in remote places, and fans of
William Kent Krueger and C. J. Box will enjoy this one."—Booklist
Back Bay Books, 9780316293891, 368pp.
Publication Date: January 29, 2019
About the Author
Michael Koryta (pronounced ko-ree-ta) is the New York Times bestselling author of nine novels, including The Prophet. His last three novels, The Ridge, The Cypress House, and So Cold the River were all New York Times notable books and nominated for several national and international awards.

In addition to winning the Los Angeles Times Book Prize, his novel Envy the Night was selected as a Reader's Digest condensed book. Koryta's work has been translated into more than twenty languages. A former private investigator and newspaper reporter, Koryta graduated from Indiana University with a degree in criminal justice. He currently lives in St. Petersburg, Florida, and Bloomington, Indiana.