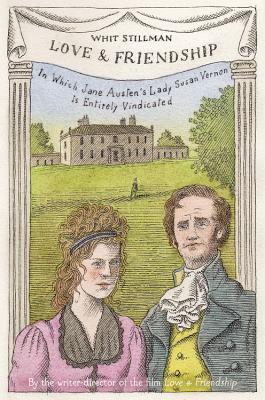 Love & Friendship
In Which Jane Austen's Lady Susan Vernon Is Entirely Vindicated
Hardcover

* Individual store prices may vary.
Description
A sharp comedy of manners, and a fiendishly funny treat for Jane Austen and Whit Stillman fans alike.

Impossibly beautiful, disarmingly witty, and completely self-absorbed: Meet Lady Susan Vernon, both the heart and the thorn of Love & Friendship. Recently widowed with a daughter who's coming of age as quickly as their funds are dwindling, Lady Susan makes it her mission to find them wealthy husbands -- and fast.

But when her attempts to secure their futures result only in the wrath of a prominent conquest's wife and the title of 'most accomplished coquette in England', Lady Susan must rethink her strategy. Unannounced, she arrives at her brother-in-law's country estate. Here she intends to take refuge -- in no less than luxury, of course -- from the colorful rumors trailing her, while finding another avenue to 'I do'. Before the scandalizing gossip can run its course, though, romantic triangles ensue.
Praise For Love & Friendship: In Which Jane Austen's Lady Susan Vernon Is Entirely Vindicated…
PRAISE FOR LOVE & FRIENDSHIP: THE BOOK
"A postmodern confection [that's] very, very funny."--
Penelope Green, New York Times
"In the ever-booming Austen spinoff industry, where paeans to Mr. Darcy are the norm, rewriting a work of the master's in the guise of one of her detractors makes for an eccentrically cheeky tribute."--
Alexandra Schwartz, New Yorker
"A merry comedy of pride, prejudice, and duplicity.... Silly, sly, eccentric characters and brisk chatter make for a diverting romp."--
Kirkus Reviews
"Lady Susan is finally getting some long overdue respect."--
Alexandra Alter,New York Times
"Witty and delightful."--
BookPage
"Both quirky and hilarious."--
Publishers Weekly
"Lady Susan remains deliciously wicked."--
Julia Felsenthal, Vogue
"[A] delicately sincere inversion of Austen's amused irony.... Stillman's gravity comes from the way he both understands the terrors of social relations--the pursuit of love and friendship--and also admires all strategies in artifice that might soften these terrors, subvert the tyranny of misinterpretation, and restore a version of utopia."--
Adam Thirlwell, New York Review of Books
"Show[s] a deep familiarity with [Austen's] life, work, and times."--
Laura Miller,Slate
"Wickedly funny."--
Holly Parmalee, Serendipity
"Stillman has a fine eye for social niceties."--
Library Journal,
Editor's Pick
"If you like your Austen subversive, cruel, funny and outrageous, then you will love Stillman's
Love & Friendship
."--
Paula Byrne, The Times (UK)
"One of the classiest book-to-movie novelizations that's ever existed."--
Rebecca Pahle, Film Journal International
—
-PRAISE FOR LOVE & FRIENDSHIP:THE FILM
"A racy delight."--
Peter Bradshaw, Guardian
"[A] fast, precise, and giddily dialectical costume romp.... Stillman captures the exquisite eroticism of high-society manners."--
Richard Brody, New Yorker
"Delightfully droll.... Stillman so effortlessly, elegantly bridges the gap between his conniving aristocrats and Austen's that it's difficult to say where one's sensibility ends and the other's begins."--
Kyle Smith, New York Post
"Flat-out hilarious -- find me a funnier screen stab at Austen, and I'm tempted to offer your money back personally."--
Tim Robey, Telegraph
"A supremely elegant and delicately filigreed adaptation of Jane Austen's epistolary novella
Lady Susan
."--
Justin Chang, Variety
"The perfect marriage between Stillman's absurdist wit and Austen's period manners."--
Anthony D'Alessandro, Deadline
—
-
"So clever in its repartee."
—
Flavorwire
Little, Brown and Company, 9780316294126, 288pp.
Publication Date: May 3, 2016
About the Author
Whit Stillman -- winner of France's Prix Fitzgerald for his prior novel -- is the writer-director of five films, including Metropolitan, Barcelona, The Last Days of Disco, Damsels in Distress, and Love & Friendship, a mendacious representation of this story. At university, he was an editor of the Harvard Crimson, and he later worked in book publishing and journalism. His first novel, The Last Days of Disco, With Cocktails at Petrossian Afterwards, was also derived from a film story. Love & Friendship includes the full text of Jane Austen's Lady Susan.
or
Not Currently Available for Direct Purchase