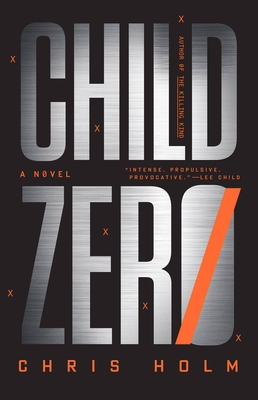 Child Zero
A Novel
Hardcover

* Individual store prices may vary.
Description
From molecular biologist turned Anthony Award-winning author of The Killing Kind comes a fact-based thriller about our species' next great existential threat—perfect for fans of Michael Crichton.

It began four years ago with a worldwide uptick of bacterial infections: meningitis in Frankfurt, cholera in Johannesburg, tuberculosis in New Delhi. Although the outbreaks spread aggressively and proved impervious to our drugs of last resort, public health officials initially dismissed them as unrelated.
 
They were wrong. Antibiotic resistance soon roiled across the globe. Diseases long thought beaten came surging back. The death toll skyrocketed. Then New York City was ravaged by the most heinous act of bioterror the world had ever seen, perpetrated by a new brand of extremist bent on pushing humanity to extinction.
 
Detective Jacob Gibson, who lost his wife in the 8/17 attack, is home caring for his sick daughter when his partner summons him to a sprawling shantytown in Central Park, the apparent site of a mass murder. Jake is startled to discover that, despite a life of abject squalor, the victims died in perfect health—and his only hope of finding answers is a twelve-year-old boy on the run from some very dangerous men.
Praise For Child Zero: A Novel…
"If you like thrillers that really thrill, and with a bit of a Michael Crichton vibe, you're going to enjoy this to the max. In the last 70 pages the twists go off like a string of firecrackers."—Stephen King

"Intense, propulsive, provocative - and shot through with the kind of been-there, done-that authenticity and expertise that makes it really scary.... Highly recommended."
 —Lee Child, #1 New York Times bestselling author of BETTER OFF DEAD

"CHILD ZERO is a tour de force, beautifully written and hauntingly relevant. Chris Holm has given us a powerful and chilling near-future thriller with a breakneck pace in the best tradition of Michael Crichton's novels and Max Brooks' WORLD WAR Z."
 —Matthew Quirk, New York Times-bestselling author of THE 500 and THE NIGHT AGENT

"Terrific... a terrifying, all-too-plausible thriller in the Michael Crichton tradition... a white-knuckle tear through the streets of a New York laid waste by pandemics of the future. I lost a lot of sleep over this book, even after I finished reading it."—Joseph Finder, New York Times bestselling author of JUDGMENT

"CHILD ZERO is a thriller that truly thrills!  With warp-speed pacing and frightening medical details, it offers a terrifying look at a world gone mad and the possible plagues to come."—Tess Gerritsen, New York Times-bestselling author of LISTEN TO ME

"A chilling vision of the future that would make Michael Crichton proud. Like the best speculative fiction, Holm doesn't offer an easy out. An airtight, propulsive thriller, CHILD ZERO just keeps turning the screws past the breaking point. Exactly my kind of book!"—Matthew FitzSimmons, bestselling author of CONSTANCE and the Gibson Vaughn books

"CHILD ZERO gave me nightmares – in the best possible way. Chris Holm offers a terrifying and convincing glimpse into the future that may well await us, while at the same time telling a deeply compelling story full of heart and, despite all the odds, hope. I couldn't put this one down."—Lou Berney, New York Times-bestselling author of NOVEMBER ROAD

"CHILD ZERO moves like no other novel I've read lately, with Chris Holm's gripping writing delivering a story whose thrills come as much from its plausibility as from its twists and surprises. A deeply moral cautionary tale, set in a credible future we should be afraid to let happen."—Matt Bell, author of APPLESEED

"Holm perfectly balances plot, characterizations, and science. Fans of Lawrence Wright's The End of October won't want to miss this one."—Publishers Weekly, Starred Review

"Read this thriller because it's brilliant. Read this thriller because it will open a door in your mind that has been closed off due to the trauma of the last few years, but desperately needs to get that jolt and reawaken. If anything, we should know by now we can't hide from what terrifies us; we must meet it with full force. It doesn't have to be a plague, or an attack, but anything that threatens our safety and security. It's time to get our boots on the ground and fight. Highly, highly recommended"—Jenn's Bookshelves

"Holm's book is remarkable in the way it details what could happen and methodically explores what could happen after that; the fear and paranoia is never unearned. This is a truly scary psychological thriller."—Lisa Levy, Crimereads

"Child Zero is one of the most horrifying books you're likely to encounter in the age of COVID-19 (or perhaps ever, really)—not simply because its premise exists within the realm of possibility but, arguably, probability. It will keep you up at night (and it should), first turning the pages with rapt fervor and then (re)considering those pages with careful attention. Such contemplation may very well be our best defense against the things that threaten us, both real and imagined. Feel free to remind yourself: This is a work of fiction—at least for now."
 —John Valeri, Criminal Element

"Taut and timely, CHILD ZERO is a thriller with heat and heart."—Michael Berry, Portland Press Herald
Mulholland Books, 9780316295123, 352pp.
Publication Date: May 10, 2022
About the Author
Chris Holm is the author of the cross-genre Collector trilogy, the Michael Hendricks thrillers, and thirty-odd short stories in a variety of genres. His work has been selected for The Best American Mystery Stories, named a New York Times Editors' Choice, appeared on more than fifty year's best lists, and won a number of awards, including the 2016 Anthony Award for Best Novel. He lives in Portland, Maine.