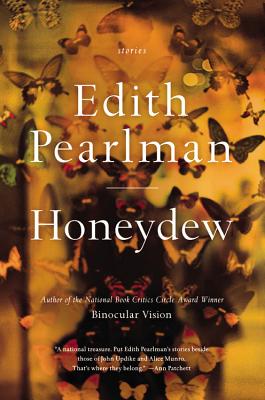 Honeydew
Stories
Hardcover

* Individual store prices may vary.
Other Editions of This Title:
Digital Audiobook (1/5/2015)
Compact Disc (5/31/2016)
Compact Disc (1/20/2015)
Description
Over the past several decades, Edith Pearlman has staked her claim as one of the all-time great practitioners of the short story. Her incomparable vision, consummate skill, and bighearted spirit have earned her consistent comparisons to Anton Chekhov, John Updike, Alice Munro, Grace Paley, and Frank O'Connor. Her latest work, gathered in this stunning collection of twenty new stories, is an occasion for celebration.

Pearlman writes with warmth about the predicaments of being human. The title story involves an affair, an illegitimate pregnancy, anorexia, and adolescent drug use, but the true excitement comes from the evocation of the interior lives of young Emily Knapp, who wishes she were a bug, and her inner circle.

"The Golden Swan" transports the reader to a cruise ship with lavish buffets-and a surprise stowaway-while the lead story, "Tenderfoot," follows a widowed pedicurist searching for love with a new customer anguishing over his own buried trauma. Whether the characters we encounter are a special child with pentachromatic vision, a group of displaced Somali women adjusting to life in suburban Boston, or a staid professor of Latin unsettled by a random invitation to lecture on the mystery of life and death, Pearlman knows each of them intimately and reveals them to us with unsurpassed generosity.

In prose as knowing as it is poetic, Pearlman shines a light on small, devastatingly precise moments to reflect the beauty and grace found in everyday life. Both for its artistry and for the recognizable lives of the characters it renders so exquisitely and compassionately, Honeydew is a collection that will pull readers back time and again. These stories are a crowning achievement for a brilliant career and demonstrate once more that Pearlman is a master of the form whose vision is unfailingly wise and forgiving.
Praise For Honeydew: Stories…
"Honeydew should cement [Pearlman's] reputation as one of the most essential short story visionaries of our time." —The New York Times Book Review

"There remain a few dedicated practitioners of the short story, and Edith Pearlman is one to be cherished... The 20 stories [in Honeydew] are vinegary, rueful, droll, humane and endlessly inquisitive. Though intricately constructed, they are slight in drama and emphasis, set down like a light footprint that nevertheless fixes itself in one's memory as though pressed in wet cement."
—The Wall Street Journal

"Pearlman is our greatest living American short story writer, and Honeydew is her best collection yet."—The Boston Globe

"One of the key dynamics of Pearlman's fiction is the ability she has to reveal someone in an instant... [Honeydew] cements her reputation as an American short fiction avatar. The work is smart and deeply rendered, full of striking observations and some of the best sentences you'll ever want to read... I bow my head in awe... Ruthless writing, sharp and piercing."
—David Ulin, Los Angeles Times

"Pearlman's short fiction is interesting for the ways in which it combines proximity and distance... Pearlman can also move back from characters, in order to see the entire span of their lives. Then she becomes one of God's spies, condensing a life into a few sentences, taking on the power of prophecy... Pearlman's fiction brings together, with uncanny wisdom, short views and long views: the hours of lives and the length of our lives. She is tender and distant at once."—James Wood for The New Yorker

"Even though [Pearlman's] characters have feet of clay like the rest of us, they often seem to float above the ordinary world like the figures in a Chagall painting... What a pleasure to encounter a writer who can speak volumes in a few short sentences."—The Seattle Times

"Reading a Pearlman story is like entering the jet stream of some stranger's life. You feel the rush and fear and excitement, and then you exit, overcome but satisfied. Her nuanced stories, each one a small gem, explore complicated relationships and strange conundrums found in everyday life."—San Fransisco Chronicle

"If you have never read Edith Pearlman, you're in for a lovely surprise, and if you have, you're in for another treat... Honeydew is ripe with often bittersweet, unconventional love stories that somehow manage to encompass loss and pain yet reaffirm the value of living... Like Alice Munro, Pearlman deftly encapsulates whole lifetimes in compact stories by focusing on pivotal moments that reverberate over decades."
—The Washington Post

"Exquisite work... Such narrative judgment and authority are a pleasure to be in the presence of... This newest book contains 20 stories in fewer than 300 pages, and even the shortest among them convey a depth and a texture well out of proportion to what their word counts might suggest them capable of."
—The Chicago Tribune

"Like Alice Munro, Pearlman confronts the earthier aspects of life without a steady authorial gaze... Pearlman conveys heft and profundity in few words and with the lightest of touches; her climactic revelations are nver thudding or melodramatic, nor do her conclusions trail off disappointingly... Her stories are beautifully crafted and formally coherent... The stories in Honeydew are original, unsentimental and profoundly bizarre... unforgettable."—Commentary

"The short story master... At her best, Pearlman invigorates our curiosity about others, encouraging us to flip page after page just to see what a character ate for lunch... Pearlman's stories encourage us to sink deeply into them, and we become contented ghosts snooping on these unadorned, authentic lives... The Bottom Line: Pearlman may not be innovating the short-story form, but she's executing it perfectly."—Time Out New York

"This writer of elegant short stories--frequently likened to Alice Munro and Grace Paley--deserves all the recognition she can get."—Newsday

"Finely wrought [stories]... these characters are quirky and vulnerable, and it is clear that Pearlman has great affection for them. Readers will, too."—Minneapolis Star-Tribune

"Edith Pearlman is the best short story writer in the world. A lot of people know that. More will."—The Times of London

"Prepare to be dazzled. Edith Pearlman's latest, elating work confirms her place as one of the great modern short-story writers... Vivacity and zest enliven every page. Body language is wittily caught... Personalities are keenly explored. Honeydew elatingly continues the celebration of life's diversity to which Binocular Vision so excitingly introduced us."—Sunday Times (UK)

"Honeydew will afford an international audience another opportunity to enjoy Pearlman's distinctive and memorable fictions... Pearlman's stories--slightly old-fashioned in their use of conceit; refreshingly loose in their capacity for digression or tangent; occasionally Whartonian in the bemused and acidic clarity of their narrative eye--are sui generis...[these stories] share a particular perspective that, like a perfume, floats throughout... to make of life's everyday leavings a life-saving nectar--is perhaps, Pearlman's most consistent endeavor. She is wise, yes, but also unfailingly generous, even joyous... it certainly makes her fiction a fortifying pleasure to read."
—Claire Messud for Financial Times

"Intricately imagined... [Pearlman] doesn't inhabit her characters so much as create space for their lives to play out... Honeydew is a warmly imagined and impressively crafted collection."—Sydney Morning Herald

"These elegant, compassionate stories bring 'regular' people to complex life. Pearlman's flawed characters demand your attention and win your heart."—People Magazine

"HONEYDEW is a collection of work so vivid, so true, and so vital that the reader herself comes away all the more real. How can a story do what Pearlman's stories do? She is an incomparable master."—Kelly Link, author of Magic for Beginners and Stranger Things Happen

"Edith Pearlman's work, so wise and witty, pierces right to the heart. Like Grace Paley and Penelope Fitzgerald, she can capture characters and their whole world in a few perfect lines: how does she do that? Her brilliant economy is matched only by her depth of feeling."—Andrea Barrett, author of Servants of the Map and Ship Fever

"Edith Pearlman is a contemporary master of the short story, with an utterly distinctive voice-tartly observant, unfailingly compassionate, slyly amused. HONEYDEW is a stellar collection, a wide-ranging examination of Pearlman's favorite subjects-the mysteries of love and friendship, the indignities and compensations of growing older, and the knotty complexities of the human heart."—Tom Perrotta, New York Times bestselling author of Election, Little Children, and The Leftovers

"To read an Edith Pearlman story is to sense a mysterious voice singing just under the surface of the prose; it is to be so beguiled by elegance and wit that the inexorable surging power of the story astonishes when it finally hits the reader. Honeydew is brilliant. Edith Pearlman is among the greatest of the greats."—Lauren Groff, New York Times bestselling author of Arcadia and The Monsters of Templeton

"For nearly five decades, Edith Pearlman has written stories that illumine and educate the mind and heart. Honeydew is the crowning achievement of an extraordinary career, required reading for all of us who love the short story form. To say it stands with the very best of Pearlman's work is the highest praise I can conceive of. She is a treasure."—Jennifer Haigh, PEN/ Hemingway winner and New York Times bestselling author of The Condition and News from Heaven

"Pearlman returns with another collection of closely observed, often devastating stories . . . [She] writes with the wisdom of accumulated experience . . . Pearlman fills volumes with her economy of language . . . [and] serves up exemplary tales, lively and lovely."—Kirkus (Starred Review)

"This affecting collection periscopes into small lives, expanding them with stunning subtlety... Magical and sensual."--Publishers Weekly (Starred Review)

"Pearlman not only writes with bewitching clarity, she also fathoms much about our inner lives and relationships that is unexpectedly wondrous."
—Booklist (Starred Review)

"A generous collection of depth and sensitivity featuring a range of unusual characters."
—O Magazine

"Edith Pearlman's short stories have often been compared with John Updike's, and the comparison is apt...All of the powerful emotions are depicted in rich, controlled prose, one of the earmarks of a Pearlman story. Whether it be for carefully dissecting her characters' feelings or observing tiny details, Pearlman reveals her acute eye time and time again... In the tradition of Joyce, Chekhov, Updike and Munro, Pearlman's surprising, memorable stories are joys to behold."
—Shelf Awareness

"Pearlman repeatedly thrills us by opening up secret worlds, and it's because of the exquisite care with which these worlds are formed that we come to care deeply about her people ("characters" just doesn't cut it)... Her stories hold a reverence for the magical, the anomalous, and the chance encounters all around us... Something about this book feels so urgent, so wise, and it had me turning pages until the wee hours."—The Millions

"Pearlman's prose shimmers, and the stories are filled with beguiling details of color, taste and smell... Honeydew is a solid group of stories by a very great writer indeed."—Bookpage
Little, Brown and Company, 9780316297226, 288pp.
Publication Date: January 6, 2015
About the Author
Edith Pearlman's last collection, Binocular Vision, won the National Book Critics Circle Award and was a finalist for the National Book Award as well as the Los Angeles Times Book Prize and the Story Prize. The author of three other story collections, she has also received the PEN/Malamud Award for excellence in the short story.

Her widely admired stories have been reprinted numerous times in The Best American Short Stories, The O. Henry Prize Stories, and The Pushcart Prize. A New Englander by both birth and preference, Pearlman lives with her husband in Brookline, Massachusetts.
or
Not Currently Available for Direct Purchase