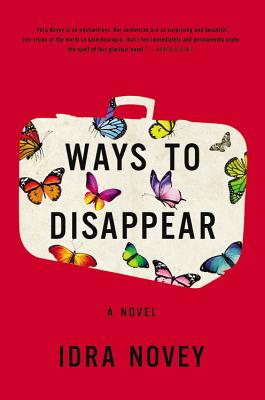 Ways to Disappear (Hardcover)
Little, Brown and Company, 9780316298490, 272pp.
Publication Date: February 9, 2016
Other Editions of This Title:
Digital Audiobook (2/8/2016)
Paperback (1/17/2017)
* Individual store prices may vary.
Description
For fans of Robin Sloan's Mr. Penumbra's 24-Hour Bookstore and Maria Semple's Where'd You Go, Bernadette, an inventive, brilliant debut novel about the disappearance of a famous Brazilian novelist and the young translator who turns her life upside down to follow her author's trail.

Beatriz Yagoda was once one of Brazil's most celebrated authors. At the age of sixty, she is mostly forgotten-until one summer afternoon when she enters a park in Rio de Janeiro, climbs into an almond tree, and disappears.

When her devoted translator Emma hears the news in wintry Pittsburgh, she flies to the sticky heat of Rio. There she joins the author's son and daughter to solve the mystery of Yagoda's disappearance and satisfy the demands of the colorful characters left in her wake, including a loan shark with a debt to collect and the washed-up editor who launched Yagoda's career. What they discover is how much of her they never knew.

Exquisitely imagined and as profound as it is suspenseful, Ways to Disappear is at once a thrilling story of intrigue and a radiant novel of self-reckoning.

"An elegant page-turner....Charges forward with the momentum of a bullet."-New York Times Book Review
About the Author
Idra Novey is an award-winning poet and translator. Born in western Pennsylvania, she has since lived in Chile, Brazil, and New York. The author of Exit, Civilian, selected for the 2011 National Poetry Series, Novey's poetry and fiction have been featured on NPR's All Things Considered, and in Slate, StoryQuarterly, The Paris Review, and Guernica. She currently teaches in the Creative Writing Program at Princeton University.
Praise For Ways to Disappear…
"Idra Novey, an acclaimed poet and translator of Spanish and Portugese literature, has written a debut novel that's a fast-paced, beguilingly playful, noirish literary mystery with a translator at its center. Ways to Disappear explores the meaning behind a writer's words--the way they can both hide and reveal deep truths....Novey's novel delivers on its promises in so many ways. Yes, there's carnage, but there's also exuberant love, revelations of long-buried, unhappy secrets, ruminations about what makes a satisfying life, a publisher's regrets about moral compromises in both his work and his use of his family wealth and connections, and an alternately heartfelt and wry portrait of the satisfactions and anxieties of the generally underappreciated art of translation....Ways to Disappear is concerned not just with truth and the risks of its misplacement and misinterpretation, but with the importance of close reading. It's a delightful, inventive paean to writing that generates 'real emotion' and 'genuine unease.' At one point Beatriz's publisher likens literature to steaks on a grill, testing both 'for density' as well as 'for something tender in the middle yet still heavy enough to blacken the air.' This book is seared to perfection."
—Heller McAlpin, NPR

"[An] elegant page-turner....Novey writes with cool precision and breakneck pacing....This lush and tightly woven novel manages to be a meditation on all forms of translation while still charging forward with the momentum of a bullet."—Catherine Lacey, New York Times Book Review

"[A] seductive mystery....Novey, a poet and translator, brings to her first novel a zesty comic touch and refreshing insights into the delicate processes of writing and translation."—Jane Ciabattari, BBC

"Bewitching....A tale of playful suspense that ingeniously transmutes into a profound meditation on language and love."—Elliott Holt, O, The Oprah Magazine

"Exhilarating....Sly, lovely writing.... In Raquel, Beatriz's hard-bitten daughter, [Novey] has created a heart-rending portrait of the price someone always ends up paying for genius. A writer to watch."
—Charles Finch, USA Today


"Novey's elegant, comic debut....a novel whose power of enchantment rival those of its fictional author."—Anita Felicelli, San Francisco Chronicle

"[Novey] sustains suspense throughout with beautifully restrained prose."—Carmela Ciuraru, New York Times

"Reminiscent of a Coen brothers movie....[a] spare, witty riddle of a novel."—Sam Sacks, Wall Street Journal

"Novey - poet, translator, and now novelist - has created something special with the brisk, beautiful Ways to Disappear, a book that blooms in the spaces between languages, between continents, between selves past and present."—Dustin Illingworth, Los Angeles Times


"[A] delightful debut....[moments] resonate in clever, often haunting, ways."—Katherine Hill, Philadelphia Inquirer

"Novey writes elegantly and with slanted humor about beauty, loss, abandonment, and surprising acts of self-discovery....[This novel] mimics pulp fiction on its caperish exterior, but is literary fiction in its deep center....With touches of mystery, commentary about the art of translating as well as inventing fiction, prose that reads like poetry, and snatches of actual poems, Ways to Disappear is a gem." —Jeffrey Ann Goudie, Kansas City Star

"Novey is astute, funny, and cunning in this story, which even in its brevity covers so much lush ground."
—Meredith Turits, Elle.com

"Sleek."
—Megan O'Grady, Vogue.com

"Uniquely captivating....an immensely entertaining read."—Margie Romero, Pittsburgh Post-Gazette

"If New Directions' reissue of Clarice Lispector's The Complete Stories left you wanting more mysterious Brazilian-lady writers, Idra Novey's debut novel is here for you."—Julia Irion Martins, Village Voice

"(A) wholly original, wickedly fun debut novel."
—Virtuoso Life


"An experimental page-turner...a canny mystery."
—Bustle

"This amazing first novel is unlike any other you've ever read. Ways to Disappear is a lush page-turner, a journey into the unique madness of modern Brazil, and a joyful ride into the crazed passion of literary creation itself. Idra Novey is a wonder of a writer."
—Hector Tobar, author of Deep Down Dark


"Idra Novey is an enchantress. Her sentences are so surprising and beautiful, her vision of the world so kaleidoscopic, that I fell immediately and permanently under the spell of this glorious novel."
—Karen Russell, author of Swamplandia!

"With all its shimmering brilliance and insight, vividly drawn and beguiling characters, and unabashed storytelling, Ways to Disappear is the most sublime novel I've read in a long time."
—Francisco Goldman, author of Say Her Name


"At once playful and chilling. It's impossible to put this book down, or to shake its residue once you've finished it."—Leslie Jamison, author of The Empathy Exams

"With tremendous intelligence and wit, Ways to Disappear upends all the misleading memes about magical realism and in the process makes its own very real and unprecedented magic. This is a fantastic book."—Rivka Galchen, author of Atmospheric Disturbances

"Spare, funny, and moving. How can a novel so elegant and blazingly smart be so much fun?"—Ted Thompson, author of The Land of Steady Habits

"Idra Novey has given us a first rate novel of ideas, a book that is funny, poignant, and profound."—Darcey Steinke, author of Easter Everywhere

"Exceptionally witty and heartfelt is not the usual combo. Nothing about this novel is usual. Every sentence surprises. Every character intrigues. I read this book with joy and serious admiration." —Amy Bloom, author of Lucky Us

"Novey's briskly paced first novel is a clever literary mystery . . . It has its share of violence and romance-it reads like an Ali Smith novel with a fun Brazilian noir vibe. But underlying these comic noir elements is an eloquent meditation on the art and anxiety of translation, as well as a story about literature as a means of revelation and concealment."—Publishers Weekly (starred)

"A fast-paced, supremely engaging story of characters with good intentions who quickly get in over their heads . . . Novey's characters are hilariously impulsive, terribly misguided, hopelessly lost, relentlessly determined, and immediately sympathetic. An incisive meditation on the relationship between literature and life, a reflection on the cumulative result of everyday decisions, and a dazzling, truly memorable work of humor and heart."
—Booklist

"Stylish, absurd, sometimes romantic, and often very funny... Like a dream, the book is almost overwhelmingly vivid.. It's a tour de force. Delightful and original."—Kirkus


"Idra Novey's debut novel cast me under its spell from the opening scene....Ways to Disappear reads like a thriller and scores thematically on the missteps of translation and the untenable distances of the heart."
—Amy Jo Burns, Ploughshares


"Written in short poetic chapters and punctuated with dictionary definitions, Ways to Disappear is both a meditation on the art of translation and a classic mystery complete with loan sharks, amateur detectives, and an ill-advised romance."
—Emma Brown, Interview magazine


"Fast-paced and colorful, Ways to Disappear is part mystery, part romance, but 100% a delight."
—Jarry Lee, Buzzfeed


"Poet and translator Idra Novey brings a considerable imagination to her first work of fiction....Stylish and funny, romantic and surreal, Ways to Disappear is a quirky look at the intimate relationship between author and translator....Though Ways to Disappear unfolds at the rapid pace of a screwball comedy, there is also something patient and artful about the novel, making it a thoughtful treatise on writing and artmaking that is as profound as it is playful."
—Lauren Bufferd, BookPage (Top Pick)


"Novey has a knack for engaging, humorous prose and audacious plotting the likes of which are rarely seen in a first novel."
—Jonathan Sturgeon, Flavorwire (A Must-Read Book)


"The plot is filled with twists and surprises, and Idra Novey makes it come alive with prose that is both magical and lyrical....Novey has a style all her own....She is a singular voice who impressively has spun a story into a thrilling ride for her characters and readers alike."
—Paul LaRosa, New York Journal of Books


"A gorgeously written, truly fun literary mystery....with madcap humor and keen insights into the craziness of family dynamics."
—National Book Review


"(An) enchanting literary mystery."
—Flavorwire (25 Great Escapist Novels)


"Novey writes with tremendous insight and a wistful appreciation for the elusive nature of language....With lean, incisive prose Novey delivers a bright, unpredictable novel that is both playful and vulnerable. It is an adventurous mystery set in a tropical paradise that is sure to leave you breathless."
—Dave Wheeler, Shelf Awareness (Starred Review)


"Humor, poignancy, passion, and a bit of magic are all elements of this delightful debut novel. Novey's tightly drawn, superbly funny tale offers not only glimpses into modern Brazilian life and culture but also insights into the creative process of authors and translators. A quick read, largely because it is hard to put down."
—Faye Chadwell, Library Journal (Starred Review)


"A supercharged and perfectly-timed novel."
—Jeva Lange, Electric Literature


"A fun, fast-paced romp....with poignant themes of belonging and identity."
—The Gazette


"The novel's success lies in....its reflections on the mysteries and delights of translation and interpretation."
—Feministing

"A novel that will leave you in a glow....Novey's debut has a warmth and humor all her own."
—Music %26amp%3B Literature


"Novey's fleet and vivid novel examines the nature of personal agency in life and in fiction, challenging the notion that we 'honor what we recall by accepting that we cannot change it.'"—New Yorker

"Ways to Disappear defies convention and categorization, effortlessly careening from magical realism to noir, reckless romance to metafictional dictionary definitions. The result is a story as propulsive as it is compelling."—Los Angeles Review of Books

"You can disappear for hours in Novey's original story."
—The Rumpus


"Ways to Disappear is a thoughtful tropical noir with depth and feeling...full of gorgeously rendered action...the best lines feel like joyful ambushes."
—Zachary C. Solomon, Full Stop


"Using her poet's -- and translator's -- precision, Novey seeds her story with crystalline images, like perfect little dioramas through which her characters move... Novey has crafted a delightfully metafictional and metatranslational exploration into the creation and appreciation of literature."
—Ashley Patronyak, Bookslut

"Love, family, and death-Idra Novey's debut, Ways to Disappear, has it all...a worthy, captivating storyline that is less about writing than it is about the ways in which people misunderstand one another-caught in the grip of opposing desires to be seen and to run away."
—Alexandra Chang, Bust

"Ways to Disappear goes from translator story to adventure story to allegorical tale-spinning... These detours, as well as the Bolañoesque off-stage author taking on celebrity significance (as in 2666's Archimboldi), show that Novey's capacious skills go far beyond translating. She is both a moving poet and a successful novelist."—John Washington, Public Books


"Novey's debut novel is quick and bright, despite the dark undertones, and the notes of magical realism lend it an extra level of escapism for your summer reading pleasure."—Jenn Fields, The Denver Post


"Novey writes with tremendous insight and a wistful appreciation for the elusive nature of language... With lean, incisive prose, Novey delivers a bright, unpredictable mystery that is both playful and vulnerable."
—Shelf Awareness

or
Not Currently Available for Direct Purchase