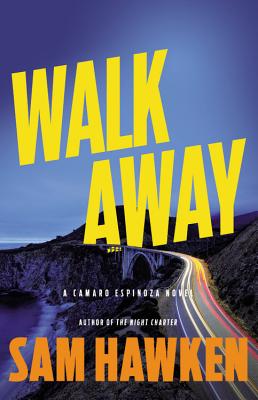 Walk Away (Camaro Espinoza #2)
Hardcover

* Individual store prices may vary.
Description
Camaro Espinoza is "the deadliest female protagonist since Jon Land's Caitlin Strong and Stieg Larsson's Lisbeth Salander" (Booklist).

Camaro Espinoza is a former combat medic whose past is shrouded in mystery. Having finally achieved a measure of calm and anonymity, Camaro receives a distress call from her sister Annabel. Living a modest life in a small town in California, Annabel has become trapped in an abusive relationship with a man named Jake Collier who threatens to make her daughter his next victim.

Camaro rushes across the country to defend her sister for what may be the last time. And Jake has a sibling of his own, an ex-Special Forces operative named Lukas who is every bit as unhinged as Camaro is uncompromising. For all Camaro's stealth and wit, she can only last so long against such a relentless force.

As a pair of federal marshals pick up the trail, and a bounty hunter with a debt to settle closes in, Camaro's smart enough to know that standing her ground is the last thing she should do. But if there's one thing Camaro can't do, it's walk away -- even with a freight train like Lukas barreling towards her.
Praise For Walk Away (Camaro Espinoza #2)…
"Hard-boiled action...Camaro Espinoza, who did tours in the Middle East, is tougher than an army boot....it's deeply satisfying to watch her take out an animal like Lukas."—Marilyn Stasio, New York Times Book Review

"A trifecta of triumph . . . A complex and compelling protagonist (coupled with richly defined secondary characters), authenticity of voice and vista, and resonant timeliness. . . . Camaro Espinoza is a name to remember, and readers will find themselves rooting for her despite the many liberties she takes with conventional law and order. Justice is in the eye of the beholder, after all."—John Valeri, Strand Magazine

"Fast, violent, and starring a lead character with a private code, and to hell with those law books. . . . Like a good action hero, Camaro is solitary, vengeful, and fond of beer and motorcycles-a female 'tough guy' who defies stereotypes with engaging bravado. Hawken calls her 'a lean, mean thrilling machine.' He's nailed it."—Booklist

PRAISE FOR THE NIGHT CHARTER:
"Sign on for The Night Charter, Sam Hawken's hot new thriller captained by Camaro Espinoza, a protagonist that'll light up the literary seascape unlike anything before."—Craig Johnson, bestselling author of the Walt Longmire mysteries, the basis for Netflix's Longmire

"The Night Charter is a heck of a book by a fine writer. Camaro Espinoza is a captivating heroine, whether shooting it out with the bad guys or standing, unflinching, in the face of the law. Drawn into this saga by a strong moral code and her own dark past, Camaro is impossible not to root for, and Sam Hawken's deft, assured prose keeps the pages turning--and your heart pounding--all the way to The Night Charter's adrenaline-soaked finale."—Owen Laukkanen, author of The Professionals and The Stolen Ones

"The Night Charter caught me completely by surprise. In precise, neon-soaked prose, Sam Hawken launches a promising new series headed for the high seas of John D. MacDonald and the relentlessness of Lee Child. Camaro herself is a wonderful creation, an uncompromising heroine whose adventures many readers, including this one, will look forward to for many books to come."—David Morrell, bestselling author of Inspector of the Dead and Murder as a Fine Art

"The Night Charter is a terrific thriller. Riding her Harley and settling scores, Camaro Espinoza takes us on a gritty, fast-paced adventure. Sam Hawken has produced a great riff on the lone wolf hero, a kind of female Jack Reacher."—Matthew Quirk, bestselling author of The 500 and The Directive
Mulholland Books, 9780316299268, 336pp.
Publication Date: January 31, 2017
About the Author
Sam Hawken was born in Texas and currently lives outside Baltimore with his wife and son.
or
Not Currently Available for Direct Purchase