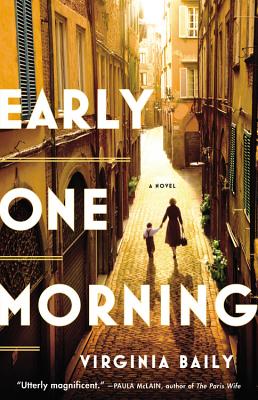 Early One Morning (Hardcover)
Little, Brown and Company, 9780316300391, 400pp.
Publication Date: September 29, 2015
Other Editions of This Title:
Digital Audiobook (9/28/2015)
Paperback (9/13/2016)
* Individual store prices may vary.
Description
Two women's decision to save a child during WWII will have powerful reverberations over the years.

Chiara Ravello is about to flee occupied Rome when she locks eyes with a woman being herded on to a truck with her family.

Claiming the woman's son, Daniele, as her own nephew, Chiara demands his return; only as the trucks depart does she realize what she has done. She is twenty-seven, with a sister who needs her constant care, a hazardous journey ahead, and now a child in her charge.

Several decades later, Chiara lives alone in Rome, a self-contained woman working as a translator. Always in the background is the shadow of Daniele, whose absence and the havoc he wrought on Chiara's world haunt her. Then she receives a phone call from a teenager claiming to be his daughter, and Chiara knows it is time to face up to the past.
About the Author
Virginia Baily holds a PhD and MA in English from the University of Exeter. She founded and co-edits Riptide, a short-story journal. She is also the editor of the political series of the Africa Research Bulletin. She lives in Exeter, Devon.
Praise For Early One Morning…
"Utterly breathtaking."—Redbook

"From the broken Jewish ghetto and dusky countryside of occupied Italy during WWII to the bustling Trastevere cafes of Rome in the 1970s, Virginia Baily offers an affecting contemplation of the past, personal identity, and the complexity and diversity of human bonds. Early One Morning is the sort of book you can't put down and then stays with you, like the best of journeys, long after it's finished."—Anne Korkeakivi, author of An Unexpected Guest

"Early One Morning heralds the arrival of an exciting new voice in fiction, with a story that is instantly engaging, and characters that effortlessly lift from the page and are rendered so rich and full that they wrap themselves around you and refuse to let go. Beautifully written and emotionally taut, Virginia Baily's Early One Morning is a powerhouse of a debut."—Jason Hewitt, author of The Dynamite Room

"Early One Morning isn't just an incandescent novel, but the rarest of reading experiences, offering a view both wrenching and luminous of how love pushes us past what we're capable of, and somehow-impossibly-reclaims us when we're long past saving. Utterly magnificent."—Paula McLain, author of The Paris Wife

"Wonderful.... I was completely inside it from the first pages, just that delicious (rare) feeling of knowing you're in safe hands, this writer isn't going to make a mess of anything, or forfeit your trust or your belief. It managed to be so witty and dry and true.... Vividly intelligent, gripping and moving and alive."—Tessa Hadley, author of Clever Girl

"As gripping as any thriller.... [and] crammed with the sort of heart-stopping, heart-breaking scenes that brought a lump to the throat of even this jaded reviewer. Really, really good."—Harry Ritchie, Daily Mail (UK)

"A real treat; a beautifully written account of the long consequences of war, set in a richly evoked Rome of the 1970s."—Philip Hensher, Guardian (UK)

"Baily subtly tugs at your heartstrings and by the end of her novel you're likely to be as desperate as the women in Daniele's life to discover his fate."—Sophie Donnelly, Express (UK)

"A powerful tale of the reverberations of one woman's decision to save a child."—Stylist (UK)

"A powerful story of sacrifice, despair and ultimately redemption."—Eithne Farry, Express Online (UK)

"A compelling tale about people seeking to define themselves against the tumult of history."—Clare Allfree, Metro (UK)

"A fresh approach to this well-worn period."—Julie McDowall, Independent (UK)

"A moving assertion of the power of maternal love to overcome unimaginable obstacles."—Lucy Atkins, Sunday Times (UK)

"A powerful and moving novel about a young man parted from his family during the Second World War-and the long shadow the separation casts."—Good Housekeeping (UK)

"Incredibly sure-footed, a big, generous and absorbing piece of storytelling, fearless, witty and full of flair.... [Baily] masterfully explores themes of identity, belonging and loss."—Samantha Harvey, Guardian (UK)

"This will appeal to fans of Maggie O'Farrell and lovers of historical, intergenerational, or Italian fiction."—Mara Dabrishus, Library Journal

"Deeply moving."—Bette-Lee Fox, Library Journal

"A wonderfully moving novel."—Sherryl Connelly, New York Daily News

"An emotional page-turner that skillfully evokes the terrors of war and the enduring power of love."—Kim Hubbard, People

"A complex exploration of identity, a tribute to love in its many shapes and sizes, Early One Morning shapes beauty from pain while compassionately touching its readers' hearts."—Shelf Awareness

"A heart-wrenching novel about sacrifices we make for family and loved ones, and redemption during one's lifetime."—Christine Mahoney, San Diego Union-Tribune

"Brilliant."—Dannye Romine Powell, Charlotte Observer
or
Not Currently Available for Direct Purchase