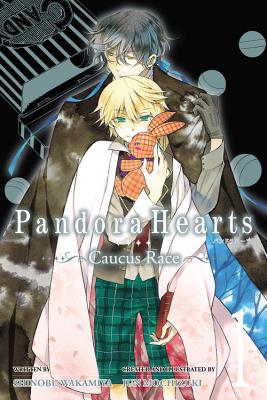 PandoraHearts ~Caucus Race~, Vol. 1 (light novel) (Paperback)
Yen On, 9780316302258, 240pp.
Publication Date: June 30, 2015
Other Editions of This Title:
Paperback (9/22/2015)
Paperback (1/19/2016)
* Individual store prices may vary.
Description
Within these pages, four fairy tales unfold, each peering into one of the houses of the four great dukedoms: Vessalius, Rainsworth, Barma, and Nightray. Shifting among present, past, and future, these stories link to each other like a wheel, traveling to and fro in a never-ending ring between the everyday and the extraordinary. Inside this ring, the protagonists take off at a gallop. Caucus race: A race that is run within a circle, any which way one likes. A race with no goal. Who will be the winner?
Look deeper into the world of PandoraHearts with this first ever novelization based on the work of the New York Times bestselling manga creator Jun Mochizuki, illuminated by special manga shorts drawn by Mochizuki herself...
About the Author
Jun Mochizuki is the New York Times bestselling creator of PandoraHearts and CRIMSON-SHELL. The success of her PandoraHearts series spawned an extremely popular anime adaptation.

Shinobu Wakamiya is the author behind the novelization of the New York Times-bestselling PandoraHearts manga series.